What is the Ablo App?
Ablo is a social media app that helps you to connect with the world. The app allows you to make new friends all over the world. You can text one-on-one with your new friends in your language. The app also has a video call feature that enables you to see your friends live. The HD video call option allows you to connect with more than one friend at a time. 
Ablo app is developed and managed by a very talented team of MassiveMedia and the app is updated very frequently. This app is breaking records with millions of downloads by the users. With minimum permissions required. And being really secured and protected, this application is a great catch for the users.
This app is known for its lightweight. The app does not hinder any other applications running on your phone. It uses a secure, enterprise-grade environment. It ensures that your data is safe and nothing is shared with any other application.
Main Highlights
Free texts and video calls with live translation 

Live calls and translations also supported with live subtitles

The app has challenges that you can solve with your friend

Discover new places and new countries by meeting people from all around the globe
Ablo App features
Ablo is a free social messaging app that allows you to send complimentary text messages to people around the world. It has advanced search tools that help you connect to any part of the world. You can make new friends with just one tap. The app allows you to send unlimited messages.
The app has a live chat translation option that translates all your conversations into your native language. It helps the user to understand the language of various countries. Ablo also has a video chat option. 
The app helps you discover new people. It enables you to make friends all around the world instantly. The video calls also have the translated subtitles that allow you to understand the language of your new friends. 
Why should you install Ablo?
Ablo app lets you to make friends all around the world. It helps you connect with people from different cultures and ethnicity. The app lets you send unlimited text messages and video calls over the internet. It also has an in-built translator that helps you learn new languages. Ablo provides a simple clean interface, and visuals and makes it easier for the users to work with. It is secured and safe for everyone to use.
Ablo App Reviews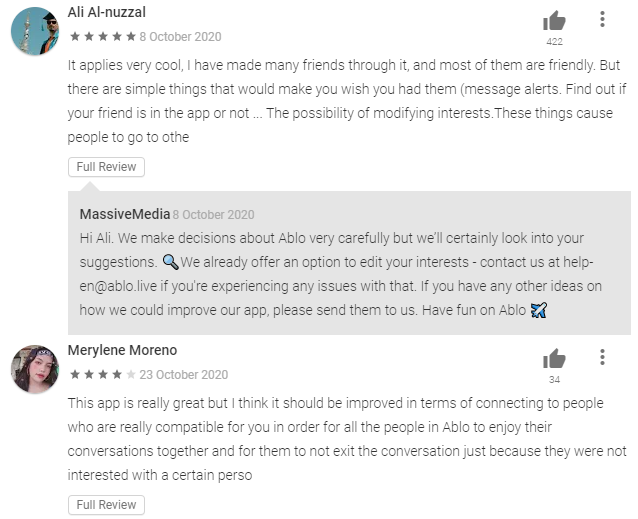 Frequently Asked Questions About Ablo App
Is the app completely free?
No, the app is not completely free on the play store.
Is the app secure?
Yes, the app is secure as it does not store any personal information and it asks for very few permissions.
What all permissions are required in the application?
The app needs basic permissions like storage, location, and photo/media/files.
What is the minimum android version required
The minimum android version required is 5.0 and above.
Does the app have a dark mode?
Currently, the app doesn't have a dark mode.
Download Ablo App
Like our Ablo app review? Check out more Mobile App Reviews or Submit your own Mobile App Reviews.