Introduction: 
Acorns app is a brilliant money-saving or even better, money investing app that invests your spare changes into one of its investment portfolios. Every time you do a purchase, it intelligently analyzes your payment, rounds it up to the nearest dollar, and invests the remaining cents into your accounts plan. By investing a portion of every payment, you also get a clear idea of how your money is growing over time. Partnering with more than 10,000 companies, it ensures that your product reaches you, and your money into your investments. With a Job Finder feature, the app find you the best career opportunity with various world-class clients and lifelong professional improvement.
Pros of Acorns App: 
Transparent and easy-to-understand user interface.

Automatically invest spare changes without any hassling.

Graphical investment portfolio tracking.

Excellent customer support.

Educational content with clear and precise language.
Cons of Acorns app:
Limited investment portfolio options.

No human advisor to help with your investments.
What is the Acorns app? 
Acorns is a modern-day piggy bank app, which you can use to invest daily, weekly, or monthly with spare changes that would otherwise go unnoticed. With its different portfolio plans, including a Retirement plan, Children's plan, or a Future plan, you can easily check and invest in the portfolio which you think will suit you best. The Roundup feature smartly credits the remaining cents into your account and with its appealing graphical interface, you can easily know how much you are saving.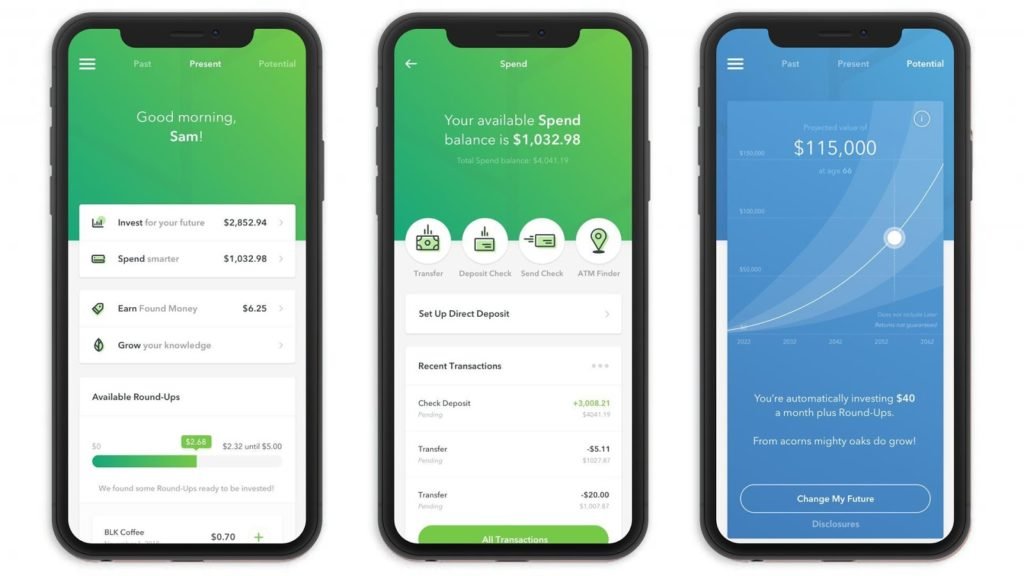 Features of the app:
Automatic Rebalancing: no hustle over manually investing every time you spend or do a purchase.

Versatile: Accessibility through mobile or web app.

Acorns Spend: automatically invest a portion from your paycheck on every card transaction.

Educational contents: a variety of tips and articles all curated inside the app.
Features that unveil when you sign up: 
Open an account and invest in just a couple of minutes.

Access to portfolio plans.

Personalized plan for retirement, kids, or for future. 

Graphical analyzing tool to view savings.

Earn additional perks and cashbacks with the Acorns Earn program.
Frequently Asked Questions:
Which OS supports the app?
Both iOS and Android platforms are compatible. Also includes web app functionality.
No, the app requires a monthly subscription plan for different portfolios.
Is the payment secured for in-app purchases?
Yes, the in-app purchase payment method is secured. 
Which permissions are required to use the app?

 
The app requires permission to access media files, Wi-Fi connection, and storage on your device.
Why should you use the app?

 
Big benefits come from small savings, and it is a profound example of this saying. With every small investment, as low as a couple of cents, you save yourself a reward in the end. The app is best for individual investors who don't want to dive into the eering of terms and policies and other stuff. It is transparent, what you save is totally yours without any worrying of commission or tax etc.
User Reviews: 

Download the app here:
Like our Acorns App Review? Check out more Mobile App Reviews or Submit your own Mobile App Reviews.