What is Android Premier Rush App?
Adobe Premiere Rush app Ais Adobe's all-in-one, cross-device video capture and editing app that runs on desktop, tablet, or smartphone. Whereas the other products in Adobe's Premiere product line are only video editors, users can also shoot video within Premiere Rush. It also automatically syncs projects to the cloud, allowing users to work anywhere and on any device.
Premiere Rush is designed as a cross-platform, multiple device video editing software aimed at social media content creators looking to process video clips quickly and upload them to their favorite social network. It offers widescreen, vertical, and square as the standard formats. But the resolutions and aspect ratios are key items that can easily be confused or set up improperly. Sure, there are resources that explain the resolutions, formats, and codecs, but creators just want to create. This is where Premiere Rush comes in.
Main Highlights
PRO-QUALITY VIDEO.

EASY EDITING AND VIDEO EFFECTS.

CUSTOMIZE ANIMATED TITLES.

MULTITRACK TIMELINE TO EDIT VIDEOS.

ADVANCED AUDIO TOOLS.

PREMIUM CONTENT LIBRARY.
Features Of Adobe Premiere Rush
Graphics templates

Audio features 

Ability to tap into your Creative Cloud library 

Adobe Stock

Can capture

Trim 

Change clip sequence

Color-correct,

Record voiceovers 

Add color filters 

Text overlays
Why Choose Adobe Premiere Rush?
Adobe Premiere Rush is designed for users who want to create professional-quality content but don't need the full creative control that Premiere Pro offers. Premiere Rush users typically own the entire workflow from capture all the way to share. It's less feature-rich than Premiere Elements, which in turn is less feature-rich than Premiere Pro. 
This simplicity is its virtue, though, since it means users can shoot video in the field, add it to their timeline, add titles and transitions, adjust the color and audio, and post it to their preferred platform all from a single app. The other products in the Premiere line are desktop apps that are designed for editing video only, not shooting. Premiere Rush's features include the ability to change aspect ratio, color filters and presets, built-in fully customizable Motion Graphics Templates, speed controls, transitions, and more.
Users can get a Premiere Rush Single App membership for a retail price of $9.99 per month or with a Creative Cloud All Apps membership for $52.99 per month. Nonprofits and public libraries, though, can access discounted rates of 60 percent off their first year of the All Apps plan and 40 percent off all following years through TechSoup.
Top Reviews of Adobe Premiere Rush App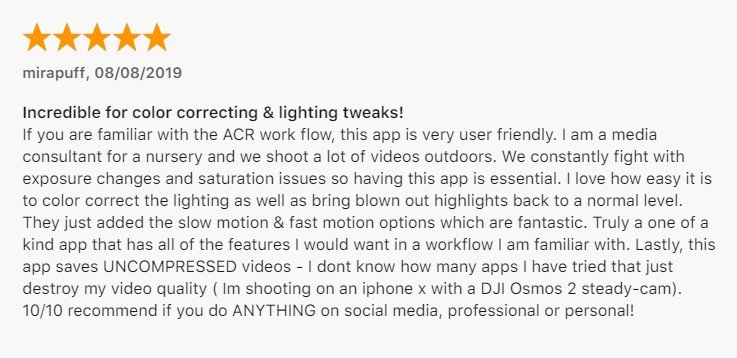 Frequently Asked Question About Adobe Premiere Rush App?
Premiere Rush offers some of the best motion graphics and audio capabilities from the Creative Cloud suite of video and audio apps.
Can you blur in Adobe rush?
There are several other ways you can edit your video in Premiere Rush CC. You can, for instance, position your clips, change their height, width, or opacity, and crop your clips using transform controls.
How to get Adobe rush for free?
The Adobe Premiere Rush Free Starter plan is available to anyone with a free Creative Cloud membership.
Download the Adobe Premiere Rush App 
Like our Adobe Premiere Rush App review? Check out more Mobile App Reviews or Submit your own Mobile App Reviews.