What is AndroMoney app?
AndroMoney is a personal finance application designed for use on a mobile device. We hope that by utilizing this tool, you will be able to manage your finances better. Determine the highest and average expenses. Obtain a statistical report (pie chart, bar chart, curve chart).
You can create, delete, or alter categories as needed. (Income, Expense, Transfer). You can create many accounts. Additionally, expenses can be assigned to specific projects. You can get complete knowledge of your asset. While shopping overseas, you can exchange currencies. Currency exchange rates can be synchronized with those of Google Currency.
Main Highlights
The rates for any currency can be downloaded from this site.

You can buy a number pad with a built-in calculator.

Attributes can be customized in hierarchical categories.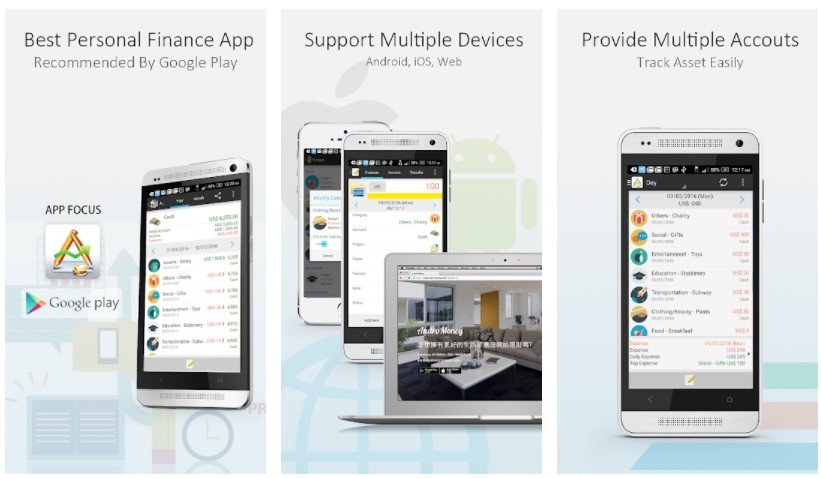 Features of AndroMoney App
Multiple accounts and currencies are supported, as well as account balance and transfer.

Acquire Cloud Storage (Dropbox, GDdrive).

Any currency with downloadable rates can be found here.

You can obtain a calculator-equipped number pad.

Hierarchical categories with configurable attributes are accessible.

Austere/Detail/Custom Budgets are accessible.

Get Expense and Cash Flow trend, pie, and bar charts.

Password Protection Provides Security.

Take a look at your spending and revenue summary.

Data backup to Excel/Mac Number.
Why choose AndroMoney App?
There are versions of the AndroMoney mobile program available for each of the three major operating systems: Android, iPad, and Windows PC. Your monthly budget can be defined using the AndroMoney web cloud service, which accounts for your spending habits. Budget overshoot notifications make it easier to keep track of expenses.
AndroMoney App Reviews

 Frequently Asked Questions
How can I go to the Accounts page?
Click the account name above the View Account Activities section and below the account sliding bar (if you have the sliding bar). If you have many accounts, version 1.5.0 includes a sliding bar above the Account name.
What is the procedure for transferring my account?
By clicking the account name above the View Account Activities column, you can access the Account list page. Alternatively, head to the Schedule/Repeating Transactions page and click on the Account Transfer menu item.
How to save expense information to a flash drive?
Click the menu button on the home page, followed by the Settings menu—select Backup. You can export data to an SD Card in the CSV format. Alternatively, navigate to View Account Activities and then pick Export/Import. Select data from your SD Card can be exported to a CSV file.
How can I establish a data backup to an SD Card?
Click the menu button on the home page, followed by the Settings menu. Backups of your database can be created to an SD Card.
How can I set up a payment reminder?
Payment alerts can be configured once or regularly. Navigate to Schedule/Repeating Transactions to configure expense or income payments with notifications.
How can I establish a new expense category?
To begin, head to the New Transaction screen and then to the Category Expenses option. If you cannot identify the category you are looking for, you can create a new one using the New Category menu.
How do I delete transactions?
Conduct a transaction search by navigating to the View Account Activities page. Then, from the menu bar, pick Erase to erase all records on the page. You can delete all transactions, both revenue and expense. When doing so, exercise caution.
How can I obtain access to the pie chart?
Click This Week Expense, This Month Expense, or Year to Day Expense to view the expense page. Select either the Date or Category View, followed by the Chart button.
How do I backup and sync my cloud data?
Click the menu button on the app's home page and select Settings, followed by Sync with Dropbox. To begin, you must establish a Dropbox account. At http://www.dropbox.com, you can create a free Dropbox account. Please ensure that each device has access to the most recent data before selecting the sync option if you sync with several devices.
Is an upgrade to the Pro-Edition required?
If you'd like to manage your company and personal accounts separately or if you dislike commercials, please upgrade to the Pro Edition. By continuing to utilize the free version, you save money. Both the free and paid versions offer the same functionality.
How do I open an account for Auto and Mileage?
Click the Add button on the Accounts page. Select the checkboxes for Auto and Mileage. Then, slide to the Auto and Kilometers account to enter vehicle expenses and miles on the home page. By clicking the Mileage icon, you can view your Mileage activities. You may examine weekly or monthly distance totals or search for a specific trip on the Distance Activities page and menu.
What is the proper way to include a note?
Select the More menu from the App's home page. Additional information can be included, such as an account number, a reminder, or a transaction remark. To add a transaction to a note, long-press it on the Account Activities screen.
AndroMoney App Download
Like our AndroMoney App Review? Check out more Mobile App Reviews or Submit your own Mobile App Reviews.