With a billion+ active users per month, Instagram is one of the core platforms for social media marketers. Millions of influential individuals constantly upload photos and videos available to their audiences. And besides the viewers of this content, there may be users who wish to download that content for various purposes.
Although Instagram is the world's leading photo-based social platform, there are some drawbacks. Instagram unfortunately doesn't allow users to save content to their devices. This is unlike other apps such as Tumblr, Reddit, 9gag, and many more. Despite this drawback on Instagram, there's no holding back from saving those super cool cat videos!
There are a bunch of third-party applications that let users download content on Instagram. Here's a compilation of some brilliant apps that let you save awesome data on your device.
1. Fastsave for Instagram
Fastsave for Instagram is an app true to its name. It lets you easily download photos and videos from Instagram. The app also lets users easily repost content from other creators. You can view Instagram photos and videos, and download them to your phone using the Fast Save for Instagram in HD.
Not just download photos and videos from Instagram – but you can also save stories. Another additional feature the app offers is the Secret Locker using which you can hide selected posts offline.
Features:
No limit on the number of downloads from Instagram.
Users can easily view saved stories within the app
You can easily share, Repost, or Delete video from the Fastsave app.
Users can hide selected photos and videos within the app's Secret Locker.
The app can also be used for apps such as TikTok, Facebook, SoundCloud, Vimeo, Pinterest, etc.
2. Downloader for Instagram: Photo & Video Saver (Android)
Downloader for Instagram allows users to save Photos, Videos, Stories, and Reels – and also allows reposting them. The best part of the Downloader for the Instagram app is that users do not need to sign in to the app using their accounts. They can simply paste the link of whatever content they want to download. The app also allows users to gain access to content from other Social media platforms such as Facebook, Twitter, etc.
It is important for users to know that this mobile application is available only for Android devices, and has in-app purchases.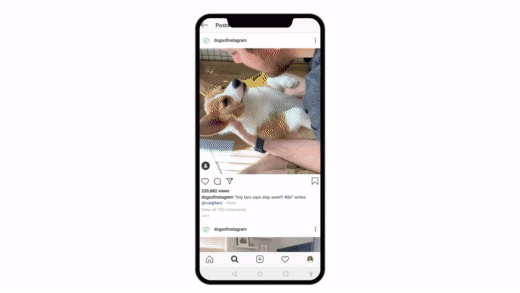 Features:
No login is required to save photos, videos, and other content.
Users can download Stories, IGTV, and Reels on Instagram using the content's link.
The app allows users to play videos offline with a built-in player.
Users could also repost content on Instagram.
This app allows easy managing of data to save, delete, or view saved content.
3. Video, Photo & Story Downloader for Instagram – IG
This free mobile app is great for downloading photos, videos, and stories on Instagram.  Users can easily download content in HD Quality and save it to their gallery.  InstaSave is brilliant because it is completely free, with no in-app purchases. The app also allows users to download all the content without logging in.
Features:
You can download content from Instagram using the app.
The photos and videos can be saved to the gallery instead of an app dashboard.
Users can download content in High Definition quality.
The app allows users to copy descriptions and tags of the photos and videos.
The app allows users to repost the photos and videos saved.
4. Reposter
The Reposter app is an iOS app that allows users to Repost posts, videos, and stories. Reposter app users can copy links of Instagram photos and videos to view them on the app. This app is very simple, easy to understand, and convenient to use.
The app allows users to save unlimited numbers of Instagram posts, stories, and videos. The coolest part about this app is that the app lets users select future dates and times for uploading content.
Features:
The app does not require users to log in.
Users can save content from Instagram without any watermarks.
Reposter is completely free and does not require in-app purchases.
The Reposter app lets users schedule uploads for the future.
5. Insaver for Instagram
Insaver for Instagram is an app that lets you save all your favorite content from Instagram. it is easy to use with only 3 simple steps:
– Copy the link of the original Instagram post.
– Paste the link on Instasaver.
– Save the post as a favorite.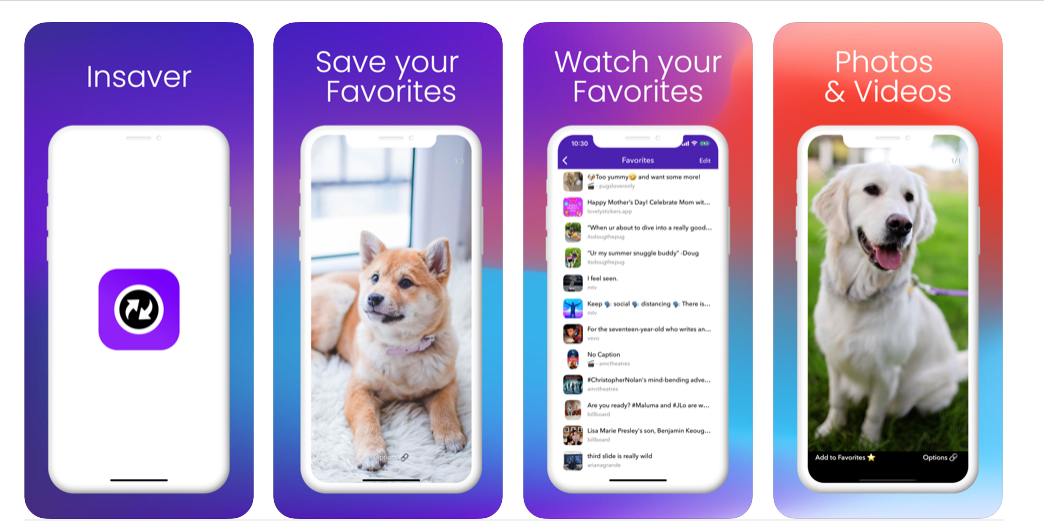 Features:
The app is extremely easy to use to save Instagram posts.
Insaver for Instagram allows users to copy and save links as favorites.
Insaver app lets users browse saved media within the app.
The app is free but contains a pro version – which is paid.