Main Highlights:
Professionals in graphic design develop visual information to transmit messages.
The term "enterprise web development" refers to creating a company's website, online apps, and enterprise software.
Social media management is developing, disseminating, and evaluating material on social media.
A t-shirt design is a popular method to add a personal, creative touch to a custom t-shirt and is an excellent place to start your business.
The process of developing, creating, and revising web material, generally for digital marketing objectives, is referred to as content writing.
Do you feel as if you've been forgotten? Inflation is surging, escalating the cost of your groceries? Would you benefit from a second source of income? 
Developing a "passive income," as sometimes referred to, is all the rage these days. They're everywhere, especially if you're on social media. Parents at home, teens, college students, business professionals, and retirees all appear to be flexing their side hustle muscles. You may even be in a position to establish your own. Still, it's natural to be intimidated: If you conduct a simple web search to learn about the ins and outs of beginning a home-based business, you may conclude that the process is intimidating, confusing, or, worse, costly.
However, I can assure you that with an Internet connection, a laptop, email, $100, and the will to take charge of your financial future, it is achievable – and I'm not talking about your typical "get rich quick" gimmick.
Before we dive in, it's critical to remember that while success is possible with drive, knowledge, tenacity, and enthusiasm, there are also no shortcuts. Statistically, the majority of those who seek to start businesses fail. However, in my experience, such failures are not the result of a lack of talent or short modeling but rather a reluctance to crawl before sprinting. You may aspire to earn seven figures annually with your home-based business — which is admirable; you should set lofty goals — but the key to success is focused on the long term.
Too many individuals, including myself (at least initially), overestimate their ability to do in a month and underestimate their power to accomplish in a year or even a decade. The objective should be to earn a hundred dollars, then leverage that into a thousand-dollar success, and eventually a ten-thousand-dollar success. Said, break down your big ambitions into smaller ones and appreciate each win along the way.
Five service-based enterprises that you may start from home now.
Consider this: nearly everyone who owns and manages a business (big or small) and its affiliated companies requires graphic design assistance. And before you dismiss the notion because you lack a degree in that discipline, consider this: You'd be surprised at how simple it is to learn many of the graphic design applications available. While advanced, desktop applications for the PC/Mac, like InDesign and Affinity Publisher, are initially simple to use. Experiment, investigate, watch some YouTube videos, and be curious. You'll be amazed at how rapidly you can self-teach.
Web development enterprise
The web development market is practically endless in size. While competition is intense, you may earn a good living designing websites for clients who either have no idea what they're doing or lack time to build and operate their own. (And we'll explain how to invest appropriately in yours later in this post.) With a bit of training on a platform like WordPress, you can earn a comfortable living. I prefer WordPress for its market dominance and ease of use. And here's a little secret: If you choose the proper template among the hundreds available, the majority of the legwork is already done for you. Naturally, you'll want to customize and add your flair, but you'll be ahead of the curve nonetheless.
Agency for social media management
If you regularly share photographs of your life, family, food, friends, and activities on social media, you are eligible to start a social media management firm. There are tens of thousands of businesses out there that want assistance managing their content and social media activity. That might very well be you!
Design and printing of T-shirts
You may believe that this seems complicated, perhaps more so than the other concepts, yet it is one of the most accessible companies to start. Custom T-shirts have never been more popular, and the business is quite profitable. Several decades ago, establishing this type of business took a great deal of effort, including managing design, production, inventory, and shipping. Today, all you need to do is come up with incredible design ideas and then promote your items, as platforms like Bonfire and Spreadshirt will walk you through the process step by step. You'll never have to deal with manufacturers, inventories, or even shipping: your role will be entirely that of creator and marketer.
Professional content writing service
Have you ever emailed a friend? How about sending one to a prospective client or colleague? If you do, you can pursue a career as a freelance writer. Additionally, there are several changes here. You may create blog posts, articles, resumes, text for YouTube videos, and so on. While it helps to have a natural aptitude and enthusiasm for writing, there are few obstacles to entering this field as long as you're ready to take little effort. Persistence, patience, and consistency are required to get started.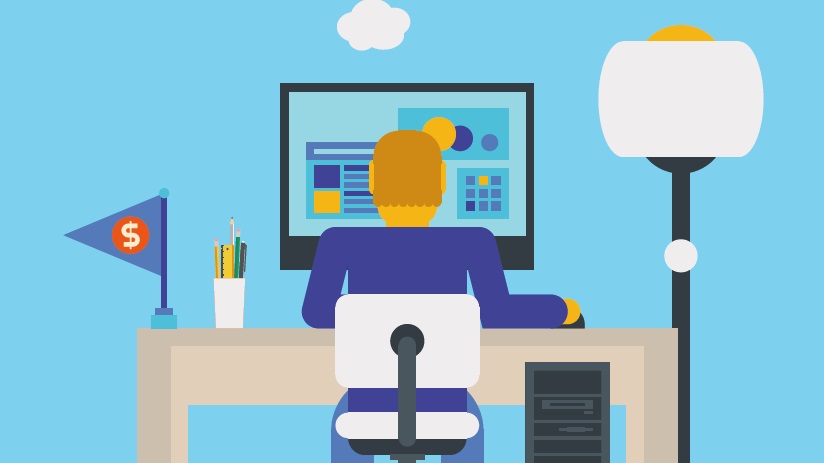 The following logical stages  
Each of these business ideas can be launched for less than $100, but you may opt to invest more or less because each case is unique. Based on my extensive expertise, I would recommend that you develop a website and a social media presence at the very least. However, do not become overwhelmed by the groundwork: slow and steady will help you win this marathon.
Creating social networking profiles is completely free. Depending on your target demographics and marketing preferences, one platform may prove to be more effective than another. Additionally, if you're comfortable making videos, you may consider using YouTube or TikTok to promote your business.
After establishing a social media presence, you'll want to create and publish a website highlighting your services. Although it is not required, having a website that showcases your work and testimonials immediately establishes your authenticity in the eyes of potential clients. You'll need to choose and register a domain name (around $20) to get one going. You'll then pay an annual subscription to host your site and associated email accounts.
The next phase is design, which can cost anywhere from $40 to $4,000 or more. My advice is to start small. Create a buyer account on Fiverr or UpWork and begin searching for freelancers that can assist you.
Specific individuals become preoccupied with forming an LLC before commencing their firm. This is unnecessary upfront and will complicate and increase the cost of beginning efforts. Additionally, introducing red tape to the procedure will put you in the way of your first sale. While some may differ on this point, starting your business as a single proprietor is familiar, straightforward, and accessible.
Now, where are those initial clients to be found? Simple: you must pound the metaphorical pavement. Avoid overthinking it; instead, get your message in front of as many people as possible, and avoid spending money on marketing until you've created a consistent source of revenue and are ready to grow. It's never been easier to advertise a business for free; start by joining groups and generating and posting material on Facebook related to your service to establish a presence in that community, then replicate that effort on LinkedIn and Instagram.
Before asking for sales, establish yourself as someone who offers value to the conversation. So many people struggle to acquire momentum on social media merely by spamming others with their offerings. Rather than that, establish yourself as someone who shares material with everyone in your community first, rather than as someone wanting to profit.
When you feel confident in your pitch and are truly prepared to sell, undertake preliminary research on possible prospects. Collect their email addresses and social media handles, and then approach them directly on Instagram and LinkedIn. You may even email or cold call, but be prepared for rejection; it's a natural part of running a business. Remember that selling yours is a numbers game: even if you are rejected 99 times in a row if you succeed on the 100th attempt, you have achieved! You do not need everyone to realize the value you provide; you need a few at first, and your success will compound.
I'd want to emphasize the critical role of limiting startup expenses. Once you've created an account on sites like Fiverr and UpWork, you'll be tempted to hire people to help you with a variety of tasks, including company planning, marketing strategies, and social media ad management. Avoid this early-stage trap. Keep in mind that you're running a business: if you're spending more than you earn, you're operating a hobby, not a business, and limiting expenditures early on is critical. Additionally, avoid worrying about constructing an empire; instead, focus on taking one tiny step at a time.