Introduction: 
Caviar app is a premium local Food Delivery & Takeout app. With new food delivery apps, the days of going into a restaurant to eat are finally over. Thanks to some amazing food delivery service apps with just a few taps on the screen, we get access to hundreds of restaurants. We get to have a variety of dishes from every cuisine we can think of. 
Caviar is one such app that caters to your stomach's desires  It helps you get the food you want. Just download the app to get your delivery or order ahead with pickup. It dates back to 2014 and has partnered with over 2000 restaurants spanning 17 different cities. The App was acquired by Square for $100 million. Since then, it is equipped with the Square's full suite of tools for business.
It delivers food from curated lists of local restaurants right at your fingertips. You can enjoy quality dining at home and make any night.
Pros of Caviar App: 
Good interactive interface for users

Exclusive options

DashPass option 

Variety of food categories and selections.
Cons of Caviar app:
A lot of alternatives

Available in limited locations.
What is Caviar app? 
 Caviar is an on-demand food delivery app. It provides food delivery from the best local restaurants at your doorsteps.  It leverages data and tech to make deliveries more efficient. Its Customers can order via web or apps with live tracking of the status of their order. It allows its customers to get deliveries from top-rated restaurants. 
Its platform architecture has great generated value by targeting a niche market. It has a colossal mass of customers even with very few restaurants. It focuses on exclusivity to multi-homing Which creates more substantial network effects with its customers.
Caviar has made ordering food a convenient and wonderful experience for its customers. Square even provides the customers with the option of splitting their bill for deliveries.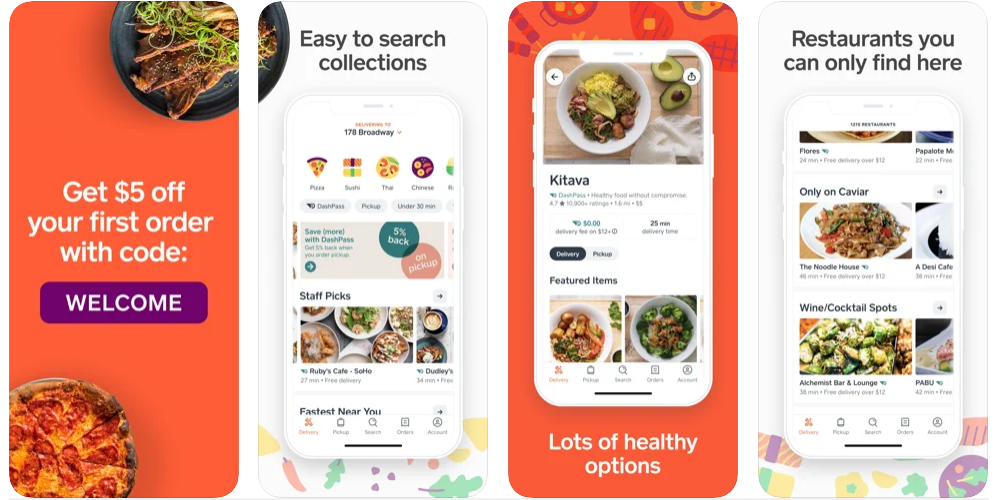 Features of the app:
EASY INTERFACE:

App has cuisine icons to search results by food type. like $$ or Less, Healthy Enough, Staff Picks, Women-Powered, and more to find food.

HEALTHY OPTIONS:

Provides in-house expert-curated collections like Healthy Enough, Vegan, Vegetarian, and more. 

EASY PICKUP:

You can skip the fees and order ahead with pickup by finding comfortable spots near you.

NO-CONTACT DELIVERY:

It offers No-contact delivery on all orders. You can even follow delivery status with real-time GPS tracking.

QUICK CUSTOMER SUPPORT:

The app offers support in just a chat to solve an issue with your order.
Exclusive Features: 
DASH PASS: It is equipped with DashPass. It offers $0 delivery fees and lower service fees on eligible spots after subscription subscribe.
MORE OFFERS: You get numerous early food deals and offers after subscription on the app.
Frequently Asked Questions:
Which OS supports the app?
Both iOS and Android platforms are compatible.
Yes, the app is free to use.
Is the payment secured for in-app purchases?
Yes, the in-app purchase payment method is secured. 
Which permissions are required to use the app?

 
The app requires permission to :
Financial Info

Location

Contacts

Identity

Storage

Wi-Fi connection information

Device ID & call information

Contacts
Why should you use the app?

 
It has a two-sided working model. On the one hand, it helps the customer in getting food at their doorsteps. On the other hand, it provides restaurants access to delivery fleet and customers. It helps them to earn additional sales via incremental orders. 
Caviar tries to bring the best food to customers from across the country because of its partnership with restaurants. It works with over 400 food partners, including food trucks, restaurants, and catering companies. The app company has a strong and unique relationship with partners. Many of its partners are not even available on other food delivery apps. 
It has in-house nutritionists behind its collections like Healthy Enough, Vegetarian, Vegan, etc. It finds food that fits your diet and caters to your needs. The app has an amazingly smooth user experience which makes decision-making fast and efficient.
User Reviews: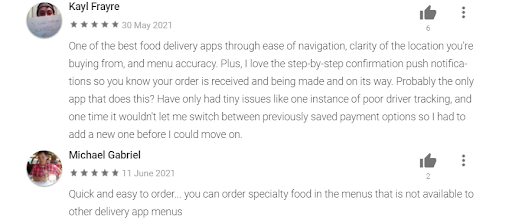 Download the app here:
Like our Caviar App Review? Check out more Mobile App Reviews or Submit your own Mobile App Reviews.