The forefront of Education App Development
There are unique applications available that are revolutionising the travel business as a result of the continual expansion of mobile devices and smartphones. Some programmes make it simpler to schedule flights and accommodations, while others are designed to make an individual's journey more fun and convenient, such as translating money or language "on the go."
The travel sector is quite fluid. It produces billions of dollars globally and sustains millions of jobs worldwide. People travel for a variety of purposes, including leisure, business, and visiting friends and family. World tourism is now witnessing tremendous expansion and transformation.
Executives in the sector confront several obstacles in terms of business procedures, operational excellence, branding, consumer loyalty, and IT use.
Furthermore, the advent of social media and the rising consumer usage of smart mobile devices are shaping the development of tourism-related activities.
Dealing with this impact necessitates achieving the proper balance of risk and return. We assist travel service firms in capitalising on opportunities and maintaining long-term competitiveness.
If you are wanting to construct a Travel/tourism app and don't know how to pick a travel technology business, then you should look into the following companies and look at their services, portfolio, and many more to make your app user pleasant and demanding: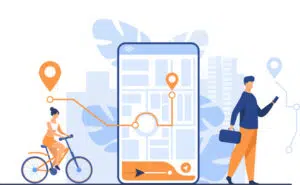 It is one of the best travel app development businesses in India, having been founded in 2008. It is a complete blend of knowledge, invention, and creativity. They are experts in app development services. They are an ISO and CMMI level 3 accredited organisation.
Furthermore, if clients are dissatisfied with a certain project or product, they are entitled to a complete refund. Its innovation stems from young, bright designers and developers who are totally committed to providing outstanding outcomes to consumers, and all of this adds up to making it one of the best travel software development firms in India.
PHP Web Development,.NET Web Development, Java Web Development, AngularJs Development, Xamarin Development, and more technologies are employed.
Trawex is a premier travel portal development company founded by a group of experienced IT experts in Bangalore, India.
Trawex provides worldwide B2B travel technology solutions that are interconnected with all major global distribution systems (GDS) and a wide range of ready-to-integrate solutions with your travel site.
Trawex offers a mobile-enabled platform for travel purchasers to search, price, book, and pay for travel.
Trawex is a globally recognised Mobile Application Development Company. Trawex offers Travel Mobile APP Development services to make bookings quicker, easier, and more efficient.
Travel planning, locating travel agents/guides, purchasing tickets, hotel bookings, route mapping, travel updates, and destination discovery are all made easier with Trawex travel mobile applications.
Trawex is a Travel and Hospitality Technology Consulting firm that builds custom software for online travel agents, travel management solution providers, and travel tech startups.
Travelopro is a globally recognised App Development Company and Web Development Company.
Travelopro offers Travel Mobile App Development Services to help you book faster, easier, and more efficiently.
Travelopro is one of the most innovative and experienced mobile app development firms, offering you best-in-class, industry-focused mobile apps.
Travelopro offers consulting and development services for online travel agencies, tour operators, and travel management companies in all aspects of B2B, B2C, XML API Integration, White Label GDS Integration, Car Rental, and booking engine development.
Travelopro is a leading travel technology firm that provides travel portal website solutions with a global inventory of all items to travel companies worldwide.
Travelopro provides travel portal solutions that assist our clients in increasing income and sales.
Get the best Travelopro travel app development solutions that provide end-to-end mobility solutions for the travel and tourist business.
As a mobile app development firm, Travelopro's major emphasis is to provide strategic planning and the finest product in the industry to compete in the market.
Travelopro's custom mobile app development solutions for website and web application development can strengthen your web presence by providing mobile-ready platforms.
Amadeus is the top travel app development company that helps businesses function smoothly and successfully.
Amadeus creates travel app solutions for every aspect of the global travel industry.
Through the Amadeus CRS distribution business area, Amadeus delivers real-time search, pricing, booking, ticketing, and other processing services to travel providers and travel agents.
It also provides computer software to automate activities including reservations, inventory management software, and departure control systems.
As a top travel and tourist software development firm, they have always given unrivalled mobile app services throughout the globe to a diverse range of business industries, assisting them in improving their growth, ROI, and market reach.
Xicom is a well-known firm that provides the best travel app development services in India. Since its inception in 2002, they have been producing creative and dedicated travel apps for mobile platforms such as Blockchain, iOS, Android, Xamarin, AI, and AR/VR. They are also well-known for providing excellent mobile app development solutions. It is making a name for itself by providing cutting-edge technology. As a result, they have consistently demonstrated their worth in a variety of industries.
PHP Web Development,.NET Web Development, Java Web Development, AngularJs Development, Xamarin Development, and more technologies
This is one of the most reputable app development firms that has grown in popularity throughout the world by providing high-quality apps to its clients/partnered businesses, entrepreneurs, and startup brands all over the world.
Since its inception in 2014, they have created over 500 award-winning travel applications for their clients.
They have developed several tourist and travel apps, as well as applications for other industries such as real estate, education, healthcare, enterprise, and finance.
So, if you need the best app developers for your travel application, Appinventiv is the place to go.
React Native Development, Swift, and Flutter apps are the technologies used.
Conclusion:
This is a list of the best travel and tourism application development firms. These organisations are listed on Google, GoodFirms, and Clutch for several crucial aspects such as client and staff reputation. These app development firms are ideal for all sorts of SMEs, as well as startups and major corporations.
This article will undoubtedly assist you in selecting the finest travel app development firm for your demands and budget. All of the businesses featured in this article provide the creation of travel and tourist applications on a budget.
So, make an informed decision and get the most out of your initial travel and tourist application in the market and business.