What is Cookpad app?
Looking for recipe inspiration? This app is a perfect place to search further. This  Cookpad is, the world's largest community of home cooks where every day, people just share thousands of recipes, ideas and cooking experiences which help in increasing the passion for cooking 
Each Cookpad recipe has been created, tried and tested by home cooks, for home cooks so whether a person is able to create, or just want to cook, Cookpad is the place where different passionate people from different background provides a perfect recipe and a good quality of taste is presented through recipes.
Cookpad is an app which is created by Cookpad Inc an app developing company from the united kingdom was developed around September 4, 2010.
Main Highlights
Browse a diverse collection of recipes, or search by specifics – ingredients, seasonal dishes, holiday favourites and more
Create and share your own recipes and help others to become better cooks
Build a limitless collection of recipes you find, share and cook – it's your own personal cookbook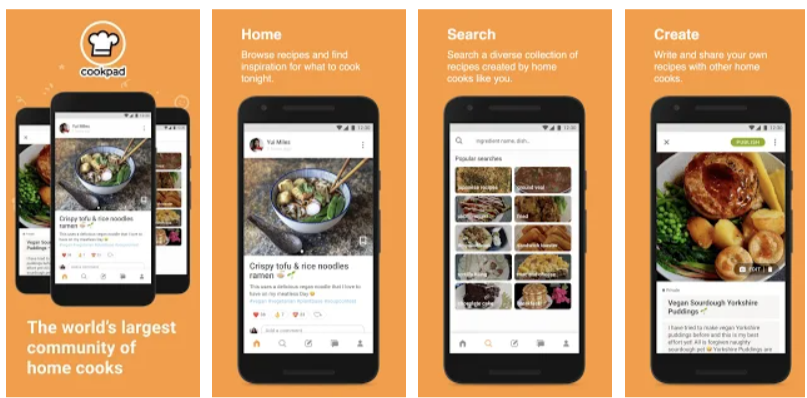 Features of the Cookpad App.
While after opening this app, at home you can browse different recipes from the world and cook differently.

Helps you to easily search a diverse collection of recipes created by different home cooks from different regions.

Cookpad provides a facility of creating your own recipes and trying different recipes from around.

Involves into activity with other home cooks so one can respond and give feedbacks about the recipes presented before you

Helps you to organise all of your recipes in one places and refers you back to them anytime.
Why Cookpad App?
It browses a diverse collection of recipes and helps to search by specifics – ingredients, seasonal dishes, holiday favourites and more.it often creates and shares owned recipes and help others to become better cooks through time provide an easy way to share photos (or cook snaps) of the recipes being cooked and inspire others to try them too. establishes a better connection to connect with other home cooks, helps in asking questions and share ideas. builds a limitless collection of recipes of different cuisine one may find, one can share and cook – it's kind of personal cookbook.
Cookpad App Review:
If you haven't downloaded this cookpad app yet, then you are really missing some great cuisine and recipes around the world.
Frequently Asked Questions 
Where to get the list of recipes that have been already cooked before?
Once you get started with it, there is a various list of meals and description including how the meal has been prepared.
Why after updates one can't list the recipes they have tried before?
Cookpad is continuously working to make the version best for people and easy to access. kindly contact support team of cookpad.
Why it is lagging and not responding?
it is lagging sometimes due to network issues and due to compatibility also.we are still working on issue and trying to make it convenient for our users.
Cookpad App Download: 
Like our Cookpad App Review? Check out more Mobile App Reviews or Submit your own Mobile App Reviews.