What is Dave app?
Dave app is a digitalized banking suite that offers overdrafts without any fees and provides easy loans to individuals' accounts at their banks. It acts as your financial companion, sending you tips and notifications when it senses that you might be needing an extra paycheck. With its balance planning tool, you can organize your finances in a better way.
The app's expense utilities, such as rents, overdrafts, and local services keep track of your budget and intelligently offer an instant paycheck to ease your shoulders. It works in such a manner that you will emphasize more in your expenses and keep an eye on any foreign requirements for fulfilling your daily or weekly expense notes. 
Pros of Dave App: 
Easy communication between Banking pioneers.

Providing easy overdrafts.

Highly effective and engaging User-Interface.

Keeping track of your expenses.

Easy to understand budget and expense tracking.
Cons of Dave app:
It requires that you have a steady income/paycheck to ensure repayment.

Loan payment can take up to 3 days when using standard delivery.

Short repayment time for small amounts.
Overview of Dave app? 
Dave works as a financial ease corporate banking system, which keeps track of its customer's expenses and budget/paycheck and uses it to utilize finances in a better way. It connects to your bank account and intelligently pings you when you are nearing the exhaustion of your steady paycheck.
It provides easy loans for keeping up with your side hustles and/or your leisure expenses. With it, you earn credits every time you save yourself from the burdens of paying overdrafts. It even offers a good loyalty bonus for its banking members by proving them with a credit of $200, and a credit of $100 for every user.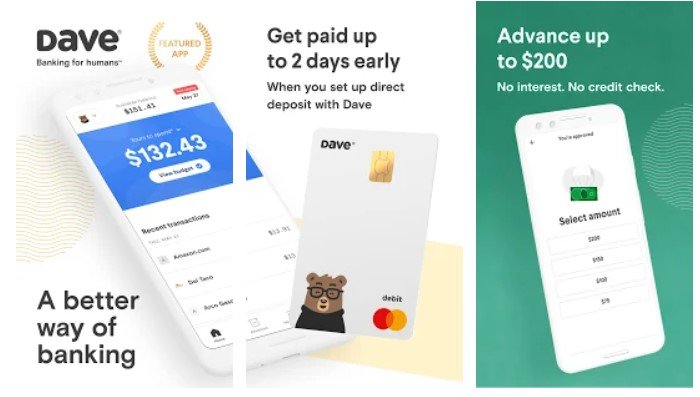 Features of the app:
Free $100 payroll bonus without any interest or credit check.

Unemployment and Stimulus relief- Get off hard times with Dave's criterion benefits.

No additional fees- no hidden charges and other purchases.

Budget notifier- be informed about going and coming expenses with reminders and notifications.
Features that unveil when you sign up: 
Expense calculation tools.

Budget tracking tools.

Ease with employers payroll with weekly paychecks.

Analyze, track and review finances.

Loyalty benefits by paying rent and utilities on time.
Frequently Asked Questions:
Which OS supports the app?
Both iOS and Android platforms are compatible.
No, the app requires a monthly subscription of $1, and an optional tip after receiving a paycheck.
Is the payment secured for in-app purchases?
Yes, the in-app purchase payment method is secured. 
Which permissions are required to use the app?

 
The app requires permission to access media files, Wi-Fi connection, and storage on your device.
Why should you use the app?
Dave banking app is best for analyzing budget, keeping track of expenses, and paying services and utilities. It efficiently sends notifications and reminders about finances and offers paychecks whenever you need it. It is best for keeping the burden of overdrafts off your shoulders and intelligently analyzing and overcoming it.
With Direct Deposit feature, Dave is twice as nice. If you set up your Direct Deposit with Dave, you can get paid up to two days early (2), take out a $200 advance (1), and build your credit (3) in the process. All without having to worry about overdraft fees.
On the app store description, Dave App claims that there are no hidden fees. In addition to that, you can also apply to some side jobs from within the app.
Dave App Reviews: 
Download Dave App:
Like our Dave App Review? Check out more Mobile App Reviews or Submit your own Mobile App Reviews.