Frances Haugen, the Facebook whistleblower made her identity public on CBS' '60 Minutes' on Sunday. She was a former employee of Facebook who left in May after two years on the job, said the corporation is aware of how its platforms are used to propagate disinformation, hate, and violence. As a result of Haugen's testimony before a Senate subcommittee on Facebook's behalf, the crisis has worsened for the social media network.
The disclosures made by Haugen are particularly relevant because Facebook has been scrutinized in recent years for failing to do more to curb hate speech online and protect the data of its enormous user base.
Haugen was a product manager on Facebook's civic integrity team for nearly two years. Her work entailed tracking the spread of misinformation on the platform and ensuring it wasn't being used to undermine democratic institutions.
Haugen told CBS' '60 Minutes' that she lost faith in Facebook after the team was disbanded. This previously completed work was then divided up across several other departments, Facebook eventually revealed. She argued, however, that the corporation was failing to do enough to guard against false information.
"There were conflicts of interest between what was good for the public and what was good for Facebook," she said during the interview. "And Facebook over and over again chose to optimize for its interests like making more money."
When asked how far it had come in combatting hate speech on social media, she claimed that Facebook had exaggerated how far it had come. For his part, Haugen contended that after the US presidential elections, Facebook was used to arrange the Capitol riot on January 6 because the business had turned off safety safeguards to protect its users from harm.
In September, the Securities and Exchange Commission received roughly eight complaints from Haugen, alleging that Facebook failed to disclose investor and public research about its flaws. As a result of her actions, the Wall Street Journal published a series of pieces showing that Facebook was well aware of the harm disinformation, particularly to teenage girls, causes yet did little to stop it.
But she doesn't want people to despise Facebook because of her intentions. "I don't hate Facebook. I love Facebook." Before she quit Facebook, she stated in her final internal message, "I want to save it."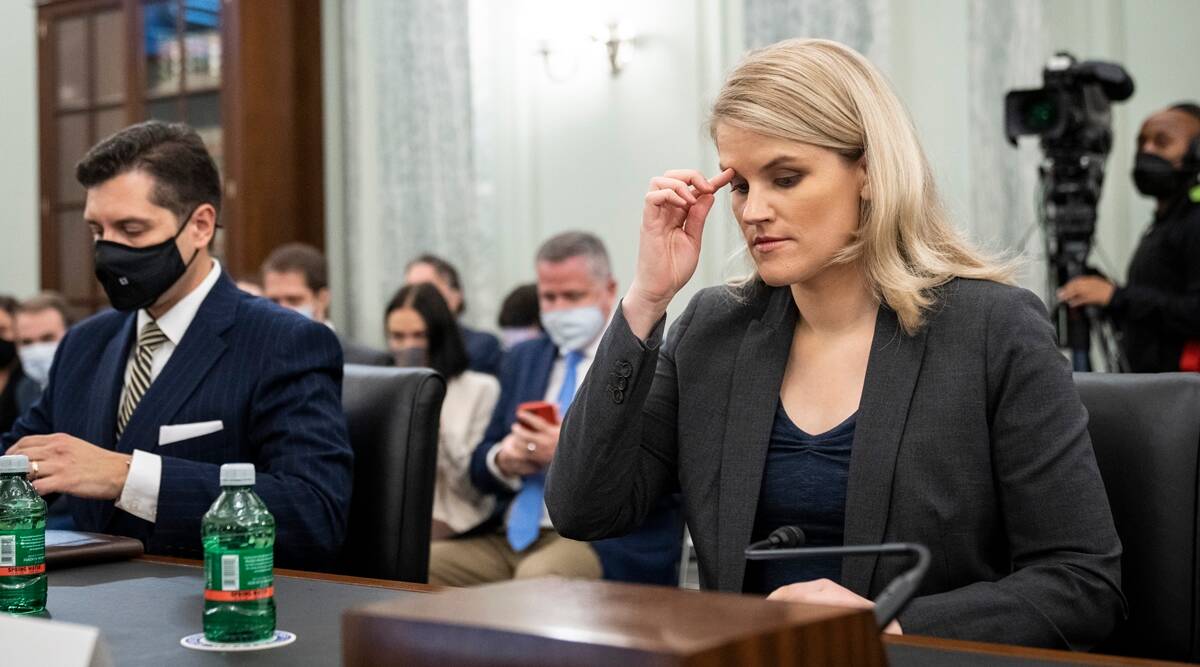 Facebook accused of moral bankruptcy:
In testimony before a Senate subcommittee, Haugen claimed that Facebook had "moral bankruptcy" and is "caught in a loop it can't get out of." "Facebook products" harm children, stoke division and weaken our democracy.," she warned of the company. The platforms' algorithm prioritized ranks and kept users on the site for more extended periods to make more money. According to Haugen, Facebook did this by amplifying unpleasant emotions like wrath.
However, the CEO of Facebook, Mark Zuckerberg, has refuted the allegations made against him. In response to Haugen's testimony, he wrote, "The argument that we deliberately push content that makes people angry for profit is deeply illogical" "We make money from ads, and advertisers consistently tell us they don't want their ads. next to harmful or angry content."
As Haugen pointed out, the corporation has a history of understaffing numerous teams, making it less effective at responding when faced with damaging information. Democratic and Republican lawmakers appeared to agree with her, arguing that Facebook necessitated additional control. They opined that action must be taken to protect teenagers from the harm caused by Facebook.
Senators talked about legislation they've introduced to make young users' safety protections more comprehensive. Haugen even advocated for a 17-year-old minimum joining age instead of the current 13-year-old minimum. The claims were rejected by Facebook spokesman Lena Pietsch shortly after the broadcast of "60 Minutes" aired, and Pietsch said that Facebook is improving "to tackle the spread of misinformation and harmful content."
"Every day, our teams have to balance protecting the ability of billions of people to express themselves openly with the need to keep our platform a safe and positive place," Pietsch explained to CNN. Pietsch responded in a 700-word statement that the statement omitted several facts and that the interview "used select company materials to tell a misleading story about the research we do to improve our products."