Flipkart an Indian e-commerce app has become the first app to cross the 100 million download mark in the e-commerce category in Indian space. It is a big achievement for Flipkart in a market like India. It in interesting to note that 90% of the Flipkart traffic is coming from its Android Apps rest of its is distributed between desktop and other platforms.
The good part in this 100 million download rush is that there is a decent traffic which is coming from the tier 2 and tier 3 market. Which is a good indicator that the service is getting popular in the masses which constitute the larger number of consumers as compared to the urban scene? This feat was achieved by there Flipkart Lite version app. Let's look at there app store stats:-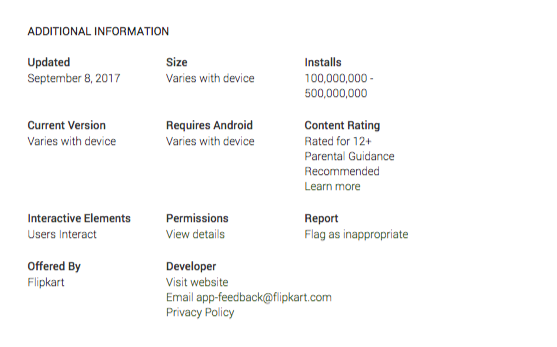 Also, on the other side, Flipkart has recently invested heavily in their print campaigns ( the newspaper started looking like Flipkart paper) and on top of that, the festival rush has also resulted in getting more downloads for Flipkart. Comparatively, its rival Amazon has only 50 million downloads in the Indian market.