Gigforce app offers you a role based on your work preferences. Your job is referred to as a "gig," and you are the "giger." You'll be given a variety of roles from which to choose and apply. You have flexibility and choice, so once you start a gig, you can choose which days you want to work. 
You can also share your salary goals and location preferences, which will slowly but surely assist the app in finding and bringing you gigs that match your preferences
Pros of Gigforce app:
After registering, as a part of the giger community you gain direct

exposure

to the team to work with and a supervisor to seek assistance from.

You can also understand the job through the

training

materials provided

To advance your experience level, you must pass assessments.
Cons of Gigforce app:
To create an active engagement, you have to invest a lot of your time and effort.
What is a Gigforce app?
Gigforce provides a wide variety of job opportunities, internship programs, part-time and full-time work. You, on the other hand, have the option of deciding when and where you want to work. You can include your work preferences and objectives. In addition, you can manage your gigs on the Gigforce calendar. On this platform, you can also learn and improve your skills with provided training.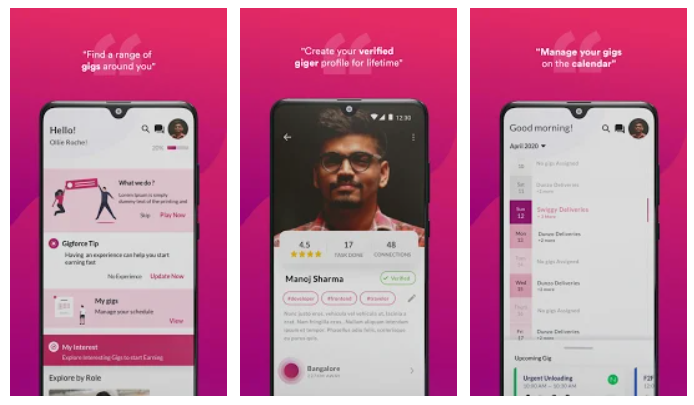 Features of  gigforce app :
Flexibility and choice-

on your own interest you can choose which days you want to work and salary preferences
Apply-

Once you set up your profile you can find many matching job profiles and apply them accordingly.
Features that unveil when you sign up:
Find and apply for a variety of positions.

There are numerous opportunities. Other than job opportunities you have to manage your attendance and also get on-site support.

You also learn about the job from the training materials provided to help you advance in your career, as well as clear assessments.

They have active gigs in several cities across India in a variety of industries and job roles.
FAQ: 
What OS does it support?
Only android platforms 
Is the app free for use?
Yes, The app is free to use. 
Is the payment secured for in-app purchases?
nil
What permissions do you need to allow for the app to function?
 The app requires permission to access storage, location, photos/media/files, and wifi connection.
Why should you use the app?
You use it to broaden your horizons. You can also create a professional resume by adding in your work history. You can establish your working hours and earn a living. With time you can build good performance skills and land your dream job.

User Reviews: 

Download the app here:
Like our Gigforce App Review? Check out more Mobile App Reviews or Submit your own Mobile App Reviews.