What is Goldcar App?
GoldCar app is a car rental service platform. The Goldcar brand has earned a reputation for offering consumers an affordable, reasonable, and value-for-money travel experience over the course of more than a decade in business.
Because of the brand's long-standing leadership in the market and the large number of clients who hire a car with Goldcar each year, we are able to provide extremely low rates on our rental cars. GoldCar accomplishes this through the website as well as through collaborations with third-party companies, among other methods.
This extensive network, present in 140 countries and territories, makes the company a member of the Europcar Mobility Group. It delivers mobility solutions to consumers all over the world through its global network of subsidiaries (including 20 subsidiaries in Europe all of them own, as well as other franchisees and partners).
Main Highlights
Roadside Assistance Service is available in a variety of languages.

For your road travels, we guarantee the lowest possible pricing.

Models and prices to suit all budgets, as well as the availability of a collection of automobiles that are fully insured.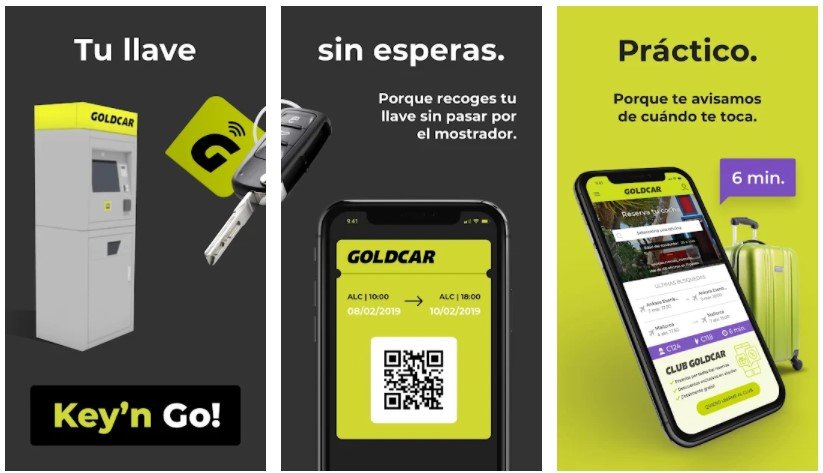 Features of Goldcar App
Online assistance is available through direct access to the roadside assistance service as well as our frequently asked questions.

Simple instructions for notifying us electronically of any issue (accident, theft, etc.) that you may encounter while on your vacation retreat are provided below. Despite the fact that we genuinely hope that everything goes smoothly.

A roadside assistance service that is available in multiple languages – Key'n Go is an acronym that stands for "key and go." Pick up your key in a minute and proceed with the following three steps: Check-in online, self-service with a digital totem, and a clear route to the car park to begin your journey.

The automobile was picked up and returned in record time, as well. Without having to stand in line, without having to deal with crowds, and without having to go through the counter.
Why choose Goldcar App?
With GoldCar, you may choose from a variety of car models and rates to suit your needs, as well as the availability of a group of automobiles that are fully insured. You may also purchase their all-risk Super Relax coverage, which will allow you to drive more comfortably than ever before. And then there's the extra! Additional drivers, internet access, GPS, and other amenities are available for an even greater experience. with assistance available 24 hours a day, seven days a week
Goldcar App Reviews
Frequently Asked Questions
What types of driver's licenses do we accept and what do we not?
Customers from other nations merely require a valid driving license from their home country in order to purchase our products. That means that if you are a British citizen and wish to rent a car in the United Kingdom, all you need is a driving license issued by the United Kingdom government.
In most cases, if you are from the EU and picking up in the EU, you will not be required to have a driving license from your home country, unless your driving license is not written in Latin script in which case you would be required to have one. To drive overseas if your country's driving license is not written in Latin script, you will need an International Driver's Licence in addition to your country's driving license.
Is there a minimum amount of time required to rent a property?
You can rent a vehicle on an hourly basis, and there is no minimum rental period required; however, the lowest cost is for a one-day rental period. Specifying the time of collection and return will be possible when you make a reservation for a rental vehicle.
What is the cost of a Full-Full-Day Pass?
As the name implies, this is a tariff that incorporates a full-fuel fuel policy, as well as other benefits. Clients will be provided with a full tank of gas when they arrive at the counter, and they will be required to pay a deposit; when the car is returned, as long as the tank is still full, the deposit will be fully repaid to the client.
The amount of money fined as well as the amount of fuel required to completely refuel the car will be levied in the event that the vehicle is not returned with its full tank of fuel.
Is there such a thing as excess, and how does it operate?
In the event of damage to the vehicle, the excess is a maximum amount (*) that you would be obliged to pay out of pocket.
In the course of filling out the rental agreement, a portion of the entire excess (**) may be debited from the credit card that was provided. If you return the vehicle in good condition, you will receive a reimbursement for the money you spent on it. The car will be assessed a cost based on the level of the damage, up to the amount of the excess, if it is returned to us in a damaged condition (except in cases of negligence).
When I try to make a payment with my credit card, it fails. What should I do in this situation?
Don't be concerned if you tried to pay with your credit card but could not complete the transaction. This is a straightforward issue that can be resolved quickly.
To finalize the booking, you must check that you have sufficient cash in your account to cover the total cost of the reservation. Increasing your account balance or using a credit card tied to a different bank account may be the best course of action. Before moving on, double-check that you have entered your CVV/CVC security code correctly and correctly.
Check to verify if your credit card has been authorized for foreign, online, or recurring transactions before proceeding with the transaction.
If you've received a new card, it's possible that your old one has expired or has been canceled. Alternatively, contact your banking institution or request a replacement card for additional information. Once you've made any necessary adjustments to your payment information throughout the booking process, you can try to finish the transaction again.
Goldcar App Download
Like our Goldcar App Review? Check out more Mobile App Reviews or Submit your own Mobile App Reviews.