Gotrade enables anyone in the world to invest commission-free in fractional US stocks. In a recent development, the company announced that it has raised $7M (approx €5.86M) in its Seed round of funding. It is a brand owned by TR8 Securities Inc. TR8 is a mobile brokerage that allows people to invest in fractions of US shares. The funding was led by LocalGlobe. Additionally, the round also saw participation from Social Leverage, Y Combinator, Picus Capital, and Raptor Group as well as angels associated with GoCardless (Matt Robinson), Skyscanner (Carlos Gonzalez-Cadenas), Deutsche Bank (Frank Strauss), and Rapyd (Joel Yarbrough).
Remus Brett of LocalGlobe says, "Over the past 100 years, US stocks have delivered average annual returns of 10 percent. With compounding, an investment of $1K back then would be worth $13M today. These returns have fuelled wealth creation in the US and other developed markets but most of the world has missed out. We believe Gotrade has the potential to help the world's 99 percent gain access to the same benefits that the 1 percent have. We are incredibly excited to be joining Rohit, David and Norman on this journey."
According to Gotrade, historically, for anyone to buy shares in companies like Apple, Google, Disney and other major US companies, people had to have a valid social security number or had to pay stockbrokers a high commission. Moreover, the high cost of a single share in some of the US's popular companies makes buying the shares prohibitive for those who want to invest from regular income, as opposed to the result of a one-off windfall, gift, or inheritance.
It offers anyone from anywhere access to ownership of these US companies by removing geographical boundaries for investing, by charging no commission, and by removing minimum deposit sizes. 
Instead of charging commission fees, Gotrade collects a small fee on the currency exchange from deposits, and any interest income generated from cash. Currently, users from 150 countries can buy fractional shares in global giants on the Dow Jones, S&P 500 and NASDAQ from as little as $1.
For instance, if Facebook is trading at $100/share, Gotraders can buy 1/100th of a Facebook share with $1. The company was founded in 2019 by David Grant, Norman Wanto, and Rohit Mulani with an aim to remove the barriers and substantial costs involved with investing in US stocks.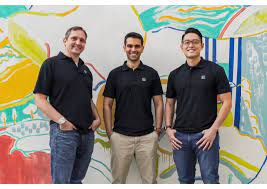 It has designed the app specifically to make trading engaging and easy with menus and screens built to appeal to millennials and digitally discerning customers of all ages; step-by-step tutorials, and help guides. The company says that the app will always be free, however, they will be looking to add a premium paid subscription program in the future.
Gotrade founder Rohit Mulani, says, "The US market is one of the greatest generators of wealth in history but access to it outside the US remains out of reach for the vast majority of the world due to numerous barriers to entry. We've eliminated those barriers with fractional shares, no commissions, custody, inactivity, or dividend fees, and an intuitive user experience. Our mission is to make investing accessible for literally anyone – be that a first-time investor who needs a helping hand understanding jargon or a seasoned investor who has many years of experience under their belt."
Talking about the safety of users, the company only works with fully-funded cash accounts without any margin facility. There are no options trading, short selling, or penny stocks, and day trading restrictions apply. Besides, a user can make a maximum of three-day trades every five trading days for accounts under $25,000.
Its model extends the protection offered by the Securities Investor Protection Corporation (SIPC) – which protects users' accounts for up to $500K –  to users globally. And all money flows through counterparties regulated in Singapore (Rapyd) and the US (Alpaca & First Republic Bank).
According to one of its investors Matt Robinson, co-founder at GoCardless and Nested, "Investing in the stock market should not be reserved for the uber-wealthy. Savvy Millennials and Gen Z savers understand the digital world more than anyone, and they are frustrated that it is currently very difficult to invest in some of the world's fastest growing companies. It opens up Wall Street to people wherever they live in the world, giving them the possibility of owning shares, however few, in some of the companies that are destined to be 21st century giants."
Gotrade works as an introducing broker to a Financial Industry Regulatory Authority-regulated (FINRA) US intermediary (Alpaca Securities LLC), through which app users can buy parts of shares in some of the US's biggest companies. Through this broker, stock inventory is split into millions of fractions. 
A user can decide how many fractions to buy or can set their budget and the app will automatically calculate the number of fractional shares they can afford through notional value trading. For example, a user could buy $5 (0.01028807 shares) of Netflix or $5,000 (10.2880658 shares) of Netflix without having to do the calculation themselves. The whole transaction takes place in real-time, although the trades execute only when the US market is open. The app also offers users to search for any specific stocks or lets them browse through categories from Tech Giants to Sport, Women in Charge, Gaming, and COVID-19-related listed companies. 
Once they click on a listing, a chart shows that particular stock's recent price movement, as well as its market cap, dividend yield, and more. In addition, recent news flow from the company is also displayed. Clicking on any of these terms reveals a pop-up that explains the meaning of the term. From this page, users can buy or sell. Like many funding apps aimed toward first-time or comparatively new merchants, it consists of academic content material, like pop-ups with definitions for funding phrases, and information articles about publicly traded firms. Its new funding might be used for hiring and product improvement, with a powerful deal with including extra in-app content material.
In a press release, LocalGlobe companion Remus Brett stated, "Over the previous 100 years, U.S. shares have delivered common annual returns of 10%. With compounding, a funding of $1,000 again then can be priced at $13 million at present. These returns have fueled wealth creation within the U.S. and different developed markets however a lot of the world has missed out. We consider Gotrade has the potential to assist the world's 99% to achieve entry the identical advantages that the 1% have. We're extremely excited to be becoming a member of Rohit, David, and Norman on this journey."
All fractional shares are shown on a user's Portfolio page, where they can track performance, add companies to a Wish List, and sell shares they no longer wish to hold. When dividends on a share are paid, they go into the user's account.
This funding news comes for Gotrade just weeks after it launched by invitation only and witnessed a 20 per cent week-on-week growth. Since their launch in March 2021, over 100,000 users have already signed up to Gotrade by word-of-mouth and customer referrals. Currently, the company's invite-only app is spread across 145 of its 150 countries. The app is mostly used by millennials to buy and hold investments, not to day-trade. With this raised funding, it will use it to scale up the business and further product development including a strong focus on user education.