What Is Groww App?
Groww is an India-based online investment platform Headquartered in Bangalore. It allows investors to open an account electronically and transact in mutual funds and stocks online. As of Feb 7, 2021, it had more than 10 million registered users on its platform As of Sep 2020, the company had raised $59 million in venture capital. The app and its services are available free of charge to the customer, with direct mutual fund plans made available in April 2018.
It provides mutual fund explorers with information including past performance and stocks held, educational content on investing, and mutual fund portfolios for various goals and profiles. It does not provide recommendations and expects users to choose their portfolio based on the information available. The app has a SmartSave feature, aimed at saving account holders, where the money is stored in a liquid fund with an instant redemption option. This app has also expanded to stocks.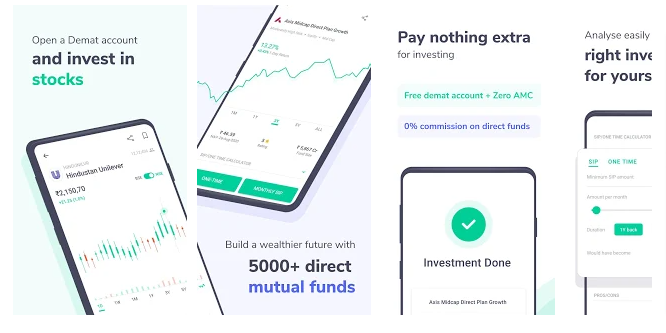 Main highlights 
Simple & easy sign-up, one time KYC done within the app – Your new account is ready in a few minutes

Use smart filter options to get the top mutual funds listed under different categories based on metrics.

Mutual Fund SIP calculator can help you estimate the returns for an investment over a period.

Invest in mutual funds by starting a SIP/lump sum in a few clicks.

The stock trading app made simple with one-click to buy/sell shares.
Features Of the App

Now Invest in Mutual Funds Online For Free.

Share Market Trading Made Super Easy.

Open Free Demat.

Trade Stocks in NSE, BSE.

Free Direct Mutual Fund & SIP.

Investing in mutual funds.

Stocks.

Digital gold are made easy.

Fast & secured.
Why Choose Groww App?
Join millions of users who are using it as their preferred stock investing & mutual fund investing app. Check live share prices, open your free Demat account & start trading in the stock market. Investing in mutual funds, stocks, digital gold is made easy, fast & secured. Enjoy 100% paperless onboarding without any hassles and Invest in popular mutual funds, stocks & buy gold in a few minutes from the comfort of your home.
Invest in any direct mutual funds by SIP or lump sum at 0% commission for free. If you are already an investor, switch your regular investments plan to direct mutual fund plans & earn extra returns. It is the simple Demat & stock trading app that allows you to open a free Demat account & trade BSE, NSE listed stocks in the share market at a low brokerage on the stock orders. Digital gold is now also available on the app. Buy 99.9% pure 24k gold online in just a few clicks. Safe & secure online gold buying app. 
Frequently asked questions 
Yes, it is a safe and secured app with SSL certification and 128-bit encryption keeping the information secured.
Yes, it is free for mutual fund investments with no transaction charges, no redemption charges.
How Much Do I Have to Pay for Account Opening?
There is no charge for opening a trading and demat account on the app.
Download the App:
Like our Groww App Review? Check out more Mobile App Reviews or Submit your own Mobile App Reviews.