What is HealthifyMe App?
HealthifyMe app is a health and fitness app that provides weight loss diet plans and personal trainers. It also powers you with a hand wash tracker, sleep tracker, workout tracker, weight loss tracker & calorie tracker. Moreover, the app also includes no-equipment home workout videos for men & women. The app also has yoga and stretching exercises.
This app is breaking records with millions of downloads by the users. The app does not hinder any other applications running on your phone. It uses a secure, enterprise-grade environment. It ensures that your data is safe and nothing is shared with any other application.
Main Highlights:
Get a tailored plan according to your body type and goals.

This app also has daily challenges with friends to improve fitness & lose weight.

A motivated training club keeps your spirits up and ensures that you stick to the diet and exercise plan. 

The app can track your live runs and jogs and show statistics.
Features of the HealthifyMe App
You can view your health data, weight loss, fat loss progress & daily calories at a glance. You can track your health data with a nutrition calculator that breaks down protein, fiber & carbohydrate intake with accurate macro-nutrient mapping.

You can get personalized health & weight loss suggestions 24* 7 from Ria, the world's first AI-powered nutritionist, driven by over 200 Million food & gym logs. Get instant answers, insights, and feedback on your diet plan and workouts.

Connect with professional yoga instructors, nutritionists & dieticians to enjoy dedicated one-on-one coaching. Find health advice, recipes, and your daily dose of motivation for your fitness goals through fresh content on your app's feed, every day.
Why HealthifyMe App?
HealthifyMe app is a health and fitness app that provides weight loss diet plans and personal trainers. It provides a customized diet and exercise plan as well. The app has a clean interface and visuals that make it easier for users to work with. 
HealthifyMe App Reviews on the App Store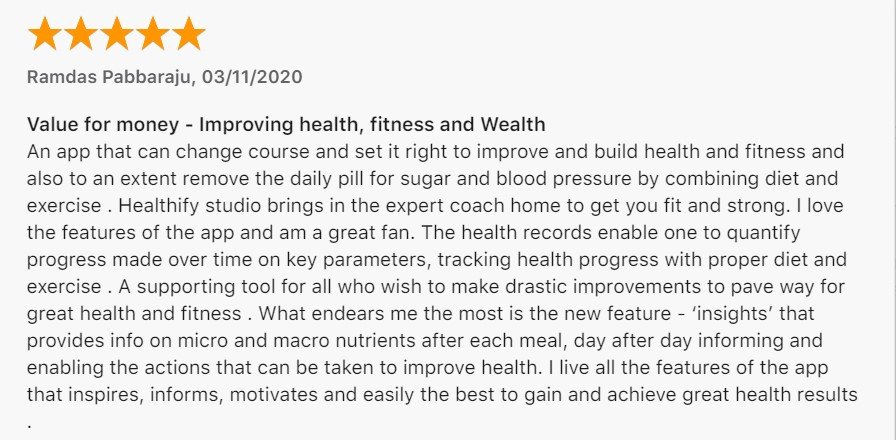 Frequently Asked Questions About HealthifyMe App
Is the app completely free?
No, the app is not completely free on the App Store.
Yes, the app is secure as it doesn't store any personal information and it asks for very few permissions.
What permissions does the application require?
The app needs basic permissions like Storage, Location, and Photos/Media/Files.
Which android version does it require?
The application is compatible with android version 5.0 and above.
Does the app have a dark mode?
The app does have a dark mode.
Download the HealthifyMe App
Like our HealthifyMe app review? Check out more Mobile App Reviews or Submit your own Mobile App Reviews.