What Is a Hopper App?
Hopper predicts future flight and hotel prices with 95% recommendation accuracy and notifies users the instant there's a deal. Freeze the price if users need more time to plan. It is a travel app that uses predictive analytics to make travel recommendations. The mobile application uses big data to predict and analyze airfare and accommodations. The app provides travelers with the information they need to get the best deals on flights and hotels and notifies them when prices are at their predicted lowest points.
In 2007, Frederic Lalonde and Joost Ouwerkerk co-founded Hopper in Montréal, Quebec. Avoid fees and frustration, Make any trip flexible with Hopper's Flexible Dates and Refundable Ticket Plans. Get instantly rebooked without extra costs if users' flight is delayed or users miss a connection with its Disruption Rebooking Service.
Main Highlights
Search Flights:

Millions of flights from around the world, at the best possible price.

Plan Less, Travel More:

Instantly identify the cheapest dates with our calendar.

Buy, or Watch and Wait:

Book flights straight away, or wait for a better price.

Get Notified:

When it's the best time to buy, our bunnies will let you know.

Book in App:

Grab flights quickly and securely, right in the app with a swipe.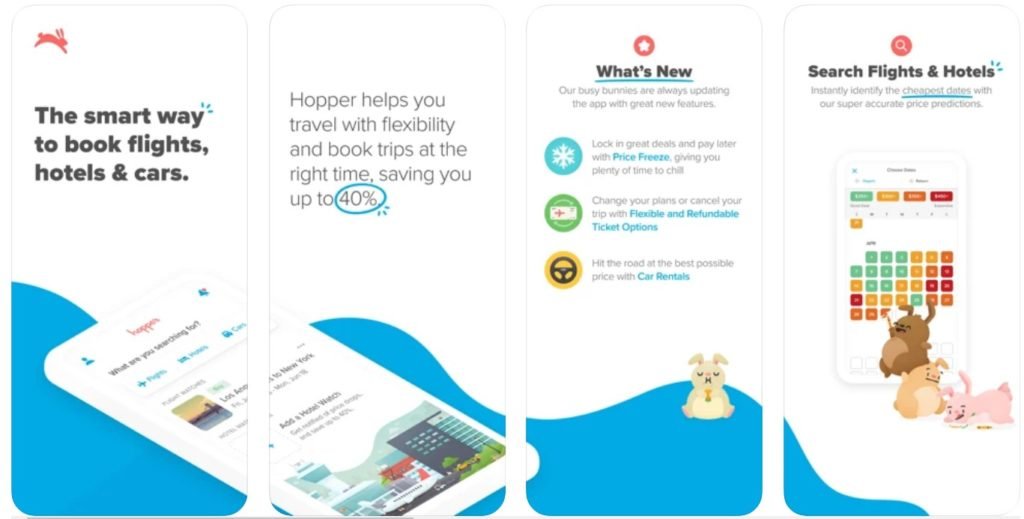 Features of The App 
 Find the cheapest days to travel using our color-coded calendar.

 Use filters to get custom predictions that suit your trip — removing long layovers, stops, or basic fares that have extra fees and restrictions.

Get information and tips about airports.

Compare prices and amenities from hundreds of airlines around the world.

Receive personalized recommendations about deals users might like based on previous trips and their budget.

Save your bunny profile and payment details securely for an even faster booking.

Our gentle Fair Bear will give you an overview of all the important details in the fine print. It'll let users know about all the bits and pieces, like carry-on allowances to seat selection.

Get help 24/7 from our support agents, made up of actual, real bunnies, sorry no, real humans.
Why Choose The App?
The Hopper app is a mobile app that helps you book flights and hotels at the best prices. Based on Hopper's predictions, they'll send Users notifications to let them know the best time to make their purchase. 
Hopper predicts prices for flights with 95% accuracy up to 1 year in advance. Users can watch a trip right in the app and It'll send users a notification when it's the best time to buy — recommending you to book now, or maybe wait just a little longer. It has helped over 30 million travelers book trips around the world, saving them more than $1.8 billion to date. That's a saving of up to 40%.
Hopper features the major airlines in the US, Canada, and around the world such as American Airlines, United Airlines, JetBlue, Alaska Airlines, Air Canada, Frontier, Spirit Airlines, Hawaiian Airlines, Air Transat, WestJet, British Airways, Air France, Lufthansa, KLM & many more.
Top Reviews 
Frequently Asked Question About The App
Yes, its flight and hotel booking capabilities are only available through their mobile app. The app will also let you set up watches to keep an eye on the prices for your trip, and will notify you of their prediction of the best time to buy.
Are the predictions accurate?
Its predictions claim to be 95% accurate. The algorithm they use is based on millions of historical data points and tries to predict the best time to purchase a flight or hotel so you can save money. However, their predictions are not guaranteed.
Download the Hopper App
Like our Hopper App review? Check out more Mobile App Reviews or Submit your own Mobile App Reviews.