Introduction: 
Houseparty app is a social messaging app that turns your phone into kind of a virtual party. That means it lets you invite your friends into a group video chat where you can stream your games or even play with them. With it, you can casually chitchat with your friends or invite them to play different games with you. It gives you all the thrill of a house party, virtually on your mobile phone. 
Nonetheless, what if you ping one of your friends and he/she is not available right at the moment. Certainly, not everyone is available all the time, then what do you do? No worries! Houseparty got you covered. With its 'Facemail' feature, you can leave a message for your friends in their absence, so that whenever they come back online, they'll exactly know what they missed.
Pros of Houseparty App:
Videochat up to 10 people.

Stream while video chatting.

Play various games with your friends whilst video chatting.

See who is online and available to chat.

Leave a facemail in case someone is unable to join a chat.

Find and chat with friends of friends.
Cons of Houseparty app:
Users can take screen records of private video chats without the other participants knowing.

People might sneak onto accounts that are not private.
What is the Houseparty app? 
Houseparty is a social networking app where you can video chat with your friends or friends of friends and invite them to your virtual house party. Play games, stream videos, do casual chats, or anything you like with its brilliant face-to-face video service. Mute yourself if you are not interested in talking, or turn off your camera if you are not in the mood. Houseparty nails the experience of virtually meeting your friends.
By connecting your Facebook and Snapchat accounts, you can easily find friends and invite those who are not using the app through text messages. Send notes to your group and organize a plan or have a private chat with someone, Houseparty is the best place to socially meet and greet.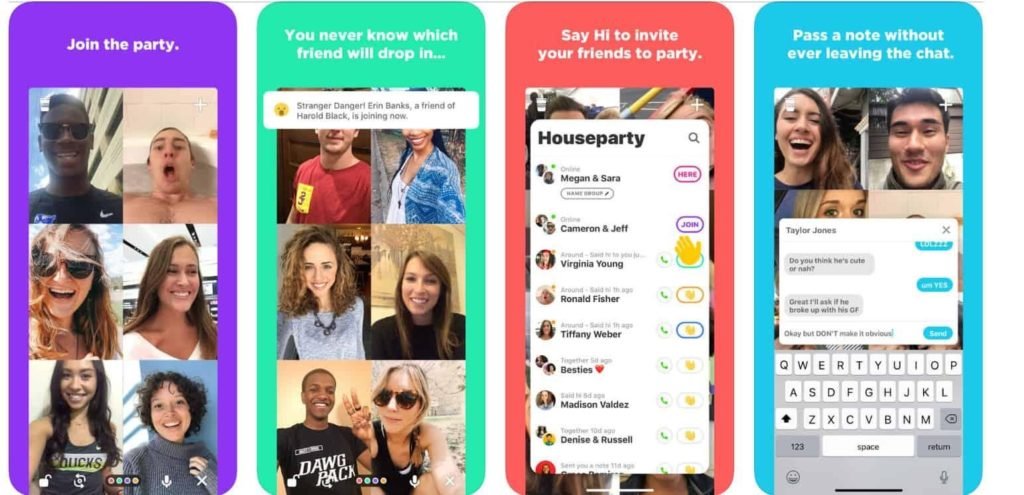 Features of the app: 
Chat Rooms

: Create as many rooms as you want and invite friends.

Lock Conversation

: Lock a room to prevent any stalker or stranger to join.

Stranger Danger

: get notified whenever someone who you might not know tries to join.

Gaming

: stream games with your friends and complete secret 'wins' offered by Houseparty.

Ad-free

: Complete ad-free interface because the

developers

(

Epic Games

) want to feature more on the quality than to earn money.

Open Invitation

: Anyone can use and join this app regardless of any requirements.
Features that unveil when you sign up: 
Connect with all your friends who are already using Houseparty.

Join or Create as many rooms as you want.

See who is online and who is talking to whom.

Login to your Snapchat account to import Bitmojis into Houseparty.
Frequently Asked Questions:
Which OS supports the app?
Both iOS and Android platforms are compatible.
Yes, the app is free to use.
Is the payment secured for in-app purchases?
There are no in-app purchases.
Which permissions are required to use the app?

 
The app requires permission to access media files, Wi-Fi connection, camera, microphone, location, and storage on your device.
Why should you use the app?
Virtually meeting with friends was all fun and games, but when it came to inviting more than a couple of friends, other apps fell short. Houseparty lets you invite more than ten of your friends into a single room and video chat simultaneously. With all the world-class features Houseparty offers, it is the best in the niche. 
User Reviews: 

Download the app here:
Like our Houseparty App Review? Check out more Mobile App Reviews or Submit your own Mobile App Reviews.