Your app user acquisition can exponentially grow if you carefully plan and focus on inactive app user engagement strategies.
Instead of spending all your energy on user acquisition, save some for finding out why people are inactive or uninstalling your app.
It is important to take note that for app users that immediately quit using the app after you get them on board, need to do some serious analysis.
When you fail at user retention, you need to work on your app and not on mobile app marketing and advertising.
You cannot expect to run campaigns and launch features if users are not interested in your app. If you solve the re-engagement puzzle you will automatically crack the code for user acquisition and user retention.
Building this perspective will give a boost to almost all your app user engagement strategies. Including, increasing your mobile app retention rates and also reducing your [tie_tooltip text="Churn rate is the percentage of users who have stopped using your app in the given time period." gravity="n"]app churn rates[/tie_tooltip].
[box type="shadow" align="alignleft" class="" width=""]
These are some stats that will help you understand why you should take inactive app user re-engagement seriously:
25% of the apps downloaded are used only once [ Source: Statista 2020 ]
71% of all app users churn within 90 days [ Source: Localytics 2019 ]
50-60% of the app user base for any app category is inactive. [ Source: Andrew Chan ]
[/box]
Now, lets cut to the chase and understand how to bring the inactive app users back from the dead. In order to deep dive into this topic we are dividing the app user engagement growth issue into the following sub-topics:-
Analyze: Understand why your app users are inactive.
The solution starts with falling in love with the problem. If you can identify why your app users are inactive then half the battle is won. You can go to your preferred analytics tool and find this out in various ways. (We understand that not everyone has access to paid app analytics tools, so this article was written assuming the analytics tool to be Google analytics). So, once you are swimming in your app data pool, try answering the following questions:-
Who are your inactive app users?
The length of app user inactivity may vary from category to category. For example, an investment or an insurance app may term a user "inactive" or "dormant" if they haven't performed any activity in the last 30-40 days, while an e-commerce app might term a user "dormant" if they have not opened the app in last 10-20 days. So, you need to carefully set a threshold for your category in order to understand who really is your inactive app users.
What is my app user's typical journey?
How did they enter my app? Did they exit at the app onboarding stage? or was it a pesky notification campaign that made them exit? These questions (and more) about the user journey should be answered and understood well. There are various free tools available that can help you with session replays and heatmaps ( User Experior is one such tool. or try SessionCam recording). This will help you identify and isolate the issues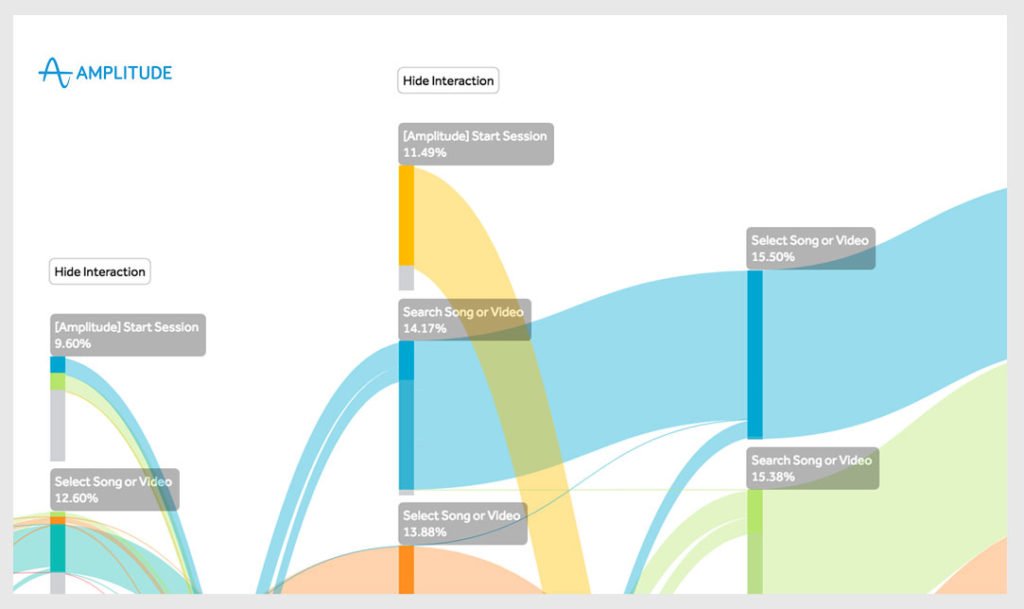 Ok..so now we know who left and why they left or who is dead and why they are dead..(gosh this sounds so dark!) With these data sets we move on to the second stage which is segregation. This will help us divide the problem into smaller ones.
Segregate: Divide and Conquer!
Now that we have the data and reasons as to why app users are "inactive" or "dormant". Let's categorize them on the basis of these reasons. We will list some basic reasons but depending on your app you will have to come up with your own "journey breakers". With this exercise, you will be able to identify, classify, and segregate the problem and attack them one by one. Some of these "journey breakers" can be:-
Flawed App User onboarding?
App onboarding is just not those 3-4 little intro screens. It's more than that. Also, it is one of the most common reasons for users to drop out. You need to understand the mobile app onboarding deeply and fix the issues. This detailed guide on mobile app onboarding might come handy. Also, check thoroughly if any third-party integration (Social login, OTP, Payment gateway, etc) is broken or have a slow response.
Confusing interface?
Why do users come to your app? What is the most important feature users use the app for? Does it take too much time for them to use that feature? Is it because of confusing interface or unnecessary steps involved? You have the data, you have the user journey map..find the reasons..find the answers, and address your interface issue. Use minimalism in your app design to keep the user interface fluid and goal-oriented.
Lack of trust?
Are you asking for too may permissions right at the launch of the app? Are you gathering too much personal information? If yes then you need to spread them out over stages. A user is always skeptical about any new app. Build "trust" with them first and gather/gain relevant permissions and information later.
Reading App Reviews?
One more way to find out about your app's feedback is by taking notes and understanding your app reviews. With a close look at app reviews, you can understand what users expect from your app and whether you have delivered the same or not.
As we said earlier you can build your own "journey breakers" and segregate the issues and solve one by one and keep repeating the process as long as you get satisfactory results. Now let's go to the next stage of execution and look at some powerful tactics that you can use to re-engage these inactive app users.
Execute: Tips & Tactics to revive app user engagement.
Use push notification judiciously
If done correctly, sending push notifications to dormant users is one of the best ways to capture the attention of inactive app users. Even though the statistics vary depending on various factors, about 60% of users opt-in to receive notifications from installed apps. When you misuse this privilege of being able to send push notifications, users might get annoyed and uninstall your app.
Push notifications can work really well and get app users curious based on how you use them. When you send them important details and personalized messages only, then users will realize the value of and wait for those notifications.
Send personalized emails
Who doesn't love personalized messages? And emails are a form of the same customized messages. With personalized emails, you can engage lost app users in an effective manner. It is a great way to reach out to old users and let them know they matter – making them want to come back to your app to feel valued.
When sending out emails, make sure they are personalized and feel exclusive when users read it. When you include all your lost app users and send the correct message, they might come back and get to use your app again. Here's a great example: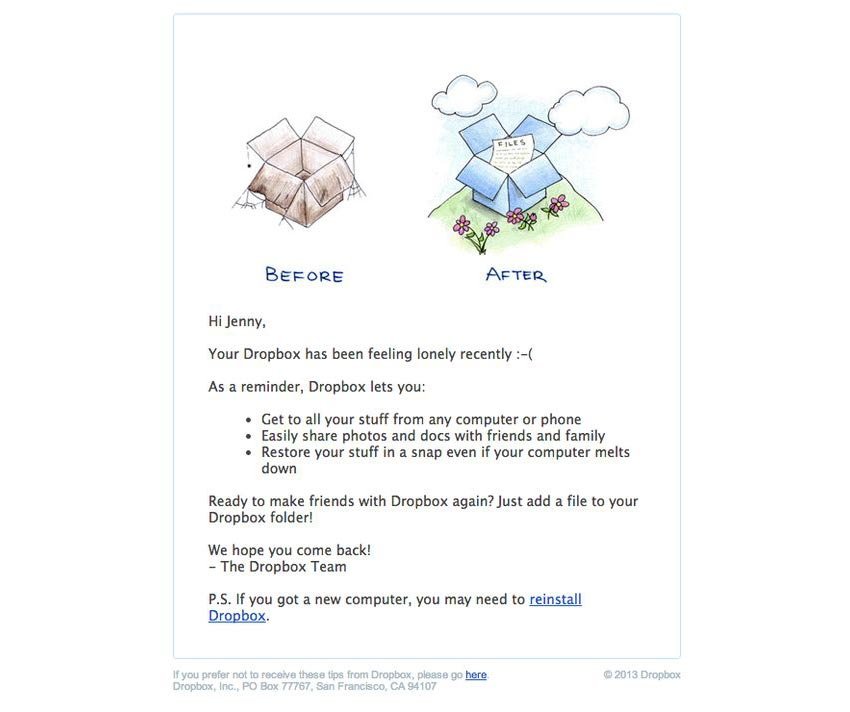 Use Deeplinking
Deep links are equal to hyperlinks that are specifically used for dealing with mobile applications. Instead of using deep links to drive users to your app's homepage, send deep links to apps that redirect users to the exact screen that your users want to view.
When sending push notifications for your app, you can use deep links to successfully guide your users to any special features or page you want them to view. This makes your most relevant or valuable screen of your app easily available to app users – even if they are inactive or disinterested. This could spark interest in old inactive users if done right.
Social Media
Encourage users to use social media in order to share their stats when using your app. When social values are added to an app, it becomes more enjoyable to use. This lets inactive users also see how current users are enjoying your app, or could help dormant users let people know they're back to using your app.
This works exactly how the snowball effect works – spreading the word and eventually bringing in more people in your user circle. This also works well in order to create a social buzz for your app via user-produced material.
Try out the aforementioned tips and tricks, and let us know if they worked for you!
Some Tools & Resources