What Is Hungama App?
Hungama Music app is one of the most popular music streaming platforms. Hungama Digital Media is a firm headquartered in Mumbai. The firm was first initiated in 1999 by Ashish Kacholia, Hiren Ved, Lashit Sanghvi, Rakesh Jhunjhunwala, and Neeraj Roy as an online agency. The company has since grown to also serve as an aggregator, developer, publisher, and distributor of Bollywood and Asian entertainment
These include Hungama Music – one of the most popular music streaming platforms, Hungama Play – the go-to destination for video streaming, Artist Aloud – a platform for independent artistes and Hungama Games – a developer, publisher, distributor, and marketer of mobile games. Leveraging its distribution and aggregation strengths, Hungama is also able to work with telecom, DTH, ISP, and OEM partners to create unique and engaging entertainment destinations for consumers. The company has raised a total of $165M in funding over 3 rounds. The key investors include Bessemer Venture Partners and Xiaomi.
Main Highlights
More entertainment than ever. Select from over 3.5 million songs and videos across genres.
Discover yourself! Find music that matches your mood with the Discovery Feature.
Music on-the-go. Anytime, anywhere. 
Go PRO & get ad-free, uninterrupted, entertainment and take it offline with unlimited downloads.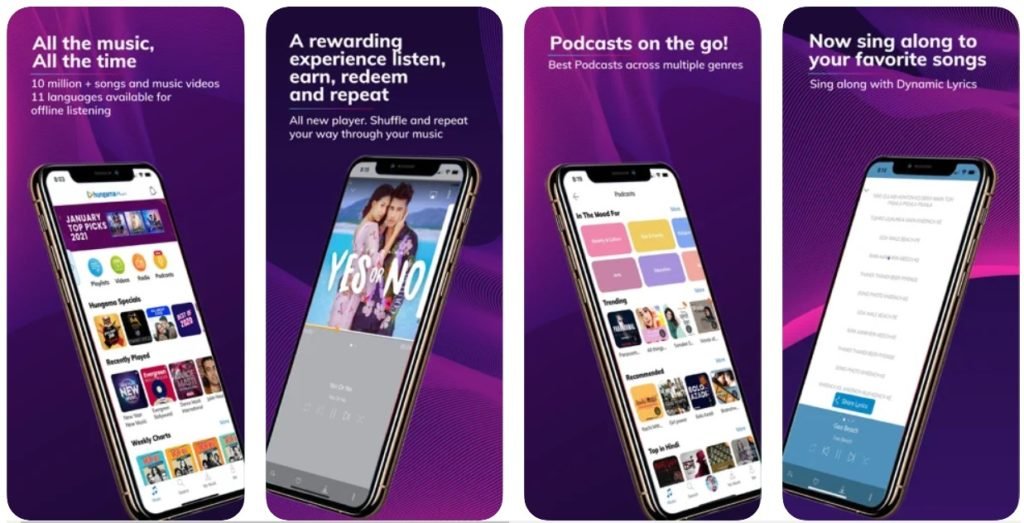 Features Of the app
Library of 1 Cr+ song & music videos.

 Ghazals, Rock, Pop, Rap, Hip-Hop, Jazz, Trance, Devotional, EDM, Dance, Disco, Jazz.

Online Radio – Live and on-demand channels curated for users.

 Dynamic Lyrics – Sing it, don't wing it! Mp3 Player – It doubles as a music player for users' mp3 songs.

Redeem points that users can earn & burn for free music, exclusive merchandise & more.
Why Choose Hungama Music App?
Free Music App, Listen & Download Songs in Hindi English Tamil Telugu & Punjabi. Hungama Music app gives you your favorite artists, songs, & music videos all in one place. Listen to music online or download songs in all languages– wherever you are.
Hungama is one of the most cluttered music streaming apps available right now, but it has some interesting features that can help make up for this. 120 per month for unlimited downloads. Hungama is competitive with the other options, but overall, we preferred the other apps for their more intuitive interfaces whenever users wish to listen only to Hungama Music. It gives users favorite music in the language.
App Reviews on the App Store

Frequently Asked Questions Is the app completely free?
No, the app is not completely free on the App Store.
Yes, the app is secure as it doesn't store any personal information and it asks for very few permissions.
What permissions does the application require?
The app needs basic permissions like Storage, Location, and Photos/Media/Files.
Which android version does it require?
The application is compatible with android version 5.0 and above.
Does the app have a dark mode?
The app does have a dark mode.
Download the App
Like our Hungama Music App review? Check out more Mobile App Reviews or Submit your own Mobile App Reviews.