What is Inshort News App?
Inshort News App is a Delhi-based company that is known for its content discovery and distribution application for Android and iOS. 
It aggregates news and other content such as videos, infographics, and blogs, and summarizes them in 60 words or less. As of April 2015, its app had received more than one million downloads and was one of the highest-rated Indian news apps.
Inshorts, a mobile app that offers the latest news stories summarized in 60 words, has forayed into the vernacular mobile market with the launch of a Hindi interface of the app. The content of the Hindi app will be customized to suit the Hindi speaking audience and will be different from the English version
Main Highlights
Sourcing from multiple sources.

Multiple layers of review.

Takes plagiarism seriously.

Consistency in language and style.

Respecting others, IP.

Device ID to identify and solve technical issues.
Features Of Inshorts News App
Introducing SEARCH for easier access to information.

News Reader – Read Summaries of All Breaking News.

My Feed – A feed of the latest stories, videos, and other content personalized only for users.

News Categories – A vast variety in the same app.

Share News.

Notification: The user gets daily notifications for the most important news and breaking news of the day.
Why choose Inshort News App?
The app curates the most significant news items of the day, across categories like national, world, politics, business, sports, technology, and entertainment, in just 60 words with a link to read the stories that interest them, in detail.
inshorts is India's highest-rated news app, with more than 10 million downloads on Android and iOS. Inshorts also continues to be India's highest-rated news app on Android since January 2014 with a rating of 4.6, and in 2015 was included by Google India in its list of 50 best Android apps from India.
Top Reviews Of Inshorts News App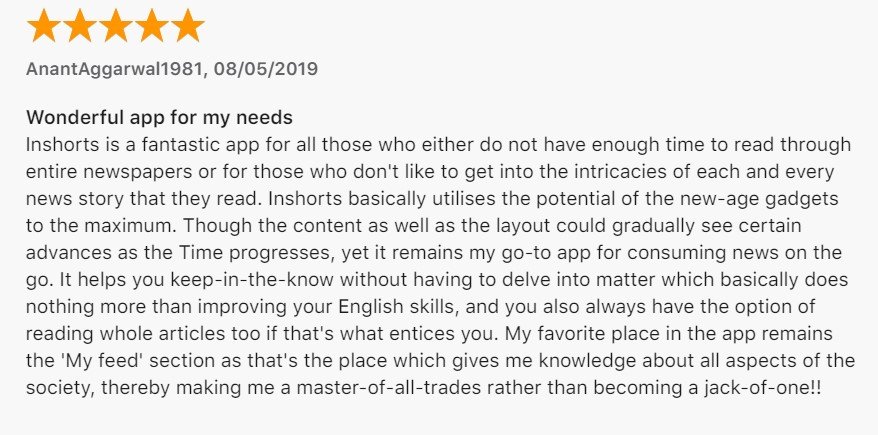 Frequently Asked Questions about Inshorts News App
Q. How do I contact InShorts?
 A. Please write to us at. contact@inshorts.com, so that we can debug the issue better.
Q. How does an Inshort get paid?
 A. Inshorts is free for end consumers and monetizes through B2B channels through advertising.
Q. Who is the founder of Inshorts?
A. The app was founded by Azhar Iqubal, Deepit Purkayastha, and Anunay Arunav.
Download the Inshorts App
Like our Inshorts app review? Check out more Mobile App Reviews or Submit your own Mobile App Reviews.