What is the Journey App?
The journey is a fantastic journal app. It helps you record all the precious moments in your daily life. The app has unique features. To access this app, you need to install the app in your android device.
The app offers you a therapeutic way of sharing your emotions. The app helps you share all your feelings; it keeps all your data private. Nobody except you can access the app. You can record all your daily life events. The app also allows you to add pictures and locations to make your more journals more attractive. You can also keep your entire journal forever by storing it in your Google drive.
Highlights 
Interactive journal that helps your keep track of important moments
The app has biometrics to keep privacy of data
Users can add multimedia and features such as location, weather, etc.
Journey app allows users to share data on Social Media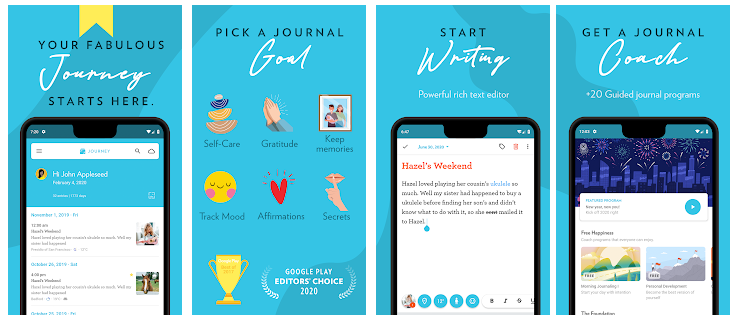 Key features
The journey is one of the most interactive journals. The app has a simple interface that makes it accessible to all age groups. You can write anything in this journal. It helps you reduce your stress by sharing everything. The app displays all your entries in the timeline; it helps you to find any recording easily. You can read them or edit them instantly. The app also offers step by step guide for beginners. It helps you to learn how to record journals.
The unique feature of the app is it offers you high security for all your data. You can use your Biometrics to keep all your data safe. The app also provides you with experts who help you with the new written sources.
You can add many exciting things to your journal. The app helps you add pictures, location, and weather to your journal. It has various modes to provide you with ease while writing. You can use the dark and light Modes as per your need. The app has an inbuilt calendar that helps you to know the date quickly. It also has a reminder that reminds you to make entries every day. You can also publish your entries on social media. The app has an advanced feature that enables you to share your writings on social media platforms.
Why should you install a journey?
The journey is the best app to write your journal. The app has a unique feature that lets you customize your journal for health, medical records, fitness, and other entries. It has various styles and themes that make your scrapbook look great.
You can record all your precious moments in the app. It helps you keep your entries forever. The app allows you to sync your data with Google drive to keep it forever. It is the most secure journal app. The app has multiple levels of security that keep all your data safe. You can access any of your previous journals in the timeline of the app. The app has options to edit previous entries as well. Moreover, it is the best app to record your journal.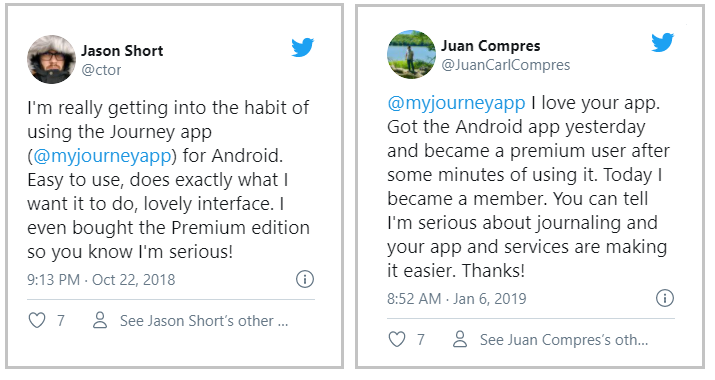 Frequently Asked Questions
Is the Journey app free?
Yes, the Journey App is completely free for all users. However, there is a Premium version available if you wish to purchase the same.
How can users start writing their journals on the app?
Users can begin journaling in 4 simple steps.
1. Users need to start their digital diary
2. Start writing based on a routine
3. Reflect on what to write
4. Start writing
What are the types of entries users can make on the Journey App?
Users can journal nearly any kind of information with the Journey app. Journey app users can write about travel, a reflection of thoughts, gratitude lists, pregnancy journals, morning pages. Users can also write about dreams, religious insights, food, and health records.
Does Journey App have templates to write journals?
Yes, the Journey app does have a number of prebuilt templates to allow ease of journaling with the app.
Download the Journey App
Like our Journey app review? Check out more Mobile App Reviews or Submit your own Mobile App Reviews.