What is Lapse It App?
Lapse It app is used for capturing amazing time-lapse and stop motion videos with your camera. You can capture stunning shots using the full potential ( Full Sensor ) of your camera and it has a blazing fast render engine that creates gorgeous Full HD ( 1080p ) videos. The app also lets you import image sequences from your DSLR or GoPro cameras or import pre-recorded videos to create slow-motion and fast-motion versions of them.
Lapse It was developed and managed by a very talented team of Interactive Universe and the app is updated very frequently. This app is breaking records with millions of downloads by users. The app does not hinder any other applications running on your phone. It uses a secure, enterprise-grade environment. It ensures that your data is safe and nothing is shared with any other application.
Main Highlights:
Use any song from your library as the soundtrack of your video

Speed up your time lapse with millisecond precision up to 240x

Adjustable manual controls for exposure, focus, white balance, and scene modes

Share directly to Instagram, YouTube, Facebook, Google Plus, and many others

Features of the App
The app lets you use tons of post-capture options including trimming, adding timestamp, square mode, backward playback, and more. It also has to stop motion and clay animation mode with onion skin

With this app, you can schedule the capture to start and stop automatically. You can capture intervals for photos ranging from milliseconds to hours. You can also resume capture for multiple days or different location projects.

The app captures with higher image quality and for longer. It also supports background capture on compatible devices. It also has a built-in time-lapse social gallery and supports camera zoom and front camera. You can export in H264, MP4, MOV, and FLV formats.
Why Lapse It App?
Lapse It app lets you customize your sequence of pictures in many different ways and will be easy to achieve the desired result. You can even apply different cool and stylish cam effects to them, such as vintage and black and white. It provides a simple clean interface and visuals and makes it easier for the users to work with. It is secured and safe for everyone to use.
App Reviews on the App Store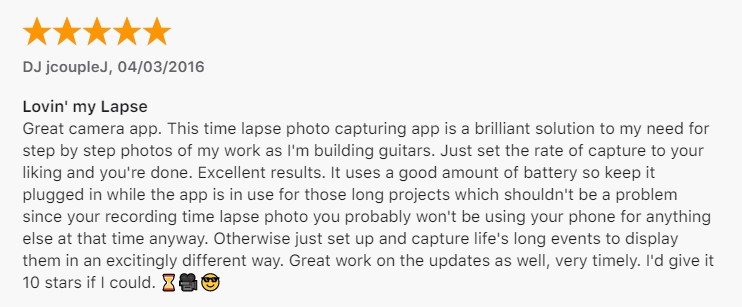 Frequently Asked Questions 
Is the app completely free?
No, the app is not completely free on the App Store.
Yes, the app is secure as it doesn't store any personal information and it asks for very few permissions.
What permissions does the application require?
The app needs basic permissions like Storage, Location, and Photos/Media/Files.
Which android version does it require?
The application is compatible with android version 5.0 and above.
Does the app have a dark mode?
The app does have a dark mode.
Download the App
Like our Lapse It App review? Check out more Mobile App Reviews or Submit your own Mobile App Reviews.