Introduction: 
Lose it app is the best calorie calculator for you. You are stuck in your house or don't want to get out. But want to lose your belly fat and control your calories. Burning calories is a tough task for you. But it makes this happen with the comfort of your smartphones. You can easily do it with a user-friendly app focused on goal-oriented weight loss training and weight tracking. This app helps you reach your weight loss goal by tracking the calories and controlling your unhealthy habits.
It is on Android and iOS, it is fast and easy to use. The app provides features that help you to track food, diet, and exercises. With proven principles of calorie tracking, it helps and educates you to lose extra and stubborn fat. 
Pros of Lose It! App: 
Great Community support

Provide report and insights

Advanced Calorie tracking

Equipped team of experts to verify the nutritional information
Cons of Lose It! App:
Subscription is expensive

Doesn't track the vitamins and minerals that you consume

The food database lacks some popular brands
What is Lose It! app? 
Lose It! apps full of features, such as support forums, product barcode scanners. It also syncs with other health and fitness apps or devices and provides live support. Its features aim to keep you motivated toward your Fat loss Flat belly goals. It is a user-friendly app dedicated to calorie counting and weight tracking. It makes an analysis of your age, weight, and health to generate your daily calorie needs. And produces a personalized weight loss plan just for you.
With its wide database of over 33 million food items, and brands you can easily select and manage your food intake. You can use the barcode scanner to add new foods to your log. It saves frequently eaten foods and gives reports of daily/weekly calorie intake. You'll also. If you use the app to keep track of your weight, it will present your weight changes on a graph. Its Snap It features allow you to track food intake and just by taking pictures of the meals.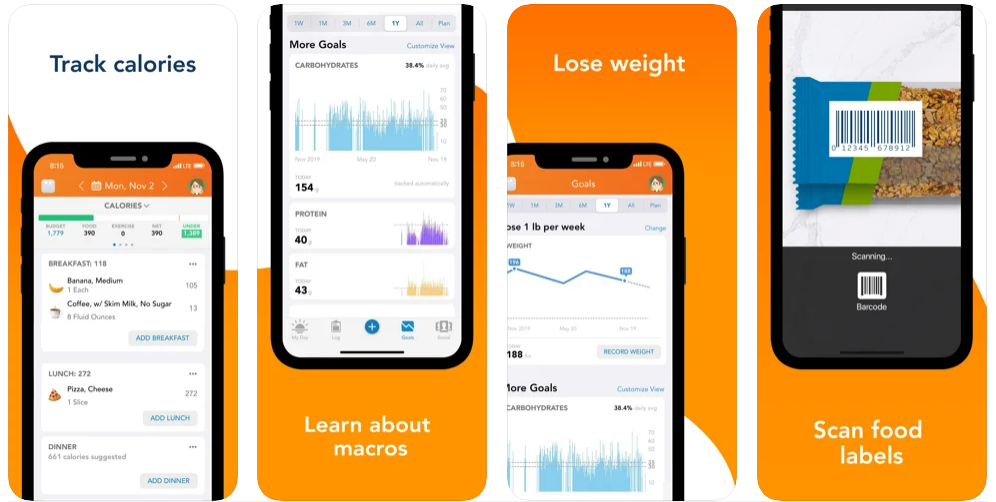 Features of the app:
Personalized weight loss plans

Track your food with macro tracking

Smart camera to count calories

Water tracking

Product Barcode scanner
Features that unveil when you sign up: 
Registration options for premium features

Access to the food library of the app
Frequently Asked Questions:
Which OS supports the app?
Both iOS and Android platforms are compatible.
Yes, The app is free to use and has premium features for $9.99, or sign up for a year option for $39.99.
Is the payment secured for in-app purchases?
Yes, the in-app purchase payment method is secured. 
Which permissions are required to use the app?

 
The following permissions are required:
Location

Contacts

Identity

Storage

Wi-Fi connection information

Contacts

Photos / Media / Files
Why should you use the app?

 
It is an amazing app with lots of features that motivate you to achieve your fitness goals. If you're new to dieting and not sure about weight loss and calorie control then It is a great app, to begin with. This app has made weight loss super easy with personalized plans, super easy recipes,  workout sessions to lose weight more efficiently.
It is loaded with 27+ million food items in its global food library database. It has over 40 million active users who have taken the weight loss challenge. Just input your profile details with your goal to get started. Track your food, weight, and daily activity and achieve your goals. This is the easiest way to change your habits and manage your nutrition needs.
User Reviews: 
Download the app here:
Like our Lose it App Review? Check out more Mobile App Reviews or Submit your own Mobile App Reviews.