Main Highlights:
Horizon Worlds to more countries in Europe for people aged 18 or older.
It is an immersive social experience where you can explore, play and create together.
They are working to add more tools and features that let people better customize their experience.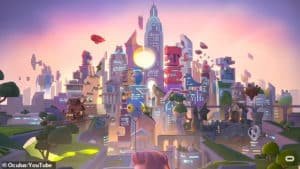 On Tuesday, Meta launched its Horizon Worlds virtual reality community and game to persons aged 18 and above in France and Spain.
Horizon Worlds was released from beta last December for Meta Quest 2 customers in Canada and the United States, and Meta has stated that it hopes to expand to additional European regions this year.
The company said, "Virtual worlds represent a major new opportunity for creators to build communities and connect with audiences. Whether it's a mini-game, a place to teach people about health, a contemplative world to relax and meditate in or anything in between, you can build it in Horizon Worlds."
And Meta CEO Mark Zuckerberg said in a Facebook post, "Looking forward to seeing people explore and build immersive worlds, and to bringing this to more countries soon."
Horizon Worlds has been available for users over the age of 18 in the United States and Canada since last year, and it was also released in the United Kingdom in June.
It debuted a web version in April to allow individuals without VR gear to enjoy the virtual world service, and it has since added safety measures such as voice chat controls and four-foot personal limits surrounding avatars on the platform.
Horizon Worlds is only one of Meta's VR social applications, with the goal of creating a metaverse comprised of many similar virtual worlds. The business anticipates that users will spend more time in these virtual environments with their friends and perhaps spend money on in-app purchases. However, the corporation is still a long way from accomplishing any of these goals.
These breakthroughs, however, are not anticipated anytime soon.
Since rebranding from Facebook to Meta, the corporation has spent a lot of money developing the metaverse, resulting in its first-ever quarterly revenue decline in Q2 2022.
"This is obviously a very expensive undertaking over the next several years. But as the metaverse becomes more important in every part of how we live from our social platforms, to entertainment, to work, and education and commerce, I'm confident that we're going to be glad that we played an important role in building this," Zuckerberg said at the Q2 2022 quarterly earnings call.
In April, Zuckerberg stated that the firm had lost $3 billion due to metaverse development, but he was optimistic that it would all be completed by 2030.
Join in the Community
Horizon Worlds is now an immersive social experience where you can explore, play, and create with your friends. We've been amazed by the rapidly increasing community that's emerged and inspired by the unique experiences they've created since our launch last year. Horizon Worlds provides something for everyone, from action-packed games to serene settings suited for meditation.
Horizon Worlds allows you to collaborate on creation and exploration. Whether it's a comedy club where you can perform your dad jokes in front of an audience, a bowling alley where you can bowl with buddies, or even a location where you can learn about different people and lives.
Create the World of Your Dreams
Virtual worlds offer creators a significant new potential to form communities and engage with viewers. Horizon Worlds allows you to create anything you want, whether it's a mini-game, a location to teach people about health, a contemplative environment to rest and meditate in, or anything in between.
We published our first asset library earlier this year, a collection of pre-made products that artists may utilise whenever they choose. And we've started experimenting with methods to commercialise the things you create in Horizon World, such as selling virtual products or providing paid access to special locations.
Everyone Can Have Their Own Control
Horizon Worlds is always trying to provide new tools and features that allow users to build their own experiences. To begin, Horizon Worlds' Conduct in VR Policy and Prohibited Content Policy describe what is and is not permitted on their platform. You have numerous alternatives if someone upsets you. Tap the shield symbol on your wrist menu to bring up Safe Zone, which allows you to take a break from your surroundings and block, mute, or report anybody engaged in inappropriate behaviour. Every new Horizon Worlds user goes through an onboarding procedure that teaches them how to utilise Safe Zone. In addition, anybody who violates our policies may have their account limited, suspended, or disabled, depending on the circumstances.