Main Highlights:
Vivek Sharma has been with Meta for six years and was most recently its vice president of Horizon.
Sharma's team will now report directly to Meta's VP of the metaverse, Vishal Shah.
Facebook parent Meta plans to debut a new VR headset in October.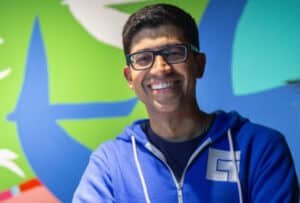 On Friday that Meta Platforms Inc's CEO of its virtual reality social network Horizon, the major portal for entering the metaverse that the business is putting billions of dollars into constructing, is departing for a new opportunity.
Vivek Sharma, Vice President of Horizon Worlds at Meta, is leaving the business. As a result, the team will now report to Metaverse Vice President Vishal Shah.
Although Sharma would not comment on his resignation, Meta Spokesperson Bryan Pope confirmed it. The former VP's duties included developing an engaging virtual reality experience for consumers to explore the metaverse using Meta's Oculus headsets.
Sharma led the entire team in creating Horizon Venues, where users may experience virtual events on the platform, alongside Horizon Worlds.
Sharma has worked with Facebook parent Meta for six years, rising through the ranks of its marketplace, gaming, and, most recently, its embryonic metaverse-related business unit.
Sharma, who is located in Seattle, handled numerous VR initiatives such as the Horizon Worlds social networking site, which is similar to the online game Second Life but has been adapted for virtual reality. Horizon also offers the VR-based workplace collaboration software Horizon Workrooms, as well as the Horizon Venues app for live events, which was recently integrated into the main Worlds app.
"We're thankful for Vivek's contributions across our Marketplace, gaming and metaverse teams over the last six years and we wish him well."
"Thanks to his leadership, the Horizon product group has built a strong team with an ambitious vision and it is just getting started," the spokesperson added.
Horizon Worlds is a communal VR experience in which you may explore new places with others, create your own unique worlds, and join teams to play in action-packed games.
Currently, the Horizon Worlds social metaverse platform is only available on the company's Quest VR headsets.
This week, Meta CEO Zuckerberg stated that the internet giant's next VR headgear will be available in October of this year.
After receiving ridicule for his poorly-designed metaverse avatar, Zuckerberg recently uploaded updated images on Facebook and Instagram, displaying a more lifelike version of himself.
He previously uploaded a screenshot of his digital avatar standing in front of the Eiffel Tower, as the business expanded Horizon World's metaverse experience to other European countries.
However, the social media world did not like of his simple appearance and assaulted him with memes.
The Cause of the Departure
Pope stated that the reason for his abrupt departure was a new opportunity that was completely unconnected to what he was doing with the organisation.
"The Horizon product group has created a strong team with an ambitious goal under his direction, and it is only getting started. We're thrilled to watch what Vivek does in his next chapter as Meta continues to be a source for creating exceptional leaders "He went on to say
Social Media Backlash
Following his departure came a slew of critiques and memes about the graphical quality of virtual reality. Just last month, Mark Zuckerberg, the company's CEO, shared pictures from virtual reality and announced the company's expansion to two additional countries: Spain and France.
"Looking forward to watching people explore and develop immersive worlds, and to bringing this to more nations soon," the caption said. After a few hours, the message went viral, with parodies and mocking over the "poor quality" visuals it provides its customers.
The corporation spent a total of $10 billion on this platform, but according to internet users, the large expenditure does not represent it. Several parallels were been drawn, notably Second Life which offers similar features.
Days following the online outrage, Zuckerberg posted a fresh screenshot with better visuals than the previous one. The CEO also stated that the business made the mistake of producing 'very simple' images.
Despite the resignation of one of the company's most key individuals and online criticism, Meta presses forward with the announcement of a new VR headset and other new reality devices that will be available in the market between 2022 and 2024.
New features have yet to be announced, however Zuckerberg stated during his appearance on "The Joe Rogan Experience Podcast" that the new VR would have a new option that will allow facial and eye tracking activities.