What is Microsoft Office App?
Microsoft Office app combines the Word, Excel, and PowerPoint apps you know and rely on, with new capabilities that harness the unique strengths of a phone to create a simpler, yet more powerful Office experience on the go. Whether using it for personal or professional reasons, the Office app is designed to be your go-to app for getting work done on a mobile device.  The most widely used tools for working with documents, spreadsheets, and presentations, all from a single app.
Microsoft Office was developed and managed by a very talented team of Microsoft Corporation and the app is updated very frequently. This app is breaking records with millions of downloads by the users. The app does not hinder any other applications running on your phone. It uses a secure, enterprise-grade environment. 
Main Highlights:
Word, Excel, and PowerPoint combined in one app

Uniquely mobile ways that make document creation easier

Quickly perform common mobile tasks with in-built Actions

Instantly create PDFs from photos or Word, Excel, and PowerPoint documents

Features of the App
The app lets you create, edit, and work together on Office documents with others in real-time. You can also use templates to easily get started with your resume, budget, presentations, and other documents.

Snap a picture of a document and turn it into an editable Word file with the press of a button. You can also transform a picture of a table into an Excel spreadsheet so you can work with the data.

Create automatically enhanced digital images of whiteboards and documents with Office Lens features integrated into the app. Along with that you can easily transfer files between your phone and computer or share instantly with nearby mobile devices.
Why Microsoft Office App?
Microsoft Office app has all the Microsoft apps in one place. You can work on the go, online or offline. The app is easy to work with and has features that are mobile-oriented to make your task easier. It provides a simple clean interface and visuals and makes it easier for the users to work with. 
App Reviews on the App Store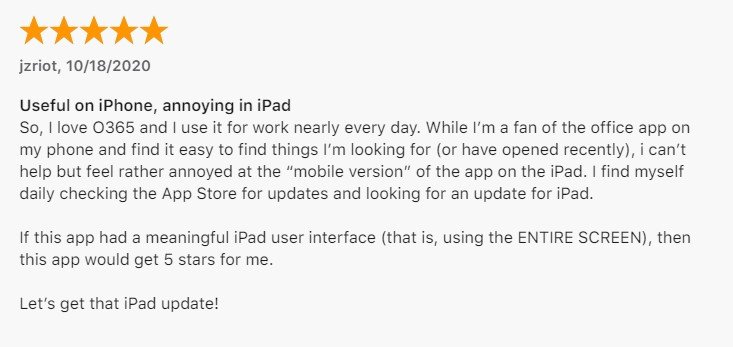 Frequently Asked Questions 
Is the app completely free?
No, the app is not completely free on the App Store.
Yes, the app is secure as it doesn't store any personal information and it asks for very few permissions.
What permissions does the application require?
The app needs basic permissions like Storage, Location, and Photos/Media/Files.
Which android version does it require?
The application is compatible with android version 5.0 and above.
Does the app have a dark mode?
The app does have a dark mode.
Download the App
Like our Microsoft Office App review? Check out more Mobile App Reviews or Submit your own Mobile App Reviews.