Main Highlights
Microsoft has introduced the "Surface Laptop Studio," a new form factor laptop.
It's a replacement for the Surface Book with a redesigned 2-in-1 design.
It also includes a new Precision Haptic touchpad and a 120Hz display.
Pricing starts at $1,599 and shipment begins next month.
Microsoft today announced its next-generation Surface laptop, which has a brand-new 2-in-1 form not before seen on a Surface device. This new laptop dubbed the "Surface Laptop Studio," has a 14.4-inch display linked to an innovative hinge that allows the display to be pushed forward and put flat over the keyboard deck for sketching and inking.
The Surface Laptop Studio, according to the firm, is being positioned as a replacement and successor to the Surface Book series, which presumably implies we won't see another Surface Book with a detachable display.
"Surface Laptop Studio is the most powerful Surface we've ever built," says Pete Kyriacou, Microsoft's vice president of products. "It is the result of years of Surface innovation — on hinges, display, silicon, and more – and brings the best of Surface history together in one powerful device."
Features of Microsoft Surface Laptop Studio
The display and hinge are the most noticeable changes on this Surface Book replacement. The 14.4-inch PixelSense Flow (2400 x 1600) panel supports 120Hz and Dolby Vision. Microsoft is employing a new flexible Dynamic Woven Hinge, which it claims is robust and allows a small laptop to change between modes in the same way as the bigger Surface Studio does. The Surface Laptop Studio has three operating modes: laptop, stage, and studio.
The laptop model arranges the display just like a conventional laptop, including a complete keyboard and a new haptic touchpad. The staging mode is where things become interesting, as you can move the display forward for gaming, streaming, or presenting. This will cover the keyboard, and the angle is more suited to viewing Netflix or playing games, touching the display, or digitally linking with the new Surface Slim Pen 2.
Microsoft's last mode is a studio, and as the name suggests, it's intended for writing, drawing, and other creative tasks. Microsoft is avoiding using the term "tablet mode" since the Surface Laptop Studio weighs over four pounds and is 0.7 inches thick.
Unlike the Surface Book, Microsoft has relocated the majority of the Surface Laptop Studio's components to the base. That will undoubtedly improve the laptop's sturdiness, but it also means that any possible heat will be vented into your lap. The Surface Slim Pen 2, which is unexpectedly offered separately, is likewise neatly housed in the base.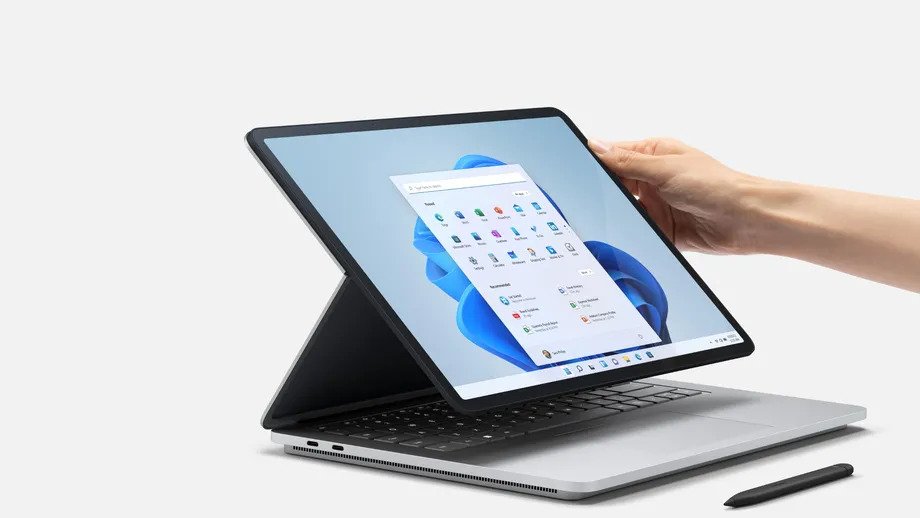 Technical Specifications
The Surface Laptop Studio is powered by Intel's quad-core 11th Gen Core i5 or Core i7 CPUs. Core i5 versions will have Intel Iris Xe graphics, while Core i7 machines will incorporate Nvidia's RTX 3050 Ti GPU with 4GB of VRAM. There will be RAM choices ranging from 16GB to 32GB, as well as external SSD storage of up to 2TB.
All of these specifications indicate that the Surface Laptop Studio is capable of running the most recent PC games. Microsoft has historically avoided advertising the Surface Book as a full-fledged gaming laptop, but with the Surface Laptop Studio, the firm embraces this concept.
Microsoft is adopting Thunderbolt 4 on the Surface Laptop Studio like it did on the Surface Pro 8. There will be two Thunderbolt 4 USB 4 ports, as well as the standard Surface Connect charging connector and 3.5mm headphone jack. Because the Surface Laptop Studio supports Thunderbolt, you can connect it to multiple 4K monitors, utilize high-speed external storage, and even add an external GPU enclosure to transform it into a full gaming PC.
Microsoft is already taking preorders for the Surface Laptop Studio, which will arrive on October 5th for a starting price of $1,599.99.