What is Moon+ Reader App?
Moon+ Reader app is a book reader with powerful controls & full functions, supports EPUB, PDF, DJVU, AZW3, MOBI, etc. formats. The reader supports text-to-speech and you can just shake your phone for it to start speaking the content. You can change the theme, background images as well as font of your PDF. You can also secure the app by putting a password on it. Users can also pin a book to your home screen for shortcut access.
Moon+ Reader was developed and managed by a very talented team of Moon+ and the app is updated very frequently. This app is breaking records with millions of downloads by users. The app does not hinder any other applications running on your phone. It uses a secure, enterprise-grade environment. It ensures that your data is safe and nothing is shared with any other application.
Main Highlights:
Optimize Text-To-Speech in the screen-off state.

Improve image content rendering.

Optimize web book downloading.

Dual page mode for landscape screen.

Features of the Moon+ Reader  App
The app gives you full visual options like line space, font scale, bold, italic, shadow, alpha colors, fading edge, etc. the app also has 10+ themes embedded, which includes Day & Night mode switcher.

Moreover, the app provides 24 customized operations (screen click, swipe gesture, hardware keys). Also, there are 5 auto-scroll modes in the app namely rolling blind mode; by pixel, byline, or by page. 

You can adjust the brightness by sliding your finger along the left edge of the screen, gesture commands supported. Also, you can save your favorite books on the bookshelf and customize them as well.
Why Moon+ Reader  App?
Moon+ Reader app lets you read your books and PDFs. You can also create shortcuts for your books on your home screen. There are many gestures that you can activate to make your reading fun. The app has various themes and customizations available as well.
Moon+ Reader App Reviews on the App Store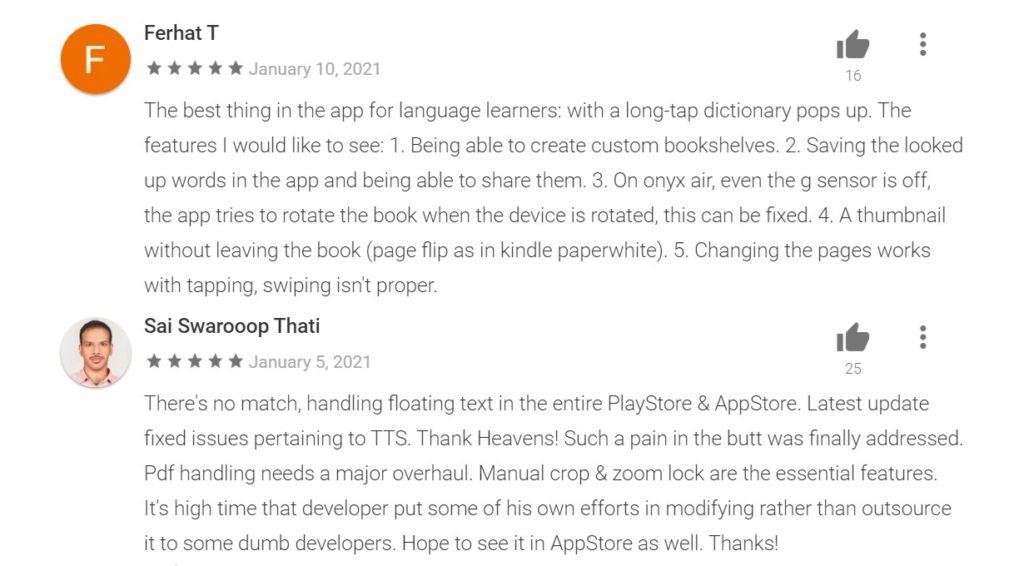 Frequently Asked Questions About Moon+ Reader App
Is the app completely free?
No, the app is not completely free on the App Store.
Yes, the app is secure as it doesn't store any personal information and it asks for very few permissions.
What permissions does the application require?
The app needs basic permissions like Storage, Location, and Photos/Media/Files.
Which android version does it require?
The application is compatible with android version 5.0 and above.
Does the app have a dark mode?
The app does have a dark mode.
Download the Moon+ Reader App

Like our Moon+ Reader app review? Check out more Mobile App Reviews or Submit your own Mobile App Reviews.