What is Movavi App?
Movavi app produces a wide range of multimedia programs to make sure you have fun with your videos, music, and photos on any platform and any device. It creates ergonomic, powerful, and effective programs that inspire people to process and share their content. The developers pride themselves on the ability to support seamless video conversion between all popular multimedia formats.
Along with over 20 standalone applications, it produces a complete multimedia suite, which includes tools for video conversion, PC screen capturing, video editing and playback, online sharing, and disc burning.
Since its establishment in 2004, it has grown from a small startup run by just three enthusiasts who produced and supported two products to more than 60 employees, millions of customers, and an expanding product range for PC and Mac, sold in 150 countries. The company's headquarters are in Novosibirsk, Russia, with regional offices in Moscow, Russia, and Saint Louis, Missouri, USA.
Main Highlights
VIDEO EDITING

AUDIO ADJUSTMENT

EXPORT AND SHARING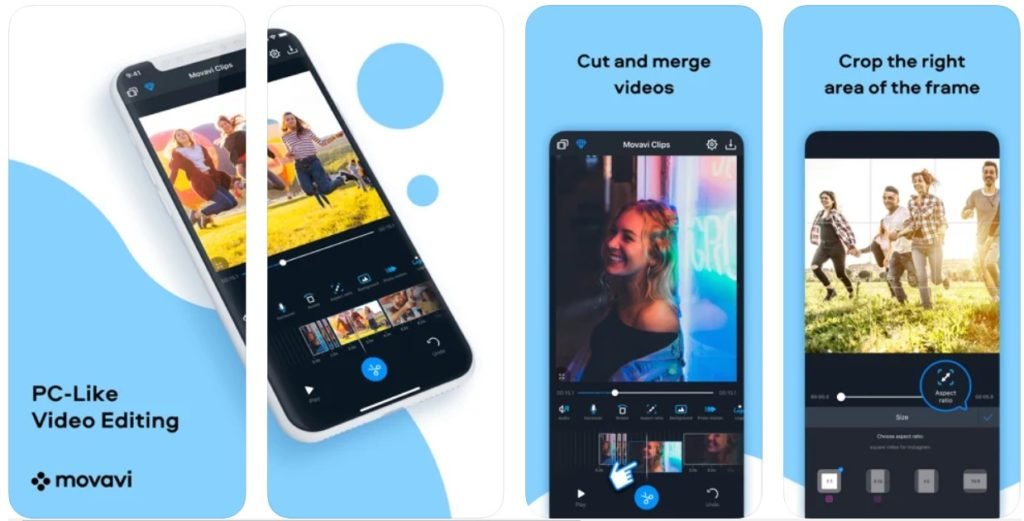 Features of the App
Split videos into parts and cut out unwanted segments.

Apply artistic effects to video and stills.

Insert smooth transitions between video clips and stills.

Add titles to the beginning and end of the movie, overlay titles on video.

Add a soundtrack to your movie.

 Edit footage on the handy timeline of the video maker

Split and combine videos

 Cut videos and remove unwanted sections with a swipe

 Merge videos in any order to create stories

 Adjust brightness and saturation to make your images perfect

 Insert smooth transitions between clips

 Add and edit pictures: apply automatic pan and zoom effect to create stylish slideshows

 Overlay cool and unique stickers

 Add text to a photo or clip. Adjust the position, font, size, and color.
Why Choose Movavi app?
Movavi Clips is an advanced video editor for your mobile device! It has everything a user needs to create an epic video or engaging Stories: intuitive controls and a user-friendly interface, combined with powerful tools and HD-quality export. users get multiple editing tools, like cropping, rotating, plus users can enhance users movies with unique color filters, transitions, and themed stickers
The easiest way to edit videos and create your own movie or a slideshow, it is just what you need. With this video editor, you can add music to your video, split clips, and splice videos together, adjust audio and video speed, and more.
With the video editing app, you don't need any special knowledge or skills to create movies for your vlog or family archive. When users open the app, they will see valuable tips that will help you master our video clip maker in minutes. Create memorable films about users' family and friends or make videos for users' daily vlog – it is a universal editing tool. Shoot some videos with Users smartphone or tablet cam, download our movie editor for free, and edit videos like a pro.
Top Reviews

Frequently Asked Questions About The App
How can I get the app for free?
Movavi Photo Editor and Movavi Clips are available to download for free but it produces videos with a watermark.
Yes, it is absolutely safe to use, although there is one feature during the installation process that you should pay attention to. Once the installation is completed, the installer asks to run the program
 

How do I get Movavi without a watermark?
If you want to get rid of the Movavi watermark, you first need to purchase a license and activate the program using the key you receive in your purchase confirmation email. After that, you can save the Movavi video without a watermark in the activated version of the program.
Download the Movavi App
Like our italki App review? Check out more Mobile App Reviews or Submit your own Mobile App Reviews.