What is Nebo App?
Nebo App lets you handwrite documents, annotate PDFs, or get creative on an infinite canvas. This app lets you turn handwritten notes into professional documents using handwriting recognition and write-to-text conversion. The app understands and accurately converts even the untidiest scribble in your choice of 66 languages. Furthermore, the tools in the app simplify your information workflow and boost your productivity.
Nebo was developed and managed by a very talented team of MyScript and the app is updated very frequently. This app is breaking records with millions of downloads by the users. The app does not hinder any other applications running on your phone. It uses a secure, enterprise-grade environment. It ensures that your data is safe and nothing is shared with any other application.
Main Highlights:
Use simple gestures to edit and format without breaking your flow

Create headings and lists, add or remove spaces and line breaks, delete and emphasize text

Make edits, adjust the layout, rotate your device or split your screen without worrying about readability

Add photos, sketches, and smart objects like math and diagrams

Features of the Nebo App
The app lets you write, type or dictate – all in the same document, sentence, or even word. Accurately convert handwriting and math to typed text, and hand-drawn diagrams to perfect shapes. You can also add a selection of emojis and symbols with your pen.

The app's freeform page is an infinite canvas that's ideal for brainstorming ideas in all directions. Pan around the page and zoom in or out to get a fresh perspective. You can use the lasso to select and move, copy, delete or resize content.

Furthermore, copy content between freeform pages or sections, and into regular pages or other apps. Freeform content stays editable and convertible when pasted to a regular page. You can also export pages as Word doc, PDF, HTML or text or publish or share pages via a private web link.
Why Nebo App?
Nebo app lets you handwrite documents, annotate PDFs, or get creative on an infinite canvas. You can write, add images or even import PDFs in the pages. The app also lets you export your notes in any format you want. It provides a simple clean interface and visuals and makes it easier for the users to work with. It is secured and safe for everyone to use.
Nebo App Reviews on the App Store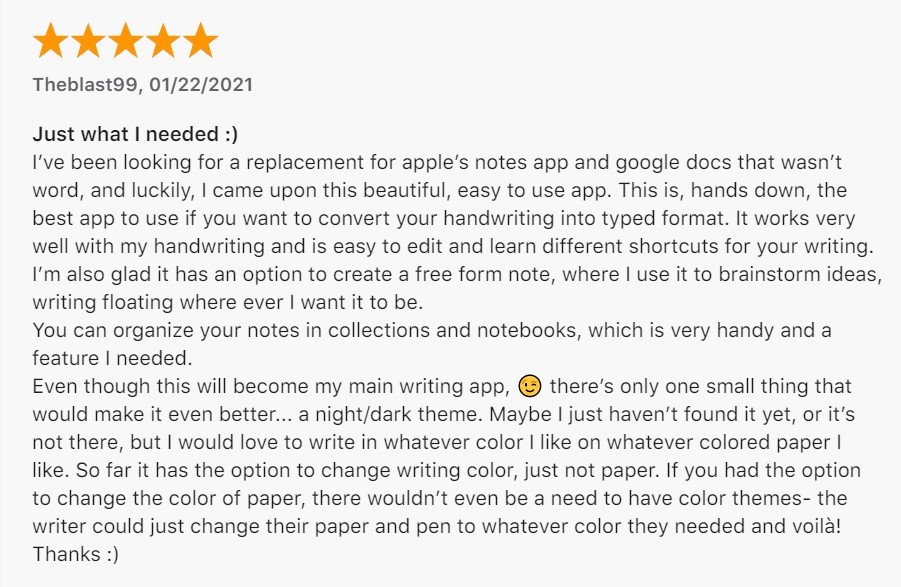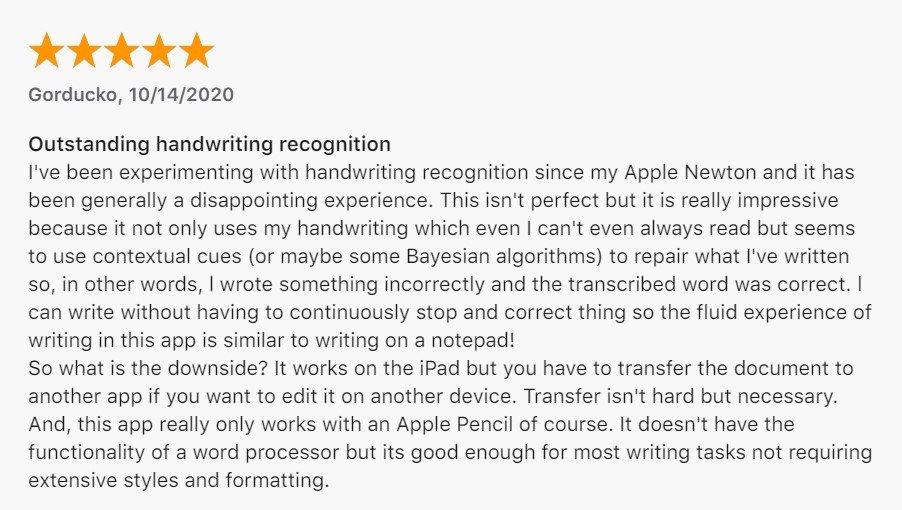 Frequently Asked Questions About Nebo App
Is the app completely free?
No, the app is not completely free on the App Store.
Yes, the app is secure as it doesn't store any personal information and it asks for very few permissions.
What permissions does the application require?
The app needs basic permissions like Storage, Location, and Photos/Media/Files.
Which android version does it require?
The application is compatible with android version 5.0 and above.
Does the app have a dark mode?
The app does have a dark mode.
Nebo App Download
Like our Nebo App review? Check out more Mobile App Reviews or Submit your own Mobile App Reviews.