What Is Noom App?
Noom App provides mobile health coaching, focused on combating chronic and pre-chronic conditions such as obesity, diabetes, and hypertension. It combines the power of technology with the empathy of real human coaches to deliver successful behavior change at scale. Its direct-to-consumer weight loss and exercise tracking mobile applications have reached more than 47 million users worldwide. Leveraging the success of its ground-breaking health and fitness programs, it has developed a behavior change platform to treat chronic and pre-chronic conditions, beginning with the CDC's Diabetes Prevention Program (DPP).
On the first day, the CDC began recognizing mobile and online DPP providers, Noom was there. Since then, it has expanded its curricula across the acuity spectrum and now features programs for pre-hypertension, hypertension, and diabetes management in addition to its flagship weight loss and diabetes prevention programs. It was founded in 2008 and has offices in New York City, Seoul, and Tokyo.
Main Highlights
Weekly challenges and educational information. 

Topics involve nutrition, stress management, goal setting, and healthy habit formation.

Tools to track your progress. These allow you to log your meals, exercise regimen, and body weight.

A virtual coaching team. 

Biometric tracking.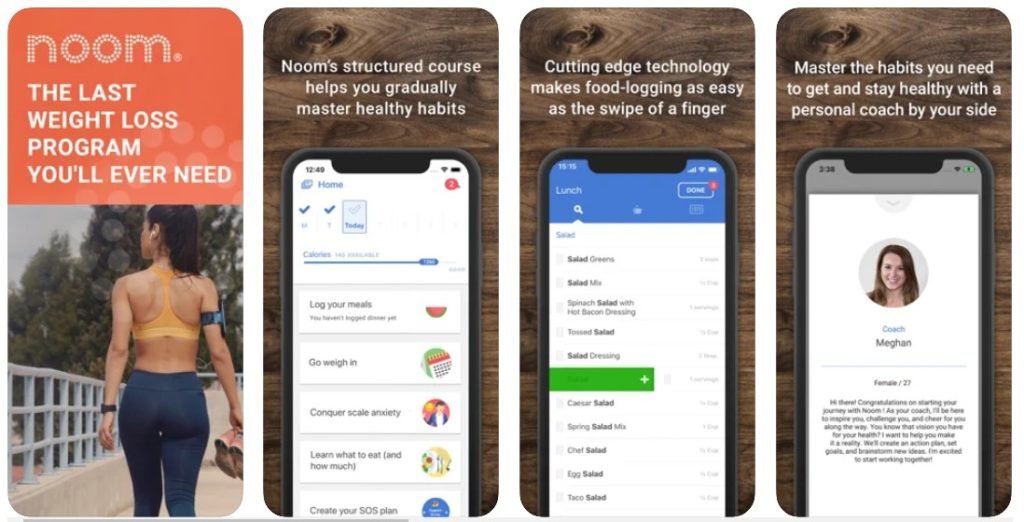 Features of The App
Food logging with over 1 million food items in our food database and 1 million scannable barcodes

Over 1,000 interactive lessons

 A 1:1 coaching experience with personalized goal setting

 Hundreds of simple, healthy recipes

 Unlimited group support.
Why Choose The App?
Noom is a personalized weight loss app with access to coaching in your pocket! Their habit-changing solution includes meal plans, snacks, and exercise tracking designed to fit individual lifestyles. Their custom plans are created using your unique goals and needs, teaching you a lifetime of healthy habits. Take Noom's 30-second quiz and start your customized plan.
Noom works by motivating you to change your behavior. It starts with a 30-second evaluation to determine your goals and needs. An algorithm then determines your individualized weight loss plan. Noom dieters don't have to worry about food exclusions or banned foods. Instead, foods are assigned a color — green, yellow or red — to indicate how much they help you reach your goal.
Green:

Green foods have the least calories and the highest amount of nutrients. Most green foods are vegetables and whole grains. Noom dieters can eat an unlimited amount of green foods.

Yellow:

Yellow foods are less healthy than green foods but can be enjoyed in moderate proportions. Many yellow foods are starches, lean meats, and dairy products.

Red:

Red foods are the highest in calories and have the least healthy nutrients. Most red foods are red meats and dessert dishes. Red foods aren't totally off-limits but should be eaten sparingly.
Users track what they eat, set goals, and record progress through Noom's mobile app. The app encourages you to set achievable goals and keeps you accountable during the 16-week program.
Top Reviews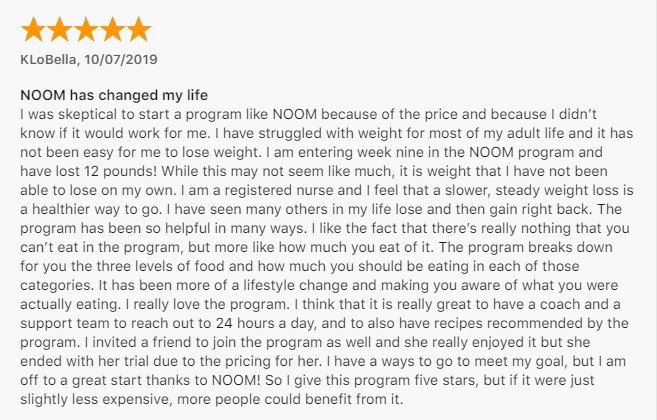 Frequently Asked Questions About The App
What is the Healthy Mind Program?
Noom's Healthy Mind program empowers and equips participants to better manage their day-to-day experiences of stress and anxiety. Healthy Mind offers a fun, friendly, and engaging way to develop emotional awareness, effective stress response mechanisms, and overall stress resilience.
How do I Install Noom's Healthy Mind Program?
To get started on your Healthy Mind journey, you'll need to download the Noom app on your Apple smartphone. You can download the app through the Apple App Store. Please note that Noom is only available on iOS devices running iOS 10.3.3 or newer and cannot be run on your computer.
What is the Role of my Coach?
You will be paired with a personal coach on the first day of your Healthy Mind program. You can reach out to them via the blue speech bubble in the top right corner of the Noom app or by opening the side drawer and tapping the messages option. Our Coaches are available between 9-5 EST Monday-Friday. Your Coach will be able to track your progress through the program and help you tackle your weekly activities
Download the Noom App
Like our Noom App review? Check out more Mobile App Reviews or Submit your own Mobile App Reviews.