What is OmniFocus 3 App?
OmniFocus 3 helps you accomplish more every day. You can create projects and tasks, organize them with tags, focus on what you can do right now — and get stuff done. OmniFocus is a trusted, gold-standard to-do list app. It brings unrivaled power and flexibility to your iPhone and iPad, making it easy to work the way you want to work.
OmniFocus 3 is developed and managed by a very talented team of The Omni Group and the app is updated very frequently. This app is breaking records with millions of downloads by the users. The app does not hinder any other applications running in your phone. It uses a secure, enterprise-grade environment. It ensures that your data is safe and nothing is shared with any other application.
Main Highlights:
Create tags for person, energy level, priority, location, and more.

Batch editing lets you set due dates, tags, and other data for multiple tasks all at once.

View options let you customize each perspective by deciding what it should show and how it should filter your tasks.

Flexible inspectors allow you to show only the features you use and reorder them so your favorites are where you want them.
Features of the App
The Forecast view shows your tasks and calendar events in order, so you can better see what's coming up in your day.

Custom perspectives help you create new ways to see your data by filtering and grouping projects and tags. The filtering rules are simpler to use while being more powerful than ever, letting you combine rules with "all," "any," and "none." You can also choose any image to use as your custom perspective's icon, and a custom tint color to go with it.

Today's Forecast can include items with a specific tag, and you can reorder those tasks however you choose, so you can plan your day better. The customizable sidebar and home screen let you organize your perspectives the way you want to, for super-fast access. The Today Widget shows a perspective of your choice in the Notification Center.
Why OmniFocus 3 App?
OmniFocus manages everything in your busy life. Use projects to organize tasks naturally, and then add tags to organize across projects. Easily enter tasks when you're on the go, and process them when you have time. Tap the Forecast view — which shows both tasks and calendar events — to get a handle on your day. Use the Review perspective to keep your projects and tasks on track.
App Reviews on the App Store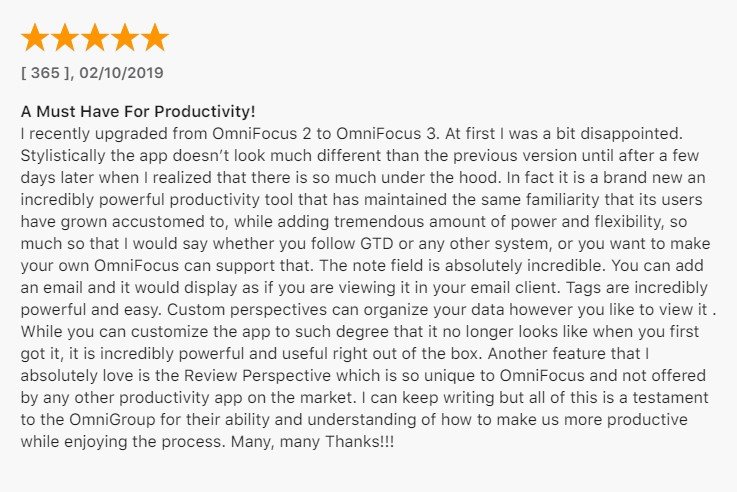 Frequently Asked Questions 
Is the app completely free?
No, the app is not completely free on the App Store.
Yes, the app is secure as it doesn't store any personal information and it asks for very few permissions.
What permissions does the application require?
The app needs basic permissions like Storage, Location, and Photos/Media/Files.
Which android version does it require?
The application is compatible with android version 5.0 and above.
Does the app have a dark mode?
The app does have a dark mode.
Download the App

Like our OmniFocus 3 App review? Check out more Mobile App Reviews or Submit your own Mobile App Reviews.