What is the Overwatch League App?
Overwatch League App is an app designed for live streaming and surfing of your favorite overwatch matches. Other than streaming live matches you can also follow the schedules and training sessions of your favorite teams throughout the season. The app is easily available on Google and Apple app stores.
This app is developed by Blizzard Entertainment Incorporation; which is known for developing some unique and entertaining apps for gamers.
Overwatch League App is very suitably designed for all Overwatch League lovers so that they can easily stream and get track of their favorite teams as well as favorite matches.
Main Highlights
Quickly check the standings or catch the latest stories and videos from the Overwatch League
Set match alerts to receive push notifications when specific matches begin
Watch live or dive into the action later with on-demand videos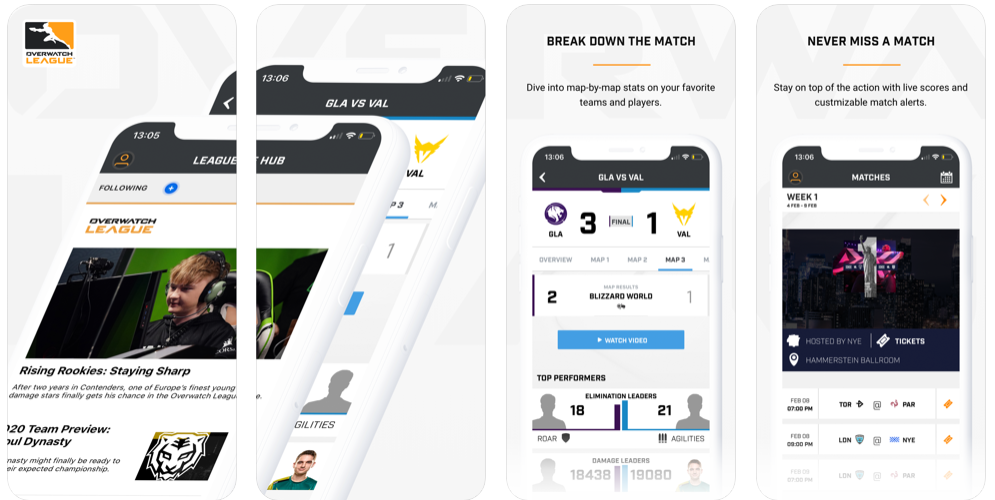 Features of Overwatch League App 
Get updated about everything going on in the season like interviews, team profiles, in-game analysis etc.
You can follow your favorite teams to receive automatic match alerts and easy access to their upcoming schedule, roster details, and team-specific news and videos.
You can easily live stream every second of your favorite and thrilling Overwatch League matches using this app.
Why Overwatch League App?
Overwatch League app is a dream come true for all Overwatch League lovers. This app allows you to stream live matches. It also helps you keep track of highlights of the season. 
Overwatch League App Reviews

Frequently Asked Questions 
How do I hear the crowd and activate HearMeCheer?
Click on the orange microphone to get started. HearMeCheer requires access to your microphone, so when you click the orange button, your browser or device will request permission to access your mic.
How do I control the volume of the crowd?
To control the volume of the crowd use the volume slider to the left of the microphone button.
Can I watch on one device and cheer on another?
Absolutely!
For example, you could watch the Grand Finals on your TV and use your mobile device browser to cheer and listen to the crowd.
Is this app paid?
No, this app is free for all users.
Is this app available on iOS?
Yes, this app is easily available in the Apple app store.
Download the Overwatch League App
Like our Overwatch League App Review? Check out more Mobile App Reviews or Submit your own Mobile App Reviews.