What is Plant Nanny App?
Plant Nanny app provides you with a customized plan using simple charts and interfaces so you can get a solid grasp on your personal water consumption. You can collect cute plants and improve the way your body looks and feels before you know it. These little plants will boost your spirits, improve your health, and help you cultivate good habits for drinking water. You can improve your water drinking habit while playing games on this app.
Plant Nanny was developed and managed by a very talented team of Fourdesire and the app is updated very frequently. This app is breaking records with millions of downloads by the users. The app does not hinder any other applications running on your phone. It uses a secure, enterprise-grade environment. It ensures that your data is safe and nothing is shared with any other application.
Main Highlights:
Suggestions for appropriate amounts based on individual body data and exercise habits.

Automated reminders when it's time to drink more water.

Customize the volume of your water cup and easily set the appropriate units for each glass.

Rewards for regular use and small missions encourage you to stay motivated.
Features of the Plant Nanny App
The app has simple charts and interfaces at a glance. It has graphics that progressively track your daily water intake. Moreover, you can also track your water consumption history and quickly view daily weekly, and monthly trends.

The app has a simple design and user-friendly interface, so you can easily build good habits. It is also optimized for screens of all sizes for use on multiple devices, so you can log in on any device and keep a track of your habit.

Each glass of water you drink also waters the plants, so you can grow and thrive together. There are many types of plants and containers. You can unlock and collect a variety of different plants, and even interact with mysterious new creatures.
Why Plant Nanny App?
Plant Nanny app helps you maintain your habit of drinking enough water throughout the day by providing reminders. You can keep a track of your daily, weekly, and monthly water intake using this app. It provides a simple clean interface and visuals and makes it easier for the users to work with. It is secured and safe for everyone to use.
Plant Nanny App Reviews on the App Store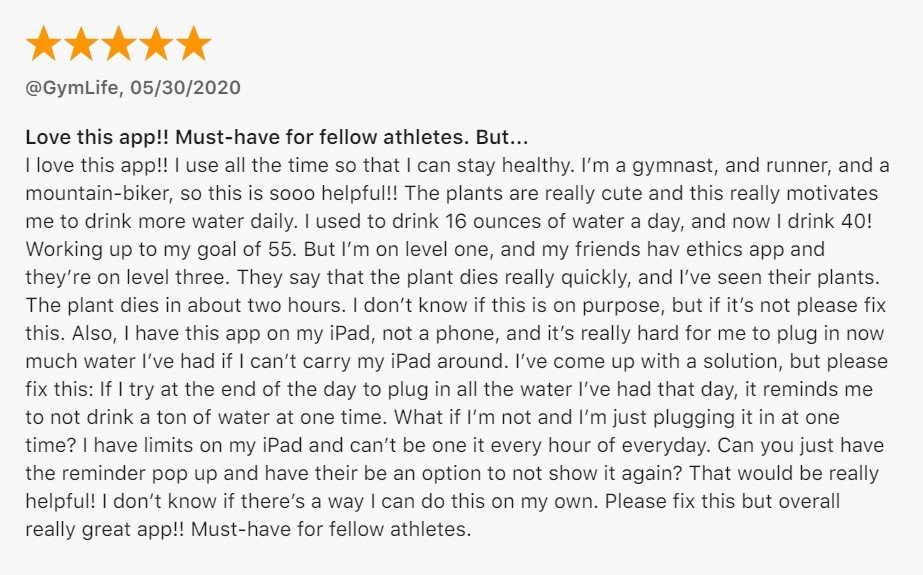 Frequently Asked Questions About Plant Nanny App
Is the app completely free?
No, the app is not completely free on the App Store.
Yes, the app is secure as it doesn't store any personal information and it asks for very few permissions.
What permissions does the application require?
The app needs basic permissions like Storage, Location, and Photos/Media/Files.
Which android version does it require?
The application is compatible with android version 5.0 and above.
Does the app have a dark mode?
The app does have a dark mode.
Download the Plant Nanny App
Like our Plant Nanny app review? Check out more Mobile App Reviews or Submit your own Mobile App Reviews.