What is Quillbot?
QuillBot is an inexpensive paraphrasing tool for students, professionals, and writers that utilizes cutting-edge artificial intelligence to paraphrase any piece of information. The tool's primary objective is to reword the material by altering the sentence structure and substituting synonyms for words while retaining the original content's meaning.
Rohit Gupta, Anil Jason, and David Silin, all computer science students, founded it in 2017. In the years after that, they consistently improve the product's performance and introduced new features.
QuillBot's AI-powered writing platform now includes a suite of time-saving capabilities that make writing easier for the company's 5 million monthly active customers worldwide. This new tool combines spelling, grammar, and punctuation correction strategies with strong artificial intelligence models, identifying problems and recommending improvements. Users of QuillBot began requesting this sort of function in late 2020 to supplement the platform's paraphrasing and summarizing tools. The objective was to streamline users' operations while remaining inside the AI authoring platform.
QuillBot's flagship thesaurus was the first of its type to operate as an actual full-sentence thesaurus. Users laud the svelte UI and the breadth of writing styles and features, making conveying even the most complicated thoughts a joy for native and non-native English speakers. The paraphrase tool is helpful for various tasks, from correcting an embarrassing email to condensing a meandering paragraph and rephrasing quoted facts to develop a case. Additionally, it aids in the capturing of difficult-to-catch thoughts. 
How to use the paraphrasing tool?
To begin, either type or paste the text you wish to modify into the section on the left: 
Once you've selected the text to be paraphrased, click the Paraphrase button towards the bottom of the screen. Your textbook will be processed in a few seconds.
When the AI is finished with the text modification, it will appear in the appropriate part of the interface. Your screen will appear as follows:
You can then quickly copy the text by clicking the "Copy All" option in the bottom right corner.
Key Features:
Clean & Tidy Editor: It provides a clean & neat working environment accessible to everyone without technical skills.

Quillbot is a web-based application, which means that you may use it from any location and do your job effortlessly.

Compare Modes-
(If you're on the free plan, you'll have access to only the Standard, Fluency, and Creative modes. You must purchase the premium version to unlock the Creative+, Formal, Shorten, and Expand modes.)
QuillBot has seven ways. These modes are the primary factors that affect the paraphrase and quality of the created text.
Standard:

This is Quillbot's default setting. It will alter your content while maintaining its meaning and will attempt to generate writing that sounds natural.

Fluency:

This option makes the fewest alterations to your content and produces more natural-sounding and grammatically acceptable language.

Additionally, this Fluency option will minimize the need for the Word Flipper.

Formal:

This mode is ideal if you're writing in a commercial or academic atmosphere. This style adapts your text to your traditional audience.

Simple:

As its name implies, it is a simple one. This mode focuses on making simple modifications to the reader and attempting to generate a distinct text from the original.

Creative:

The Creative Mode AI makes more excellent intuitive adjustments and better understands certain things like frequent phrases and sayings.

Expand:

Do you wish to expand the length of your text or the total number of words? Quillbot added a new option to the system dubbed "Expand Mode." This mode will attempt to insert as many words as possible into the text to enhance the word count.

Shorten:

If you wish to shorten the length of your text, this mode will assist you. Because this "Shorten Mode" will reduce the size of your content without altering its meaning.
Bear in mind that all of these modes will be held accountable for the quality of your work.

Additionally, it includes Google Chrome extensions, Microsoft Word add-ons, and Google Docs add-ons to make your job easier.

Additionally, it supports three English dialects: American English, British English, and Australian English.

It has two modes: dark and bright; you may choose between them at any moment.
Text Features in QuillBot 
Changed Words (Orange colored texts)-The original words are replaced with synonyms to keep the underlying meaning and concepts.

Structural Changes (Yellow straight line)- Taking it a step further, the sentence structure is altered by rearrangement and modification of clauses.

Thesaurus (Violet colored texts)- Choose a word or phrase with the same meaning as the statement (synonym).

Longest Unchanged Words (Blue colored texts)-The most comprehensive collection of words that stay intact between the original and paraphrased text is the most extended set of unaffected terms.
Features and Tools
The Grammar Checker advances QuillBot's aim of a one-stop-shop writing platform, assisting users with all parts of writing, from source selection to language refining and editing for clarity and fluency. The grammar checker combines three features into one powerful tool to spot spelling, punctuation, or grammatical mistakes. After polishing writing assignments, autobiographies, and other documents with content modifications, they may be run through QuillBot to catch errors, large or tiny, common or obscure. 
All grammatical, spelling, and punctuation mistakes will be detected, and proposed adjustments will be displayed or implemented with a single click. This tool is notably beneficial for recognizing frequently misspelled terms, grammatical faults, and misused words, allowing users to improve their writing skills with each usage. QuillBot's free online grammar check assists users in avoiding errors and polishing their work, allowing the ideas to shine through rather than the typos.
Summarizer is a tool that will enable you to take longer articles or sections of text and condense them into a digestible paragraph or view the content's most significant lines. Enter, paste, or upload the text you wish to summarize to begin using the summarizer. Then, on the "Summarize" page, click the "Summarize" button. Your content will be processed, and the output box will display the summary or introductory sentences.
The summarizer has two parameters that you may change. They are highlighted in red in the following image.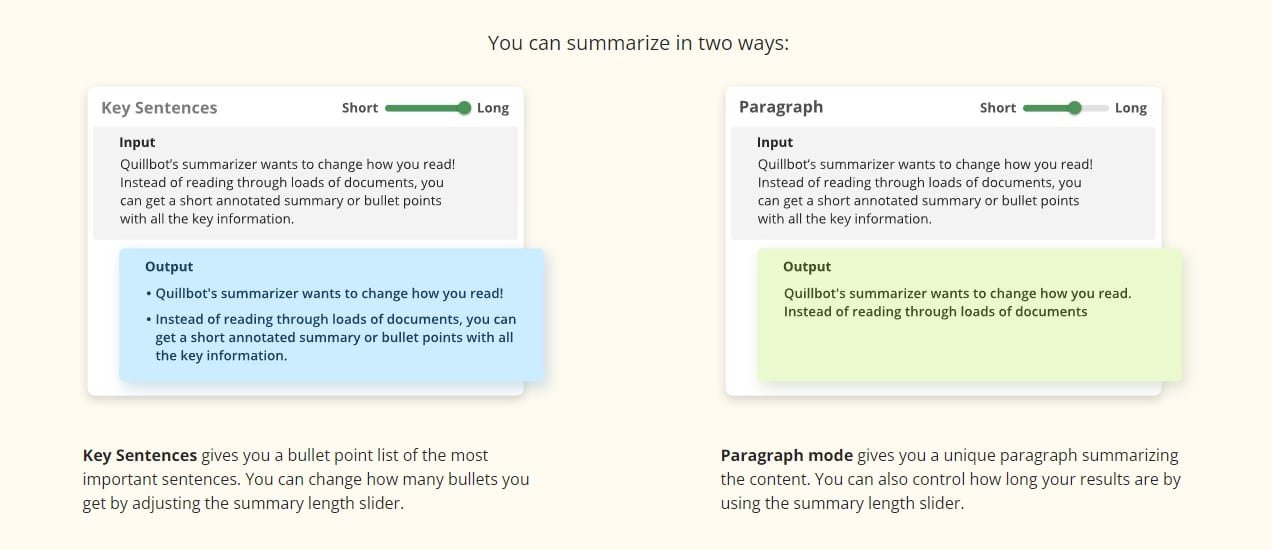 These are the two parameters:
You may see your summary as a paragraph or as the article's most significant sentences.

Summary Length: This slider determines the length of your findings. You can specify a shorter or longer paragraph and the number of introductory sentences displayed.
Citation generators are programs that automatically reference external sources used to substantiate an argument or notion in another document. They entitle authors to acknowledge other authors and researchers when their work is exploited.
Citation generators are a lifesaver. If sources referenced in an essay or article are not correctly credited, or if the author attempts to pass off another's ideas as their own, this is considered plagiarism. Plagiarism can result in failure, suspension, expulsion, or even legal ramifications that last a lifetime.
QuillBot's Citation Generator is compliant with the APA, MLA, and Chicago citation styles for print and web sources. It generates in-text and complete citations for associated References, Works Cited, and Bibliography pages.
With the Co-Writer, you can do your research online, take notes, and use AI-assisted autocompletes all in one place, so you never have to leave the page you're working on.
There is nothing else on the internet quite like the Co-Writer. While the Grammar Checker and the other tools are integrated into the Co-Writer, it is a stand-alone program. It can generate sentences from what you've written and input, effectively writing alongside you. Additionally, you may do an online search for sources directly from the Co-Writer interface.
There is an Ideas tab that you may use for anything; it is a blank slate, after all. It's ideal for notes and outlines, bulleted lists, and scraps of information that you'd typically scribble on a post-it note. The entire purpose of the ideas tab is to provide you with a place to ponder and explore without having to leave the website.
Pros and Cons of Quillbot
PROS
CONS

Cost-free plan.

 

The premium plan has a character limit.

No registration is necessary to access the portal.

Paid plans at an affordable price.

The free account has an extremely low one-word freezing limit.

Simple, intuitive user interface.

Additionally, a summarizer tool is included.

The grammar checker is a free service.

Quill-mode in Creative can result in mistakes.

The export option simplifies the process of downloading the output.

Generator of video captions.
Conclusion
Quillbot is unquestionably a fantastic piece of software. You may learn a lot about sentence structure by looking at the rephrased possibilities provided by Quillbot, which can help you speed up your writing and save you time. You'll learn about several ways to say the same thing, as well as a variety of synonyms. There's no need to search for synonyms of a certain term. As a result, it's a learning experience to use this tool.
Make sure you read the findings of this tool before submitting your material. Preventing mistakes is always a benefit of proofreading. I'll wrap up this Quillbot review now, and I hope I've given you a good picture of what the tool is all about.