What is Reading Trainer App?
Reading Trainer app lets you play 12 challenging, fun, and engaging quiz-based games (reading trainers) at school, at home, and at work. The app helps you to read faster, improves your mental capacity, and learn something new. It brings the magic of learning for students, teachers, office superheroes, trivia fans, and lifelong learners. The app is also getting updated in Spanish and users can use the app in Spanish as well.
Reading Trainer was developed and managed by a very talented team of reading trainers and the app is updated very frequently. This app is breaking records with millions of downloads by the users. The app does not hinder any other applications running on your phone. It uses a secure, enterprise-grade environment. 
Main Highlights:
Helps to read texts of all types faster, more effectively and most of all.

PowerReader allows you to get your daily work done while practicing important reading skills.

Eye-exercises and brain teasers also included in the app.

Helps increase vision span.
Features of the reading trainer App
The app guides you through the individual training steps. The software immediately recognizes your strengths and weaknesses. Furthermore, the statistics function lets you see and track your progress.

More stars mean that you are getting closer to your objective: more effective reading skills and with it extremely high reading speeds.

 

Questions about the text are used as a secondary test to assess your retention ability. This is the ideal combination of mastering effective reading skills and high retention rates.
Why Reading Trainer App?
Reading Trainer app lets you improve your reading speed and retention rate  (reading trainers) at school, at home, and at work. The app also improves the ability to concentrate and learn something new. It provides a simple clean interface and visuals and makes it easier for the users to work with. 
Reading Trainer App Reviews on the App Store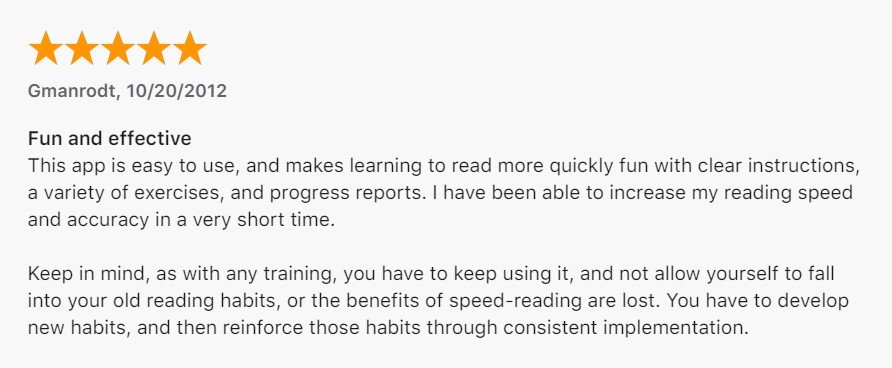 Frequently Asked Questions About Reading Trainer App
Is the app completely free?
No, the app is not completely free on the App Store.
Yes, the app is secure as it doesn't store any personal information and it asks for very few permissions.
What permissions does the application require?
The app needs basic permissions like Storage, Location, and Photos/Media/Files.
Which android version does it require?
The application is compatible with android version 5.0 and above.
Does the app have a dark mode?
The app does have a dark mode.
Download the Reading Trainer App
Like our Reading Trainer app review? Check out more Mobile App Reviews or Submit your own Mobile App Reviews.