What Is Reface App?
Reface is an AI app that can swap faces in a video and GIF in a few seconds. It held first place at the top of the American AppStore soon after its release. The company's head office is located in Kyiv, Ukraine. Reface has created a universal neural network to replace all possible human faces. The neural network has trained on millions of images that are freely available. The technology of the application can change the features of a face, which is transformed into so-called face-embeddings.
It is an anonymous set of numbers that describes the features of a person's face that distinguish him from other people. To achieve image realism, It uses GAN frameworks, which generate a high image resolution. The photo taken by the user is removed from Google Cloud within 24 hours.
Main Highlights: 
Ruin reality. Freak out friends. Mess with mates. 

Paste faces onto favorite superhero, TV star, celebrity, or meme gif.

Share it on social media or with friends as a video, photo, or gif. Change your gender, morph faces, 

Perform advanced face swap face merges with our state of the art AI-powered face changer, 

Share creation with the world and blow their minds.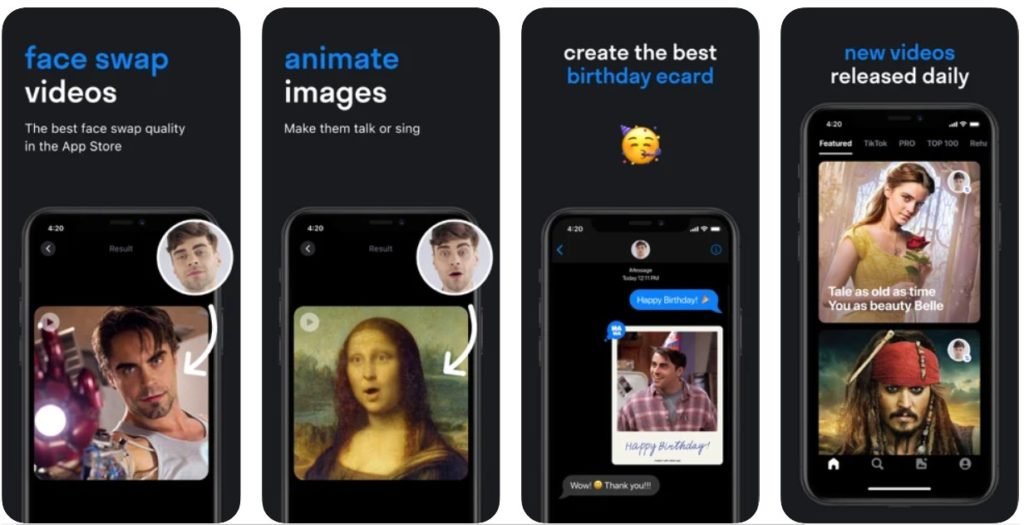 Features Of The App
Swap your face to celebrities or movie characters with our amazing face swap technology

Play with live face swaps, gender swaps.

Share your awesome media.

Swapped clip or funny meme as a gif or video to messengers and social media.

Try face swaps with new videos and gifs posted every day.
Why Choose Reface App?
Reface is the most advanced, top-rated, fun, and bizarre face-swapping app. Ever. Our futuristic AI has been featured in Forbes, Mashable, TNW, and Digital Trends. Combined with a daily updated wealth of source videos, gifs, photos, and pictures, users can make ridiculously realistic face swap videos and gifs with just a single selfie. Reface will absolutely floor as users morph their face, switch it with celebrities, and become new people in popular TV and movie clips.
Be a wizard or a pop star. Become a celebrity look-alike by swapping your face with trending movies and TV clips, or have fun and replace face with memes using our face editor and face morphing technology, as Reface is also the best meme maker in the world.
Top Reviews Of The App

Frequently Asked Questions About The App
It appears to have a more restricted approach to user privacy. According to its privacy policy, the company says it "may collect the photos that you take with your camera while using our application.
Download the app in the App Store.
Let the app take a scan of your face.
Select what program you want (you can go free but you'll have to watch ads)
In the 'Featured Today' dashboard, you will find music videos, film scenes, and more clips to which you can add your face.
Is the app free on iPhone?
Put your face onto GIFs. Reface (previously known as Doublicat) is a free lifestyle mobile app that lets you swap your own likeness onto GIFs.
Download the Reface App
Like our Reface App review? Check out more Mobile App Reviews or Submit your own Mobile App Reviews.