What Is Salesforce App?
Salesforce.Inc is an American cloud-based software company headquartered in San Francisco, California. It provides customer relationship management (CRM) service and also sells a complementary suite of enterprise applications focused on customer service, marketing automation, analytics, and application development.
Salesforce app is a compilation of items that work together to serve a particular function. Salesforce apps come in two flavors: Classic and Lightning. Classic apps are created and arranged in Salesforce Classic. Lightning apps are created and managed in Lightning Experience. You can customize both types of app to match the way users work.
Main Highlights:
Collaborate instantly.

Pull up sales figures with a tap.

Organizes day. 

See urgent messages.

Find everything faster. 

Close deals faster.

Instantly access any record.

Fly Through to-do list.

Make apps and customizations mobile.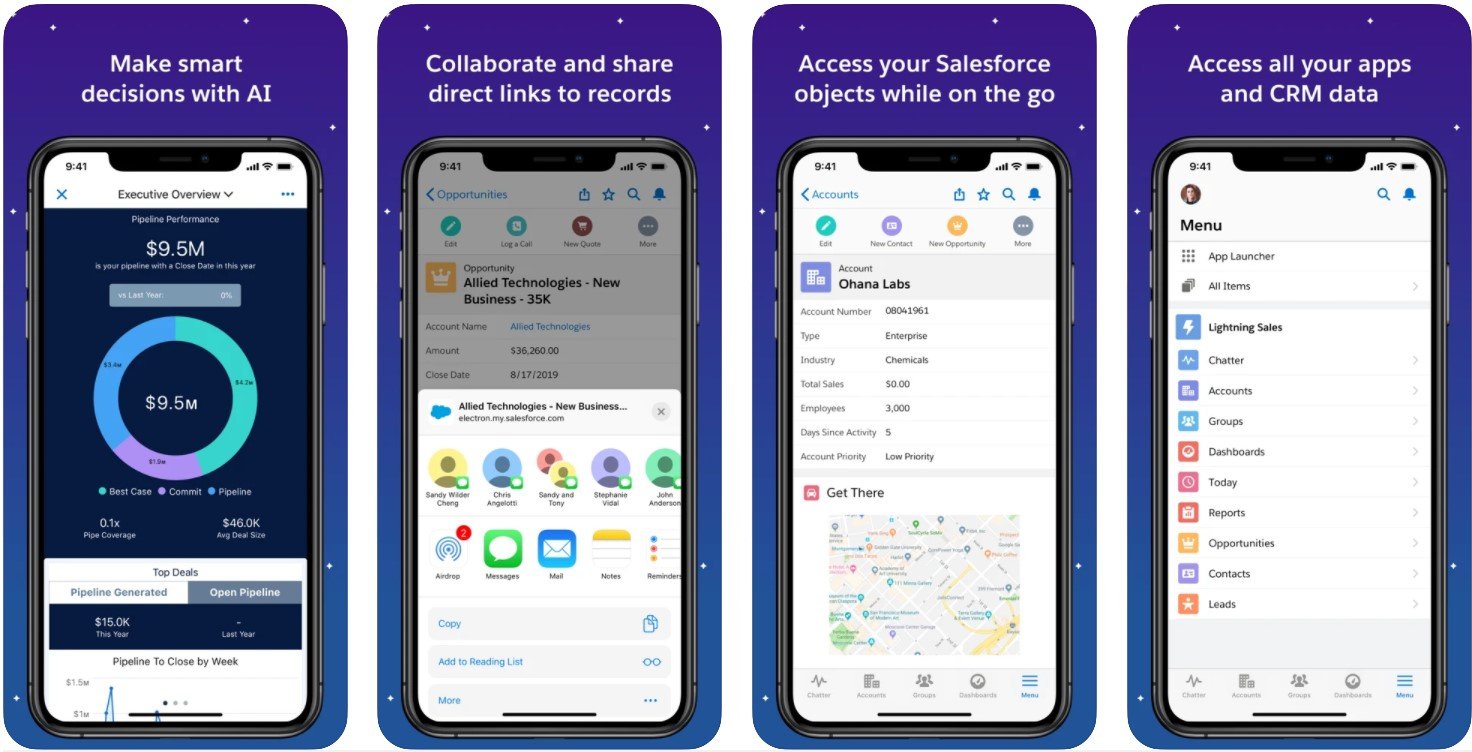 Features Of Salesforce App
Increase productivity.

Work smarter with AI.

Build faster with low code.

Personalization.

Build mobile experiences faster

The version includes bug fixes.

Provides Stability.
Why Choose Salesforce App?
Easy to Use, users can log in from anywhere. Collaborate with colleagues and view and update customer data whenever want.

Easy to Customize – Whether users want to add modules or fields, create sales processes, or change workflows, it's all just a click away with Salesforce Customization.

Cloud-Based – It has pioneered a secure and sophisticated cloud infrastructure and offers unparalleled cloud solutions for Sales, Marketing, Support, and Analytics.

Efficient Reporting –  The reporting facility in Salesforce is customizable, enables contract management, and offers real-time reports and analytics.

Multitenant Platform – All Salesforce users share the same infrastructure and instance of the software.

Integration Options – The Salesforce platform has a robust and well-documented open API which makes virtually any Salesforce integration possible. 

AppExchange Ecosystem –

AppExchange in Salesforce allows you to develop and market your app or get access to thousands of users, secured, and verified applications and integrations built by other users.

Mobile CRM –

Salesforce was one of the earliest companies to introduce the concept of mobile CRM.
Customer Success Platform – Salesforce lets you efficiently unify different principal functions of your business so users can achieve customer success.
Top Reviews Of Salesforce App


Frequently Asked Questions About Salesforce App
Does Lightning cost more?
No, it's just a better way to use Salesforce. To more quickly gain all the productivity benefits, plan a move to Lightning Experience.
What is Lightning Experience vs. the Lightning Framework?
The Lightning Experience is a more productive, modern way for everyone to work. The Lightning Framework is an environment that radically speeds up how you customize Salesforce and build new apps.
Is there a Lightning community where one can ask more questions?
Yes, there is, full of admins and devs. You can meet experts, ask questions, and get answers from an entire community of people ready to help.
Download the Salesforce App
Like our Salesforce app review? Check out more Mobile App Reviews or Submit your own Mobile App Reviews.