What Is Sharechat App?
ShareChat is an Indian social media and social networking service, based in Bangalore, India. It was developed by Mohalla Tech Pvt Ltd. and founded by Ankush Sachdeva, Bhanu Pratap Singh, and Farid Ahsan. It was incorporated on 8 January 2015. ShareChat has over 160 million monthly active users across 15 Indic languages. 
The company's application offers features that include private messaging, tagging, and a personal messaging feature, enabling users to share videos, jokes, songs, and other language-based social content with other unknown users. Initially, ShareChat primarily worked as a content sharing platform, without any scope of users generating their own content.
 In April 2016, ShareChat enabled user-generated content creation on its platform, allowing its users to share their own posters and creative content. At around the same time, it also introduced open tagging for users, which would allow anyone to create their own hashtags depending on the content.
Main Highlights
Wishes & Quotes.

🎬 Entertainment.

🤪 Funny Videos.

👻 WhatsApp Status & Instagram.

Story Videos.

🎥 Short Videos.

🎬 Cinema & TV Gossips.

🔮 Astrology.

🎥 Devotional Videos.

💃 Fashion.

🥊 Health & Fitness.

🎤 Trending News.

📲 Status and Stories.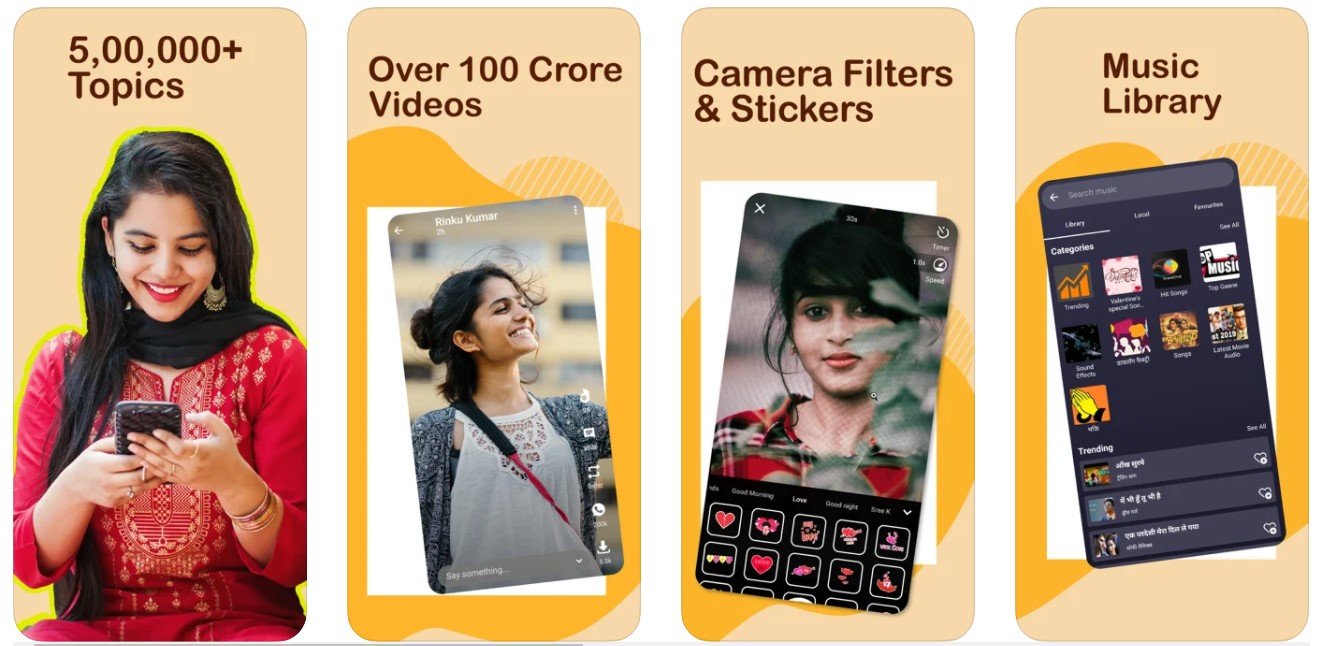 Features Of Sharechat App
Download Jokes, ​Whatsapp Status​, Memes, Trolls, Wishes, And Greetings.

Viral Videos From Tamil Movies, Bollywood Movies, Telugu Movies, Marathi Movies, And Bengali Movies. 

Join Chatrooms in 15 languages. Create your own chatrooms and make friends.

Good Morning Wishes, Good Night Wishes, And All Other Festival Wishes.

Get Famous By Showcasing Your Talent And Become An Internet Celebrity.

Repost The Images Or Videos That You Like.

Make Whatsapp Sticker From Any Image.

 Best​ Hindi Shayari, Love Shayari, Romantic Shayari, Marathi Shayari ​and More.

Talk To Strangers With Sharechat Shake & Chat.

Beauty Tips, Home Makeup Tricks, And Fitness Videos.

 Latest Trends Of Your Locality!

 Daily Horoscope, And Best Astrology From Panditji In All Indian Languages By Birth Date.

 Find the Latest ​love Quotes​, Tips To Dress Well, And How To Prepare For Interviews.

 Health Tips And Fitness Tips On How To Cure Yourself With Home-made Remedies.

Religious And ​devotional Songs​ Like​ ​bhajans.
Why choose Sharechat App?
Create Funny Videos With ShareChat Video Filters, Use 300+ Emoji Stickers and Face Filters.  Download Funny Short Videos, Jokes, Gifs, Audio Songs, ​Shayari,​ ​Motivational Quotes​, ​Funny Quotes, Bhajans, Devotional Songs​ , and Funny Images all in one platform.
Multiple Indian Languages: ShareChat is available in 15 Indian languages viz. Hindi, Telugu, Marathi, Gujarati, Punjabi, Malayalam, Bengali, Tamil, Kannada, Odia, Bhojpuri, Assamese, Rajasthani, Haryanvi & Urdu 
You can make friends and share regional videos with people who speak in your own language. Hindi language users can now download Hindi videos Hindi love video songs, Hindi Shayari, and Hindi WhatsApp status videos.
There are Tamil WhatsApp video status, Telugu WhatsApp video status, Kannada WhatsApp video status, Marathi WhatsApp video status, Gujarati WhatsApp video status, Bengali WhatsApp status, Urdu WhatsApp video status, and Malayalam WhatsApp video status. You can download videos with just one click.
Top Reviews Of Sharechat App
Frequently Asked Questions about Sharechat App
I did not post any adult or spam content. But my profile was banned. Why so?
As per ShareChat policies, posting spam content is one of the reasons for a profile ban. Your account could have been banned because of any violation of the Content and Community Guidelines.
How can I block someone on ShareChat?
You can block any user by going to their profile and clicking on the stop icon. Once blocked, your posts or profile will not be visible to them.
I found a post abusive. What can I do to remove such a post?
You can report that post by clicking on the Report button located at the bottom of every post and select the appropriate reason for us to take action against that post.
Download the Sharechat App
Like our Sharechat app review? Check out more Mobile App Reviews or Submit your own Mobile App Reviews.