What is SimpleMind Pro App?
SimpleMind Pro app helps you organize your thoughts, remember information and generate new ideas. This app lets you mind map wherever you are and whenever you want. The app is continuously fine-tuned based on customer feedback and is used in a wide range of applications: business, education, legal and medical. You can use the free-form layout or various auto layouts and seamlessly synchronize using clouds.
SimpleMind Pro was developed and managed by a very talented team of ModelMaker Tools and the app is updated very frequently. This app is breaking records with millions of downloads by users. The app does not hinder any other applications running on your phone. It uses a secure, enterprise-grade environment. It ensures that your data is safe and nothing is shared with any other application.
Main Highlights:
Add media and documents

Share Mind Maps

Change and customize the style of the Mind Map

Tools to help you maintain an overview

Features of the App
The app lets you place topics anywhere you want in the free-form layout or use auto layout. This helps you brainstorm. You can reorganize and restructure using drag, rotate, re-arrange or reconnect.

You can connect any two topics with crosslink and label relations. The app provides virtually unlimited page size and a number of elements and also supports multiple Mind Maps on one page.

The app provides seamless synchronization using Dropbox, Google Drive, and OneDrive and you can also sync mind maps with your devices. Along with that, you can share your Mind Map as a PDF or Image or export to the calendar.
Why SimpleMind Pro App?
SimpleMind Pro app helps you organize your thoughts, remember information and generate new ideas. The app provides easy synchronization and ensures proper backup. You can export your maps easily as well. It provides a simple clean interface and visuals and makes it easier for the users to work with. It is secured and safe for everyone to use.
App Reviews on the App Store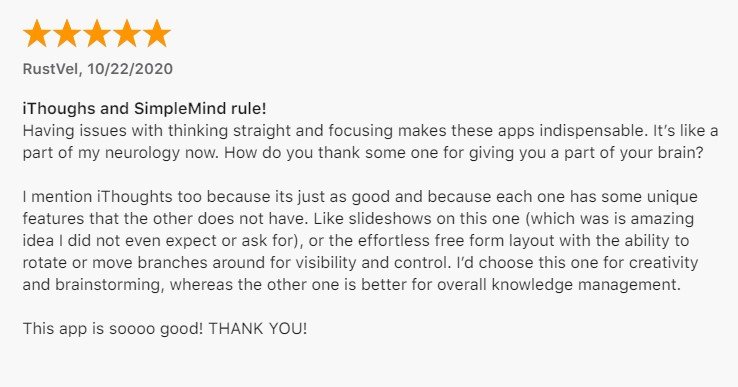 Frequently Asked Questions About The App
Is the app completely free?
No, the app is not completely free on the App Store.
Yes, the app is secure as it doesn't store any personal information and it asks for very few permissions.
What permissions does the application require?
The app needs basic permissions like Storage, Location, and Photos/Media/Files.
Which android version does it require?
The application is compatible with android version 5.0 and above.
Does the app have a dark mode?
The app does have a dark mode.
Download the SimpleMind Pro App
Like our SimpleMind Pro App review? Check out more Mobile App Reviews or Submit your own Mobile App Reviews.