What is SlideShare App?
SlideShare app is a 2006 online presentation service that LinkedIn purchased in 2012. The site's initial focus was on digital slideshows, hence the name. Still, it gradually added the ability to upload files made in other applications and incorporate LinkedIn videos to create more interactive presentations.
SlideShare is both a social network and an online educational resource. Anyone can upload a presentation to the SlideShare website, commonly known as "SlideShare online," Those who make high-quality and famous works, such as complete webinars, can sometimes garner a sizable audience.
Main Highlights
You may increase your knowledge at any time and from any location with the official SlideShare app.

Look through your social media feed for the most popular presentations and share the ones you like.

SlideShare is most known for its educational platform, which hosts various webinars and training presentations on a variety of topics.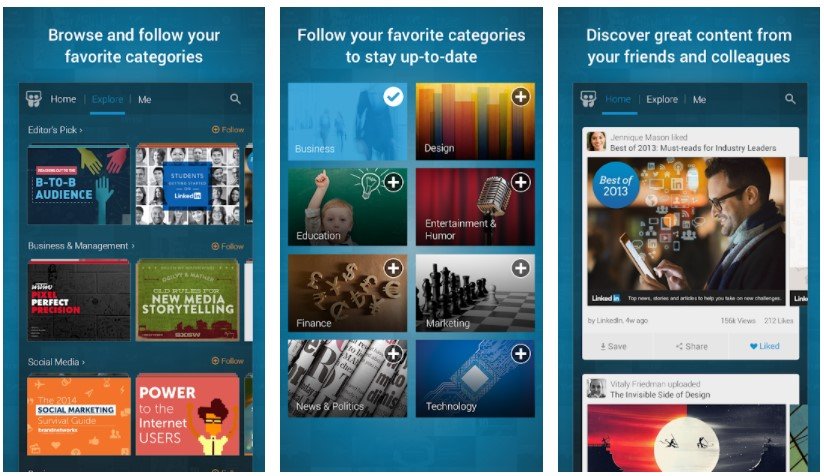 Features of SlideShare App
In a spectacular full-screen experience, browse over 15 million professional presentations, infographics, and movies.

With over 30 themes to choose from, you may learn about your favorite topics such as Technology and Leadership, Engineering, and Healthcare.

Make a list of your favorites and save them to read later.

By following forward-thinking organizations like Netflix and NASA, you can explore keynotes from significant conferences and learn from industry leaders who offer their expertise on SlideShare.

Investigate the most popular presentations on your social network and share your favorites with friends and colleagues on SlideShare, Linked In, Facebook, and Twitter.
Why choose SlideShare App?
SlideShare is the world's largest community for sharing presentations and professional materials. There's a lot more to it than just slides! Here you may find infographics, videos, how-to guides, data & analytics reports, industry research, thought-leadership pieces, Q&As, DIY instructions, visual directions, and more.
Follow companies and organizations on SlideShare that contribute their expertise, such as Dell, Ogilvy, the White House, Netflix, NASA, and others. Experts such as Netflix CEO Reed Hastings, LinkedIn co-founder Reid Hoffman, Silicon Valley entrepreneur Guy Kawasaki, and others will teach you.
SlideShare App Reviews
Frequently Asked Questions
How Do I Upload Files From My Computer to SlideShare?
Follow these steps to upload presentations to SlideShare:
Log in to SlideShare to get started.

Click Upload in the upper right corner of the page.

By clicking the button, you can select which files to upload.

Select the files that you want to upload.

Include a title, a description, a category, and tags if applicable.

Set the Privacy preference.

Then click the Publish button.
Cloud Storage content is being uploaded.
Follow these procedures to upload files from your Cloud Storage account:
Log in to SlideShare to get started.

Click Upload in the upper right corner of the homepage.

From the drop-down option, choose Upload files from the cloud.

Choose a file hosting service provider.

You may be required to log in.

Once you've logged in, you'll see your files hosted by your service provider.

Using this window, select the file to upload.

Select the Upload option.
While you cannot directly submit JPEG, GIF, or other image files to SlideShare, you can always incorporate images in a presentation, paper, or PDF and post the material to SlideShare. Video uploads are not permitted on Slideshare.net.
All infographics must be provided in the form of PDF files. If your infographic is in a different format (for example, JPEG), you must convert it to PDF before uploading it. SlideShare will categorize infographics based on an aspect ratio of more than twice the width. It may be displayed as a document or presentation if it lacks this aspect ratio.
You cannot upload presentations, documents, movies, or infographics from your mobile device to SlideShare. The maximum upload file size is 300 MB.
How Do I Share Private Content on SlideShare?
Privately uploading content
Create a SlideShare account.
Click the Upload button in the upper right corner.
Select files to upload by clicking the Upload files button, dragging your files into the page, or uploading files from the cloud.
Select the files that you want to upload.
Include a title, a description, a category, and tags if applicable.
Set the Privacy Level to Private.
Then click the Publish button.
What is the most effective approach to search on SlideShare?
The Search bar at the top of several SlideShare pages can search for SlideShare presentations and users.
Use quote marks around your search criteria, such as "Slideshare101," to find a specific title.
At the top right of the page, you can narrow your search by:
Uploading date
Language of the file
Please bear in mind that your SlideShare may not appear in the site's search results right away. It takes a few hours for a file to be indexed when it is uploaded to SlideShare. Your content may appear further down the list depending on the keywords you pick.
SlideShare App Download
Like our SlideShare App Review? Check out more Mobile App Reviews or Submit your own Mobile App Reviews.