What Is Swiggy App?
Swiggy is India's largest and highest-valued online food ordering and delivery platform founded in 2014. Swiggy is based in Bangalore, India, and as of March 2019, was operating in 100 Indian cities. In early 2019, Swiggy expanded into general product deliveries under the name Swiggy Stores. Order food, groceries & essentials online, & get quick doorstep deliveries. 
In September 2019, Swiggy launched instant pick up and drop service Swiggy Go. The service is used for a diverse array of items, including laundry and document or parcel deliveries to business clients and retail customers. Swiggy is operated by Bundl Technologies Private Limited.
Main Highlights:
Popular Restaurants.

Safety Measures.

No Minimum Order Conditions.

Top Cuisines & Categories.

Best Supermarkets.

Lightning-Fast Deliveries.

Live Order Tracking.

Long Distance Deliveries.

Save Big With Our Best Offers.

Prepaid, Cash, Credit, & More Payment Options.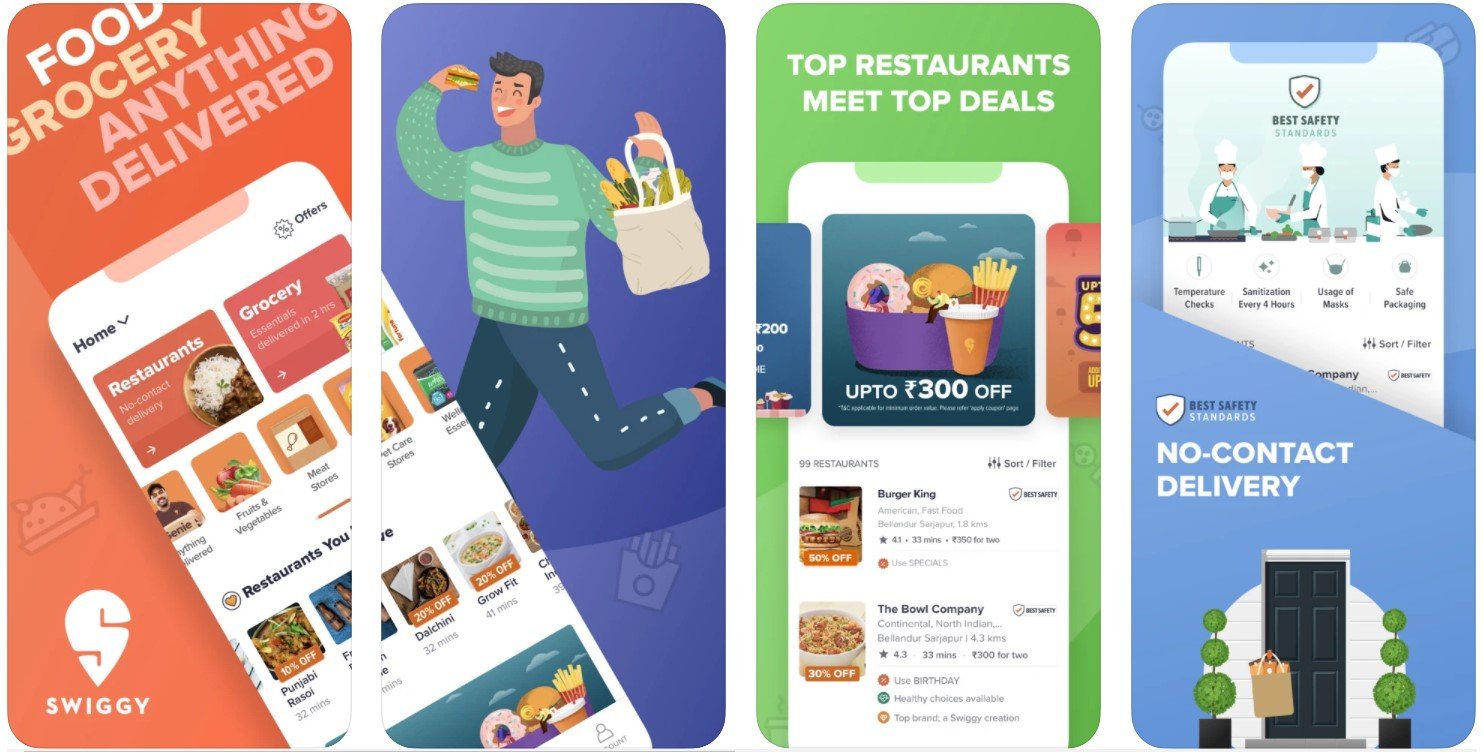 Feature of Swiggy App
Order food, groceries, and other essentials online.

Restaurant and Delivery Partners trained in hygiene protocols.

Find top restaurants and stores in your city.

30+ cuisines to choose from.

Late-night delivery services.

Order Biryani, Pizza, Masala Dosa, Burgers, Lassi, Coffee, Gulab Jamun, and more.

Order from supermarkets near & far away from you, with a less than 2 hour delivery time.

Explore collections like Best Safety Standards, Veg Only, Healthy Food, Pocket Friendly, Premium, and more.
Why choose Swiggy App?
No Minimum Order –

Swiggy offers you no restriction in order value and, you can even order for a minimum amount. Thus, you can order food for yourself and for your friends.

Fast Delivery –

Swiggy promises to deliver food in 40 minutes and holds an average delivery time of 37 minutes. So, Food delivery with Swiggy is super fast.

Distance Coverage –

The most important benefit of Swiggy is its coverage of distance. You can order from the restaurant that is far from your location using Swiggy. This option also gives the opportunity to try various restaurants in the surrounding.

Live Tracking –

Now the users no need to worry about the order as Swiggy keeps updating them about the order status. The users can also track the live location of the driver to make things further easy.

Wallet – The wallet

 option helps the user to pay for their orders super quick. It also further increases the engagement with app and user can also enjoy various offers and coupon that only applies to wallet using users.

Order Cancellation –

Swiggy doesn't charge their user for canceling their order before it's confirmed.
Top Reviews Of Swiggy App
Frequently Asked Questions About Swiggy App.
How do I stop getting notifications from Swiggy?
You can log in to manage your email preferences [here] or you can follow the "unsubscribe" instructions in commercial email messages.
Can I cancel the Swiggy order?
Terms & Conditions for Swiggy Order Cancellation: If in case you cancel the order once it is confirmed then, Swiggy shall have the right to charge you a cancellation fee of Rs. 75 up to the order value.
How can I get free Swiggy money?
First, download the Swiggy app. Now select restaurants that are running an offer(50% off). Make your cart value to Rs 100. Now apply promo code ORDER50. You will get an error message but your promo code will be applied successfully.
Download the Swiggy App
Like our Swiggy app review? Check out more Mobile App Reviews or Submit your own Mobile App Reviews.