What is TaleHunt App?
TaleHunt app is an app to read online short stories in the love and fictional genre. The app comes under the category of fiction and reading apps. You can easily start reading tiny tales on your mobile. All stories are written in less than 250 characters. If you love to read short stories in your free time then this app is for you. Moreover, you can also write your own short stories using TaleHunt. Start writing your terribly small stories and show the world how great you are. You can start writing your creative work and a quality audience is waiting to read your creativity.
TaleHunt was developed and managed by a very talented team of Mocioun Techlabs Private Limited and the app is updated very frequently. This app is breaking records with millions of downloads by users. The app does not hinder any other applications running on your phone. It uses a secure, enterprise-grade environment. It ensures that your data is safe and nothing is shared with any other application.
Main Highlights:
Read short stories in your free time for Entertainment

You can write your own stories in less than 250 characters

You can use the tag as a key for your reader to open your story

Or choose a tag to represent the category in which you are writing

Features of the TaleHunt App
India-based mobile app TaleHunt enables users to write tiny 250-word stories and share them with the world. TaleHunt is an app for aspiring short-story tellers/writers. Budding writers can also choose a pen name if they are 'shy' and don't want to disclose their name. The app also allows users to 'report' others if the content is offensive.

After logging in, the app displays trending tales. Users can follow the storytellers whom they like and will get notified when they write a new tale. Users can also 'like', comment and share tales, and suggest topics to others. If they write a tale on that topic then, the suggested users will get notified.

Professional writers are promoting books by writing interesting tales in TaleHunt. These tiny tales act as a 'trailer' (like in movies) for large stories/novels. The stories can then link to their published work at the bottom. Tapping that would take readers to Amazon. The feature is currently available only for a few selected writers on the app and is free for now.
Why TaleHunt App?
TaleHunt app lets you read stories in 250 words. You can write your own stories and publish them as well. The app also lets you promote your written novels as well. It provides a simple clean interface and visuals and makes it easier for the users to work with. It is secured and safe for everyone to use.
TaleHunt App Reviews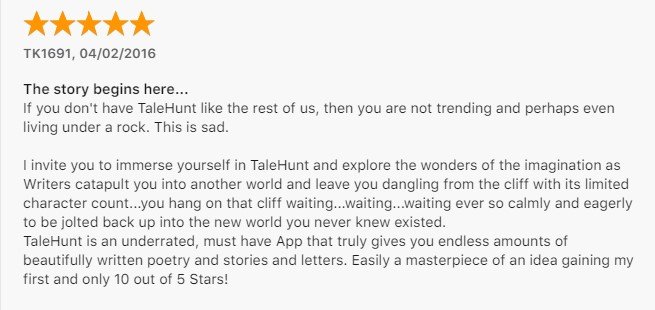 Frequently Asked Questions About TaleHunt App
Is the app completely free?
No, the app is not completely free on the App Store.
Yes, the app is secure as it doesn't store any personal information and it asks for very few permissions.
What permissions does the application require?
The app needs basic permissions like Storage, Location, and Photos/Media/Files.
Which android version does it require?
The application is compatible with android version 5.0 and above.
Does the app have a dark mode?
The app does have a dark mode.
Download the TaleHunt App
Like our TaleHunt App review? Check out more Mobile App Reviews or Submit your own Mobile App Reviews.