In recent years, pharmacy applications have proven to be quite useful. These applications provide a platform that links large pharmacies in order to assist persons in need. Medicine apps such as pocket pharmacist have emerged as the most important source of many health care products such as medicines, lab tests, doctor consultations, and medicine information, among others.
Having a mobile health alternative at your pharmacy can assist you in meeting the increased need for digital care solutions while also allowing you to provide higher-quality, more personalised services.
Patients may manage their health more efficiently from the comfort of their own homes with digital care choices such as pharmacy mobile applications. Allow them to order prescription refills at any time of day, without having to phone or visit the shop during business hours.
Mobile apps simplify pharmaceutical service and communication, saving patients time and effort throughout the course of a busy day. They may access mobile-friendly services, message their provider, and securely communicate health information all from their phones.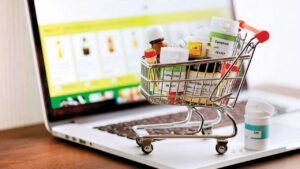 Here's our list of top pharmaceutical apps available in UK:
Pill Pack
The pharmacy not only fills prescriptions, but it may also fill over-the-counter drugs and vitamin supplements. The firm packages your prescriptions into compact packets to be taken at particular times of day, eliminating the need for a pillbox or sorting your own pills. Prescription medications will be provided in separate containers as needed.
Instead of a 90-day period, automatic refills will be distributed on a 30-day schedule. This enables the pharmacy staff to make rapid modifications to your prescriptions if your treatment plan changes. Insurance is accepted, and shipment is free, with the first one assured to arrive within two weeks.
A pharmacist is ready to answer your inquiries 24 hours a day, seven days a week. The drugstore is accredited by the National Association of Boards of Pharmacy and is a member of the Pharmacy Verified Websites Program.
Features 
Expedited delivery available

Automatic refills

Pill Pack, run by Amazon Pharmacy, is based in Manchester, New Hampshire and is licensed nationwide.
LloydsPharmacy
If your doctor accepts electronic prescriptions, you can order medication through LloydsDirect. At the present, that equates to 96% of all GPs in England. Don't worry about notifying your doctor about your decision to switch to LloydsDirect.
Request prescriptions, track your orders, and receive reminders to take your medication all from our mobile app or website.
All prescription medications, even those kept in the refrigerator, are delivered free of charge. They deliver from our main pharmacy to any address in the United Kingdom. You'll receive a reminder to order your next prescription 10 days before it expires. As a result, your next order should arrive on schedule.
Your LloydsDirect account may be used to manage your entire family's medicines. You can have their medication delivered to you or mail it directly to them. Human-friendly Patient Care consultants and pharmacists are available to assist you. Receive assistance via phone, email, or in-app messaging.
Features
Minor ailment service

Supervised consumption of medicines

Medication review service

Emergency contraception (NHS)

Inhaler technique service (NHS)

NHS Health Check

Vaccination service (NHS)
Healthera
The NHS repeat prescription ordering app, Healthera, is also known as the Online Repeat Prescription app. You may use the app to request a repeat prescription without needing to contact your local GP or pharmacy.
When you need a repeat prescription filled, you may use the Healthera app to save long lines, phone calls, and visits to your doctor.
When your prescription is ready, go to your pharmacy and pick up your medication.
The Healthera app and electronic prescription service make it easier to acquire a repeat prescription. It also cuts down on administrative time for your doctor and pharmacist.
Features 
Order your prescriptions online

Track the progress of your medication orders

Manage the medication of up to 3 additional family members or dependents under 1 profile

Set medication reminders

Directly message the Pharmacy through the app

Book appointments
Hey Pharmacist
Hey Pharmacist is an NHS repeat prescription ordering service that allows you to order your medicine online 24 hours a day, 365 days a year. Their website and app are accessible at any time and from any location. They make repeat prescriptions simple by offering the choice of picking them up at your local pharmacy or having them delivered right to your house!
Their objective is to alleviate the burden associated with buying NHS repeat prescription medicines. Making the procedure as easy and adaptable as feasible. While retaining the face-to-face connection that is crucial for creating trust with your local pharmacist, and since we work with the NHS, you can be confident that your GP is kept up to speed on everything, and your health records are kept confidential.
Features
Order once and it remembers for next time

It gets approved by a GP before

Flexibly choose to collect from

over 3000

pharmacies

your medication are delivered for free.
Airmid
TPP's revolutionary patient-facing software, Airmid, was created to help patients and physicians alike by allowing individuals to participate with their care network and take charge of their healthcare. Airmid is the answer to digital first healthcare for everybody, from appointment scheduling through video consultations and wearable integrations.
TPP's Airmid app is aimed to help you by bringing you closer to professionals and providing you control over your personal healthcare requirements. Airmid allows you to view your whole medical data and eliminates the need for face-to-face appointments. It gives information on local health care organisations, allowing you to have greater control over your personal health while spending less time on it.
You can see all of your upcoming appointments and set appointment reminders to your calendar so you don't miss any. Airmid has video consultations, so you may be consulted directly from the app.
Features 
Consultation notes

Medication History

Vaccination History

Allergy/Drug Sensitivities

Health data from their personal device
Final Word
Individuals can avoid long queues by having their prescription and non-prescription drugs delivered directly to their house using online pharmacy services. What's better? Many of these internet pharmacies also provide substantial drug discounts. Some patients may still prefer to engage with pharmacists in person if they have any queries regarding their meds, but the majority of these online pharmacies, including as PillPack, Honeybee Health, and Capsule, also offer pharmacist help by email, phone, or chat. Online pharmacy services are worth considering if you want to save money while still having the convenience of home delivery.