What Is Toppr App?
Toppr app is a test preparation platform designed to support students preparing for various entrance exams in India. It offers learning programs and focuses on the school curriculum and test preparation for engineering and medical entrance exams. The Company's online platform gives access to comprehensive practice and test package which help students to prepare for IIT JEE, PMT, school boards, and other competitive exams in India.
Toppr is an online learning app personalized for CBSE, ICSE & State Board students. We are on the mission to make the online study experience easy and smooth for students. We cover a very wide range of syllabus from the CBSE Board, ICSE, and State Boards. Students who are preparing for IIT JEE Main, NEET, AIIMS can also use it to prepare and practice with Mock Tests.
Main Highlights
The Full Version of Toppr requires a paid subscription.

Best Learning App for CBSE, ICSE, and State Board Students.

Best Entrance Exams Preparation App – JEE Main, NEET, AIIMS and more.

Live Classes for Class 5-12, IIT JEE Main, IIT JEE Advanced and NEET


Features Of App
Online Classes. 

It provides video and lives classes that help users to interact with the tutor and revise concepts to strengthen basics.

Adaptive Practice. 

Mock Tests.

Live Doubts. 

Structured Content.

Performance Review. 

Extensive Study Material & Question Bank.
Why Choose Toppr App?
Toppr helps students measure how much syllabus they have covered. Instant feedback reports and strength/weakness analysis decide their next course of action. Our website offers an interactive medium that lets a large student community communicate with each other to compare, discuss and get feedback. It has a strong team of 1000+ subject experts, including IITians and teachers, who add certain credibility and competitive edge to all the information posted online. 
A detailed solution is worked out and reviewed by experts to ascertain the quality. Besides, video lectures available on it are developed by the best teachers in the country and contain animation, diagrams, and everything else to make learning easier. It also has a real-time doubt clearing feature. In fact. It is one of the best doubt-solving apps. Be it Chemistry, Maths, Science, Physics, or any subject, our experts are available 24×7.
App Reviews on the App Store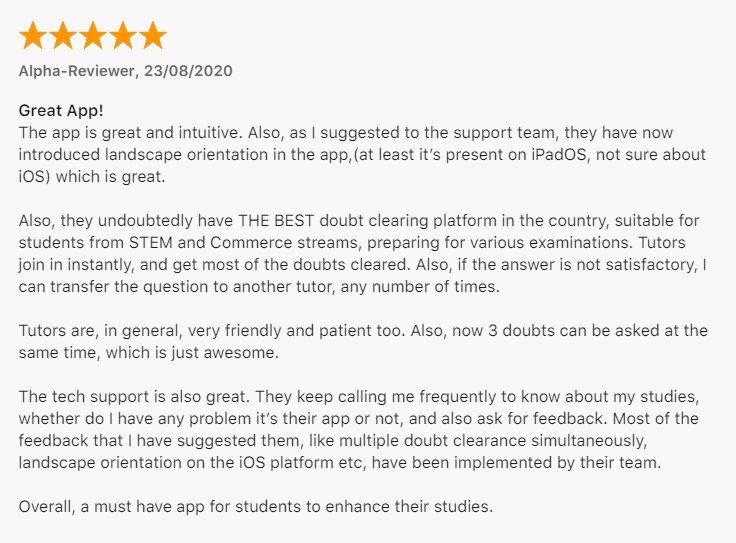 Frequently Asked Questions 
Is the app completely free?
No, the app is not completely free on the App Store.
Yes, the app is secure as it doesn't store any personal information and it asks for very few permissions.
What permissions does the application require?
The app needs basic permissions like Storage, Location, and Photos/Media/Files.
Which android version does it require?
The application is compatible with android version 5.0 and above.
Does the app have a dark mode?
The app does have a dark mode.
Download the App
Like our Toppr App review? Check out more Mobile App Reviews or Submit your own Mobile App Reviews.