What is the Uber app?
Uber is a ride-sharing service that provides the uber mobile app. Users can use this app to submit trip requests to a destination they want to visit, and this request is then automatically sent to an uber driver near the user. indicating to the driver the user's location And whichever uber driver accepts the requests will drive to the user's location and the requested location.
The Uber app calculates the driver's navigation route automatically. and assists in calculating the distance and fare that will be charged for the trip. the uber app transfers payment to the driver from the user's preferred mode of payment.
What are the requirements to become an Uber driver?
Uber offers two ways to sign up as an uber rider: through the uber app (iOS or Android) or the uber website.
After registering, it will request the following information:
Full name

Contact information and email

Language of preference
Uber requires access to the user's location as well as the payment method. It could be a credit card, a debit card, or a Paypal account. It also accepts UPI Id. Before users can begin using uber verifies, they must first provide their address and mobile number.
Main Highlights
It is a

ride-sharing

service

Choose the trip based on space, style, affordability 

Share location and trip status with others.
Features of Uber app
Request a trip

on the spot or plan ahead of time.

Uber provides travelers of all comfort levels with transportation. Users can select which

style

,

space

, or

affordability

they prefer.

UberPool rides are shared rides with other people traveling to the same location. This is the

cheapest

but slowest option available on the Uber app.

Before booking a ride with Uber, users can check the

price estimate

in advance. This allows you to get an idea of how much you'll have to pay before requesting a trip.

Uber has a

door-to-door safety standard.

These measures, which are powered by Uber's innovative technology, encourage shared responsibility, and include guidance from health experts, apply to all drivers and riders who are required to wear a mask even if they have been vaccinated.

With uber users can share their

trip location

and

trip status

with others.
Why should one use the Uber app?
Uber is making possible stress-free journeys. It is available at more than 600 airports in 10000+ cities around the world. Uber app works to provide their drivers the health and safety supplies like face covers, disinfectants, and gloves. uber sis is taking care of any need that is beneficial to service providers.
Uber has demonstrated a strong sense of accountability to its commitments over the years. and service, when users encountered difficulties, they resolved the issue as quickly as they could.
Top Uber App Review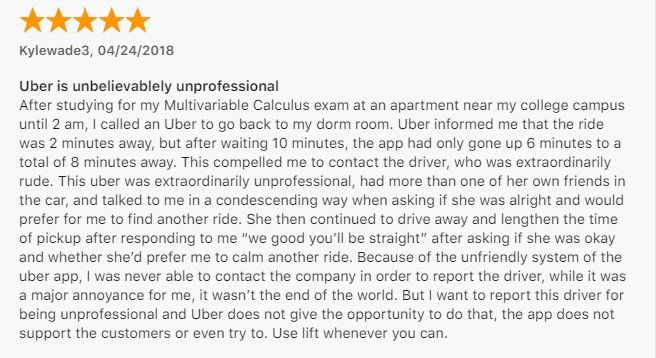 Frequently Asked Questions 
What OS does the app support? 
Uber is available on iOS and Android platforms.
What are the different ride options provide by Uber?
Uber has a variety of options for uber cars. Everything is available, from ridesharing to luxury cars. Here are some of the most common available ride options:
UberX

-it can accommodate up to three riders.

Comfort

-It is a spacious car with excellent drivers.

Exec

-premium rides are available for up to three riders.

UberXL

– Up to five passengers can be seated.

Uber black

– is a high-end sedan.

UberTaxi

-it is a partner taxi cab

Up to five riders can be seated in an

Uber SUV.
Uber LUX

is a high-end luxury vehicle.

Pool rides and split fares are available through

UberPool

.
What is Uber Greenlight Hub

?
The greenlight hubs function as a help desk for Uber drivers. One of their primary functions is to assist new drivers in completing tasks such as setting up direct deposit, meeting Uber's vehicle requirements, and initiating the Uber background check. However. Each Greenlight Hub has a team of support representatives who can help drivers with issues relating to payments, the Uber driver app, and even how to increase Uber earnings.
Is the payment secured for in-app purchases? 
Yes, the app provides in-app purchases. 
What app permission does the order app require?
The Uber app requires access to Photos/media/files to read the content of the user's USB storage and modify and delete the contents. It also requires access to the internet to receive data and view network connections. It keeps the device from dozing off.
Uber App Download
Like our Uber App Review? Check out more Mobile App Reviews or Submit your own Mobile App Reviews.