What is Unify App?
Unify app connects you with pre-qualified leads, customers, and network marketers worldwide. Meet people interested in joining your team or buying what you sell from your network marketing company. Users can use it as a social platform to grow their network and as a tool to improve their affiliation and retention rates.
Unify was developed and managed by a very talented team of Unify Networking Technologies Inc. and the app is updated very frequently. This app is breaking records with millions of downloads by the users. The app does not hinder any other applications running on your phone. It uses a secure, enterprise-grade environment. It ensures that your data is safe and nothing is shared with any other application.
Main Highlights:
Create and share your profile as a network marketer.

Connect with leads filtered according to your preferences.

Search for people and find tailored suggestions on who to connect with.

Search for people who work with specific network marketing companies.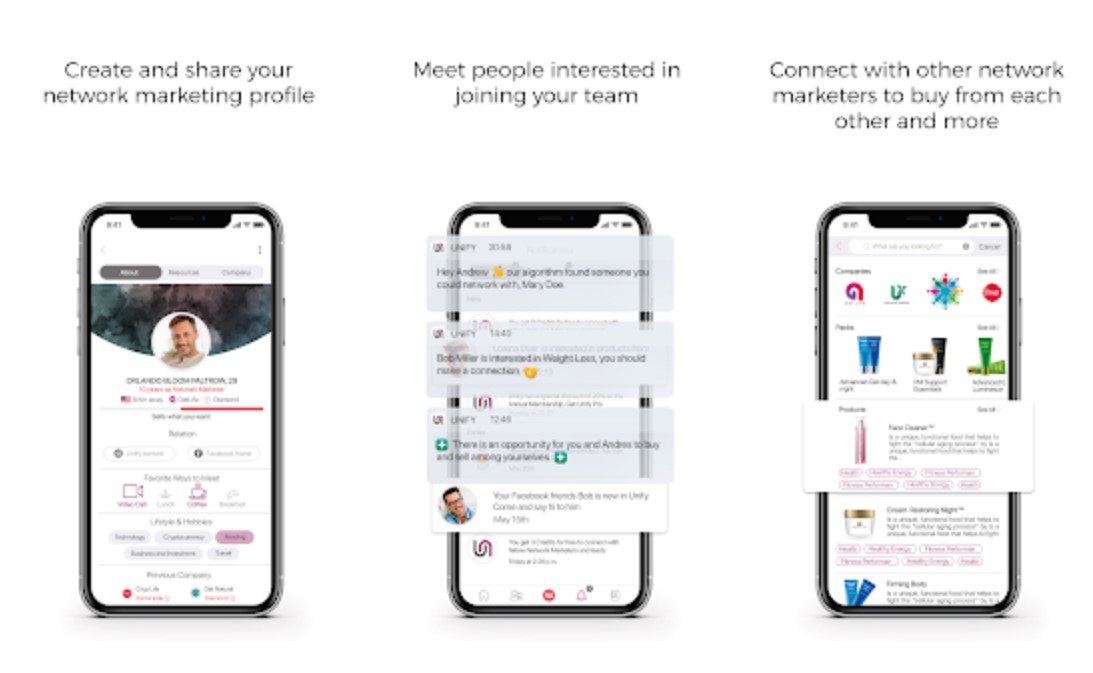 Features of the Unify App
Create your profile as a network marketing professional, upload files, include your social media and company links, and more. The best place to meet other network marketers, so you can, buy from each other, teach/learn, or just make new friends with like-minded individuals.

Meet industry outsiders who are interested in buying from you or joining your team. For them, Unify is like Amazon for network marketing products or services – many are already network marketing customers.

Unify also gives you a unified company and product catalog, helping you find what you're looking for among thousands of products and meet with sellers. As a seller, you'll be right there on that list too – for your future clients finding you have never been this easy.
Why use the Unify App?
Unify app connects you with pre-qualified leads, customers, and network marketers worldwide. It lets you increase your network and connect with potential clients.
Unify App Reviews on the Play Store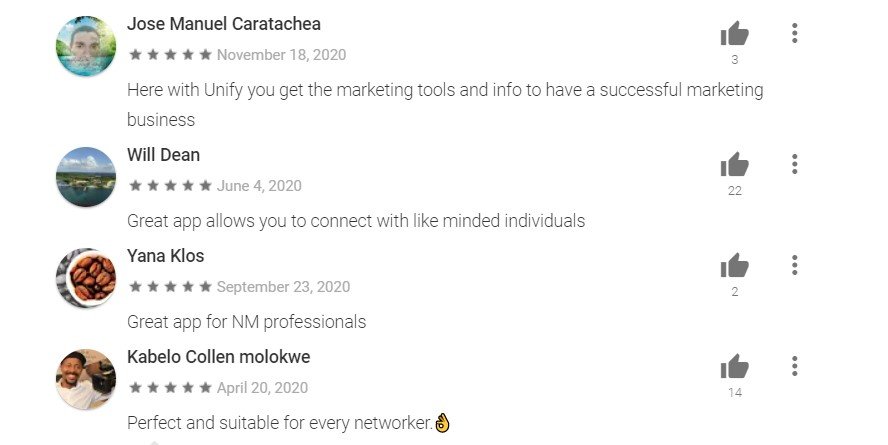 Frequently Asked Questions About Unify App
Is the app completely free?
No, the app is not completely free on the App Store.
Yes, the app is secure as it doesn't store any personal information and it asks for very few permissions.
What permissions does the application require?
The app needs basic permissions like Storage, Location, and Photos/Media/Files.
Which android version does it require?
The application is compatible with android version 5.0 and above.
Does the app have a dark mode?
The app does have a dark mode.
Download the Unify App

Like our Unify app review? Check out more Mobile App Reviews or Submit your own Mobile App Reviews.