What is VLLO App?
VLLO app is a video editor. The app has precise control abled split, text, BGM, and transition. The app also has Chroma-key, PIP, mosaic, and keyframe animations. It provides video zoom in and out with two fingers right on the screen. You can customize the color of your background or add animation effects. The app also lets you add a sense of immersion to a still video by using the keyframe animations.
VLLO was developed and managed by a very talented team of Vimosoft and the app is updated very frequently. This app is breaking records with millions of downloads by the users. The app does not hinder any other applications running on your phone. It uses a secure, enterprise-grade environment. It ensures that your data is safe and nothing is shared with any other application.
Main Highlights:
You can pin blur or pixel mosaic to have them move as you please

Clip edits like trim, split, speed, reverse, rearrangement

Unlimited undo/redo function allows easy restoration/re-application

You can preview the video you are working on in the full screen

Features of the VLLO App
The app lets you create a more refined video with various filters and color correction. You can adjust brightness, contrast, hue/saturation, and shadows. You can apply seamless transitions from dissolve, swipe, and fade to trendy pop art-inspired graphics.

There is 200+ royalty-free background music with different tones ready for use. You may import music stored on your device as well or add a professional touch with the audio fade in/out feature.

Moreover, the app has more than 2,200 categorized trendy stickers, and moving texts are updated every season. The stickers and texts are in vector format so you won't lose quality when they're expanded.
Why VLLO App?
VLLO app is a video editor. It gives users multiple tools to enhance the videos. The app lets users download and share the videos in 4K quality as well. It provides a simple clean interface and visuals and makes it easier for the users to work with. 
VLLO App Reviews on the App Store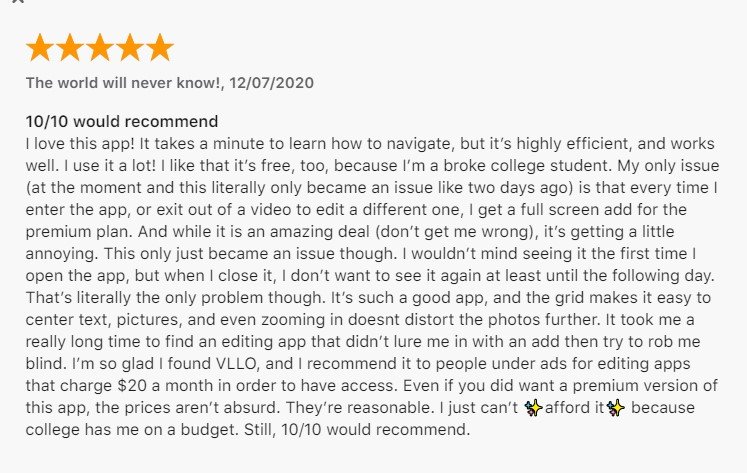 Frequently Asked Questions About VLLO App
No, the app is not completely free on the App Store.
Yes, the app is secure as it doesn't store any personal information and it asks for very few permissions.
What permissions does the application require?
The app needs basic permissions like Storage, Location, and Photos/Media/Files.
Which android version does it require?
The application is compatible with android version 5.0 and above.
Does the app have a dark mode?
The app does have a dark mode.
Download the VLLO App
Like our VLLO App review? Check out more Mobile App Reviews or Submit your own Mobile App Reviews.